'Space Jam 2,' starring LeBron James, to receive $21.8-million tax break to shoot in California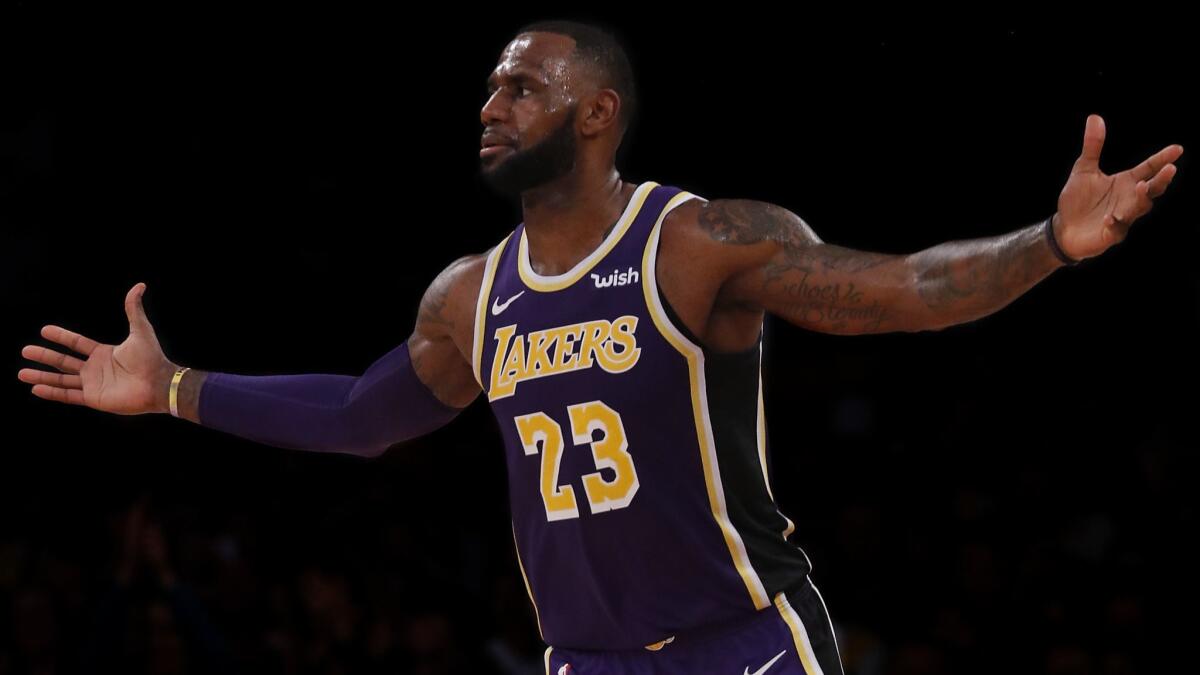 LeBron James won't have to travel far to film in his first big-budget movie since moving to Los Angeles, thanks to a generous tax break from California.
The Lakers forward is set to produce and act in Warner Bros.' "Space Jam 2," the long-awaited sequel to the 1996 basketball-themed movie that mixed live action and Looney Tunes animated characters. The new movie will receive an estimated $21.8-million tax credit to film in California, making it one of 15 feature-film projects to qualify for the state's latest round of tax incentives.
The $21.8-million credit ranks as the second largest in the program's history, behind Paramount's "Bumblebee," a spinoff of the "Transformers" franchise that received $22.4 million in credits and opens in December. The actual amount that the Warner Bros. production receives could vary depending on how much it ultimately spends.
"Space Jam 2" is expected to spend $100 million in qualified expenditures, including almost $43.2 million in below-the-line wages, according to the California Film Commission, which administers the state program that hands out $330 million in tax credits annually to select film and TV productions.
Filmmakers can recoup as much as 25% of their spending — up to the first $100 million — on crew salaries and other qualified costs, such as building sets. Star salaries and other so-called above-the-line compensation don't count. Studios can then use the credits to offset state tax liabilities in California.
The program now features dedicated funding for big-budget movies, which had largely fled California for Georgia and other states that offer financial incentives. Upcoming Hollywood blockbusters to take advantage of California's program include Paramount's "Top Gun: Maverick," a sequel to the 1986 "Top Gun," and Disney's "Captain Marvel," the latest Marvel superhero movie.
The most recent round includes two 20th Century Fox films, "The Boy Who Knew Too Much" and "Mouse Guard," and two from Universal with working titles "24/7" and "Marry Me."
The Andy Samberg comedy "Palm Springs" will shoot 20 of its 25 filming days in the desert resort city, enabling the production to take advantage of additional incentives that are available to projects that shoot outside L.A.'s 30-mile radius.
A total of 37 film projects applied for tax credits during the Oct. 15 to 19 application period, and 15 were ultimately selected, for a total of $73.3 million in tax credits. The commission estimates that the productions will employ an estimated 2,300 crew members, 750 cast members and 28,000 extras and stand-in performers.
Inside the business of entertainment
The Wide Shot brings you news, analysis and insights on everything from streaming wars to production — and what it all means for the future.
You may occasionally receive promotional content from the Los Angeles Times.