Stan Lee's former manager charged with theft and elder abuse
A former business manager of Stan Lee has been charged in California with five counts of elder abuse involving the late Marvel Comics mastermind.
The felony charges filed Friday by Los Angeles County prosecutors against the 43-year-old Keya Morgan include theft, embezzlement, forgery or fraud against an elder adult, and false imprisonment of an elder adult. A misdemeanor count also alleges elder abuse.
The charges date to June, when Morgan was working closely with Lee, who died in November at 95.
A warrant has been issued for the arrest of Morgan, a New York native and memorabilia dealer who entered Lee's orbit several years ago and became a central figure in the family following the death of Lee's wife, Joan, in 2017. He ingratiated himself with the comic book legend, serving as a gatekeeper, assistant and caretaker.
The charges filed Friday represent the latest twist in the ongoing legal saga involving Lee, his associates and family members. Morgan has been a key protagonist in the disputes, pitting himself against Lee's daughter, JC, for access to the comic book legend in his waning years.
A request for a restraining order filed last year by JC Lee alleged Morgan was manipulating the mentally declining Lee, preventing him from seeing family and friends, and trying to take control of his money and business affairs.
An illustrated tribute to Stan Lee and his career »
His attorney Alex Kessel said Morgan is not guilty.
"He has never abused or taken advantage of Mr. Lee in any way," Kessel said in an email. "We expect him to be completely exonerated of all charges."
In June, attorneys for the 95-year-old Lee and his daughter were granted a restraining order against Morgan that barred contact with Lee and revealed that police were investigating Morgan for elder abuse.
Lee, co-creator of such characters as Spider-Man, Iron Man and the Incredible Hulk, was for decades the face of Marvel Comics. His movie cameos, still emerging after his death in films like "Avengers: Endgame," are a beloved element of the Marvel Cinematic Universe.
In recent years, Morgan had become a central figure in Lee's private life. He has accompanied Lee to Marvel movie premieres — including last year's opening of "Avengers: Infinity War" — and acted as Lee's gatekeeper by approving media access for interviews. In past court filings, Morgan has been described as Lee's "former caregiver and assistant."
But Morgan has run into trouble with the law on more than one occasion. He was arrested last year on suspicion of filing a false police report related to a disagreement with security personnel at Lee's home in the Hollywood Hills.
Morgan was convicted in 2017 of threatening to kill someone in a dispute between his mother and a West Hollywood property manager, according to court records. He was sentenced to probation and required to attend anger management counseling.
Morgan didn't respond to a request for comment.
He has denied past accusations of elder abuse against Lee, writing on Twitter last year: "For over 10 years I have shown nothing but love, respect & kindness to Stan Lee, & his wife, a fact he has repeated countless time. I have NEVER EVER abused my dear friend. Everything you read in the #FakeNews is pure malicious lies & I will 100% prove it. The truth will come out."
The Associated Press contributed to this report.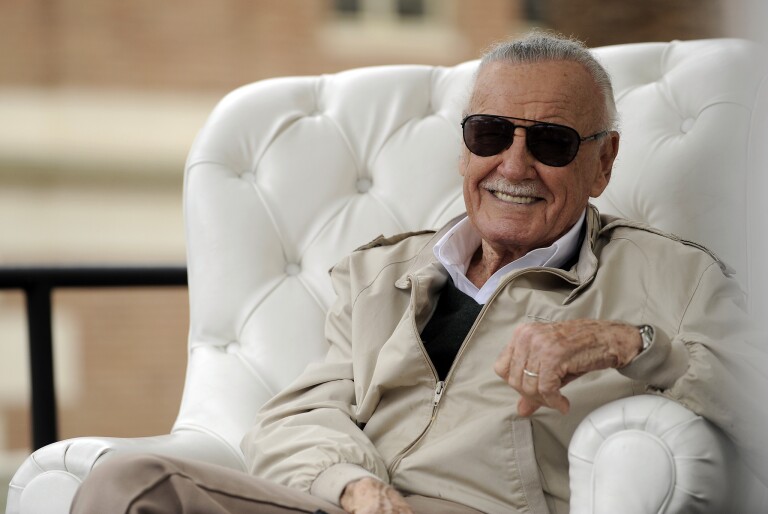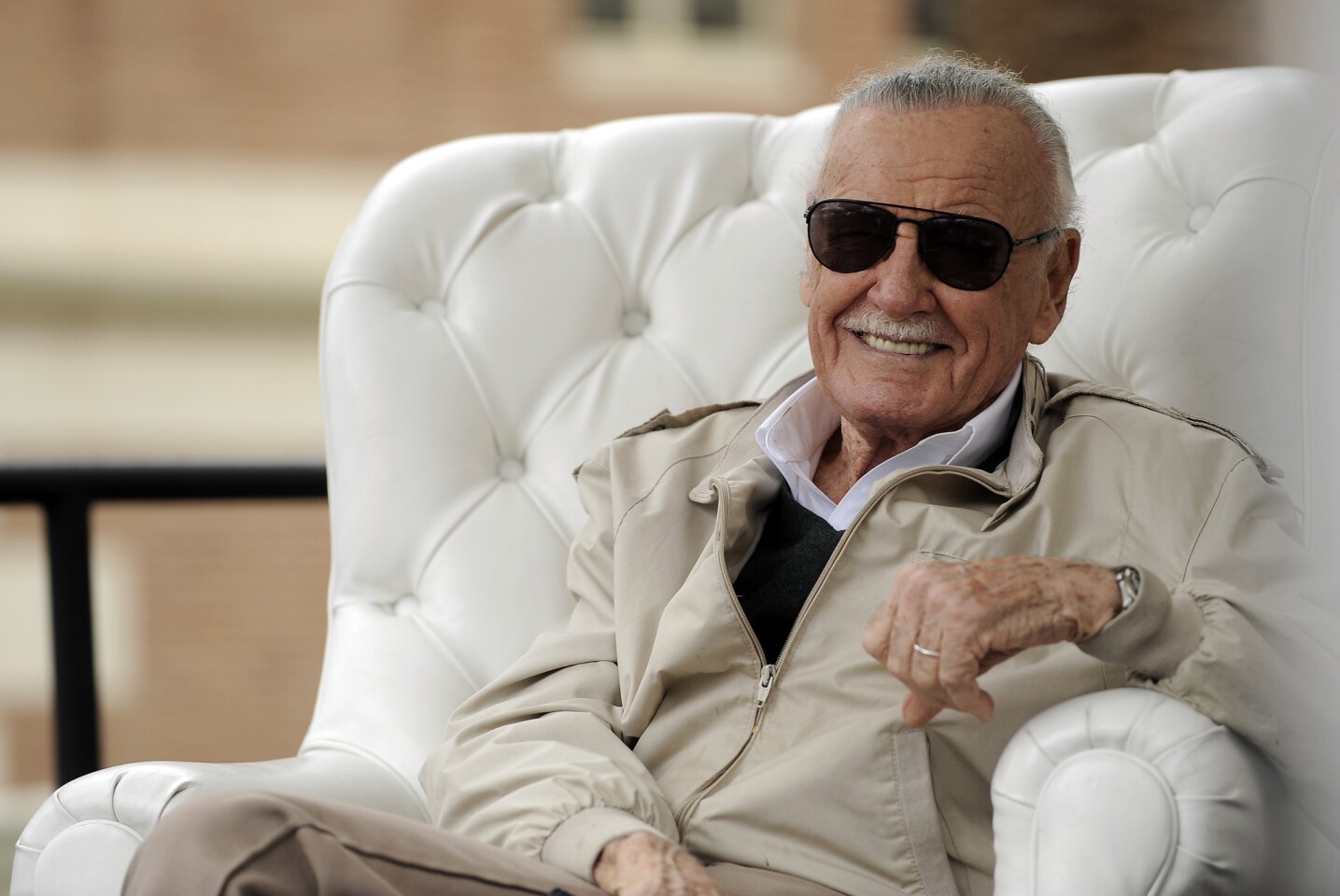 Comic book icon Stan Lee has a relaxed chat during the 2016 Festival of Books in Los Angeles.
(Mariah Tauger / For The Times)
Stan Lee, a renowned creator of many classic Marvel Comics characters, puts his handprints and footprints in cement at the TCL Chinese Theatre IMAX (formerly the Grauman's Chinese Theatre) along Hollywood Boulevard in Los Angeles on July 18, 2017.
(Gary Coronado / Los Angeles Times)
Comic book legend Stan Lee, left, co-creator of the Black Panther superhero, poses with Chadwick Boseman at the "Black Panther" premiere on Jan. 29, 2018, in Los Angeles.
(Chris Pizzello / Invision / Associated Press)
Stan Lee poses for photographers on the red carpet, left, and on stage at the world premiere of Marvel Studios' "Doctor Strange" in Los Angeles in 2016.
(Frederic J. Brown / AFP/Getty Images | Rich Polk/Getty Images)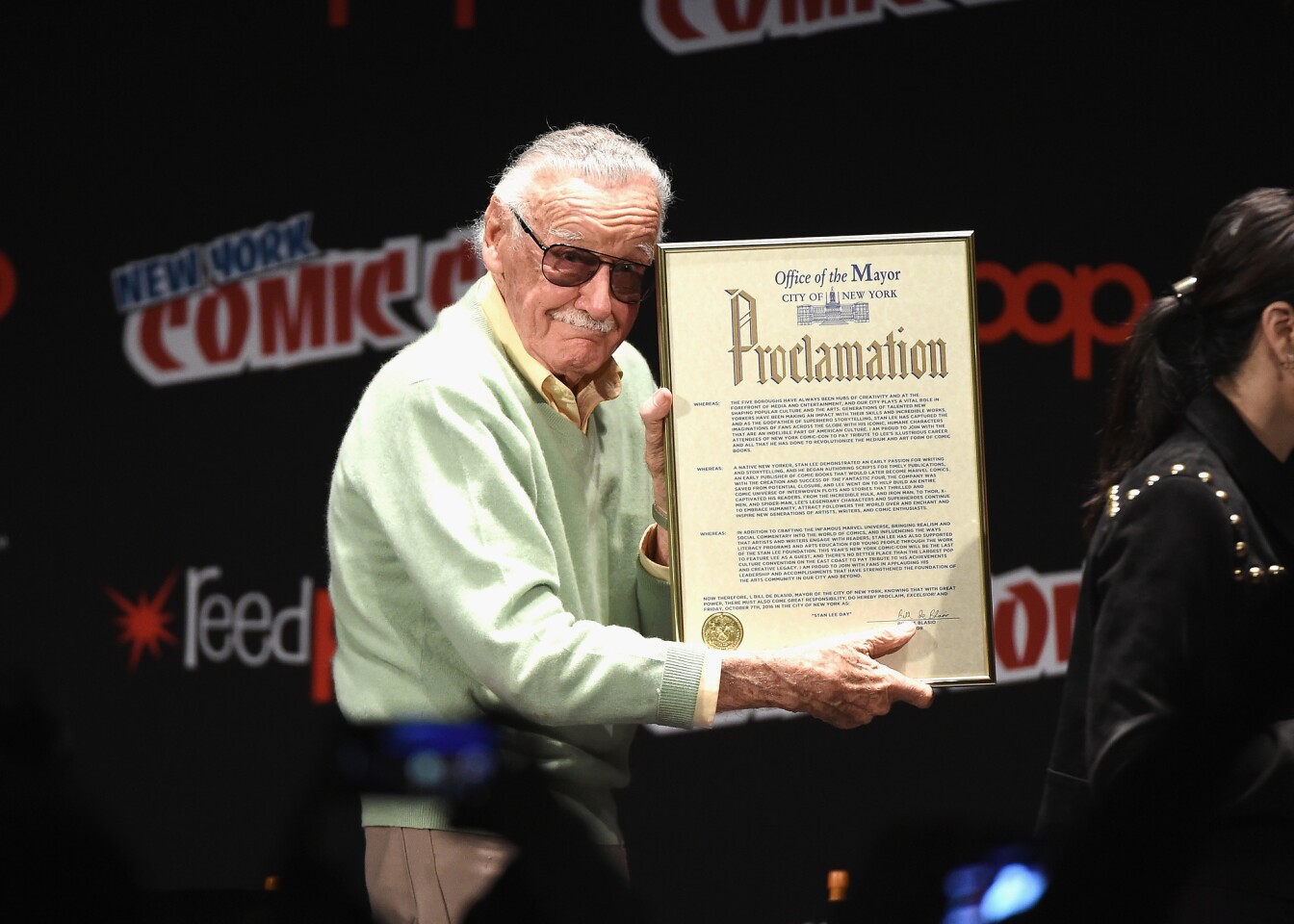 Stan Lee holds a proclamation for Stan Lee Day —Oct. 7, 2016 — by the city of New York onstage at Madison Square Garden.
(Nicholas Hunt / Getty Images)
Josh Reddick of the Los Angeles Dodgers poses for a photo with comic book writer Stan Lee after Lee threw out the first pitch before a game against the Colorado Rockies at Dodger Stadium in 2016.
(Harry How / Getty Images)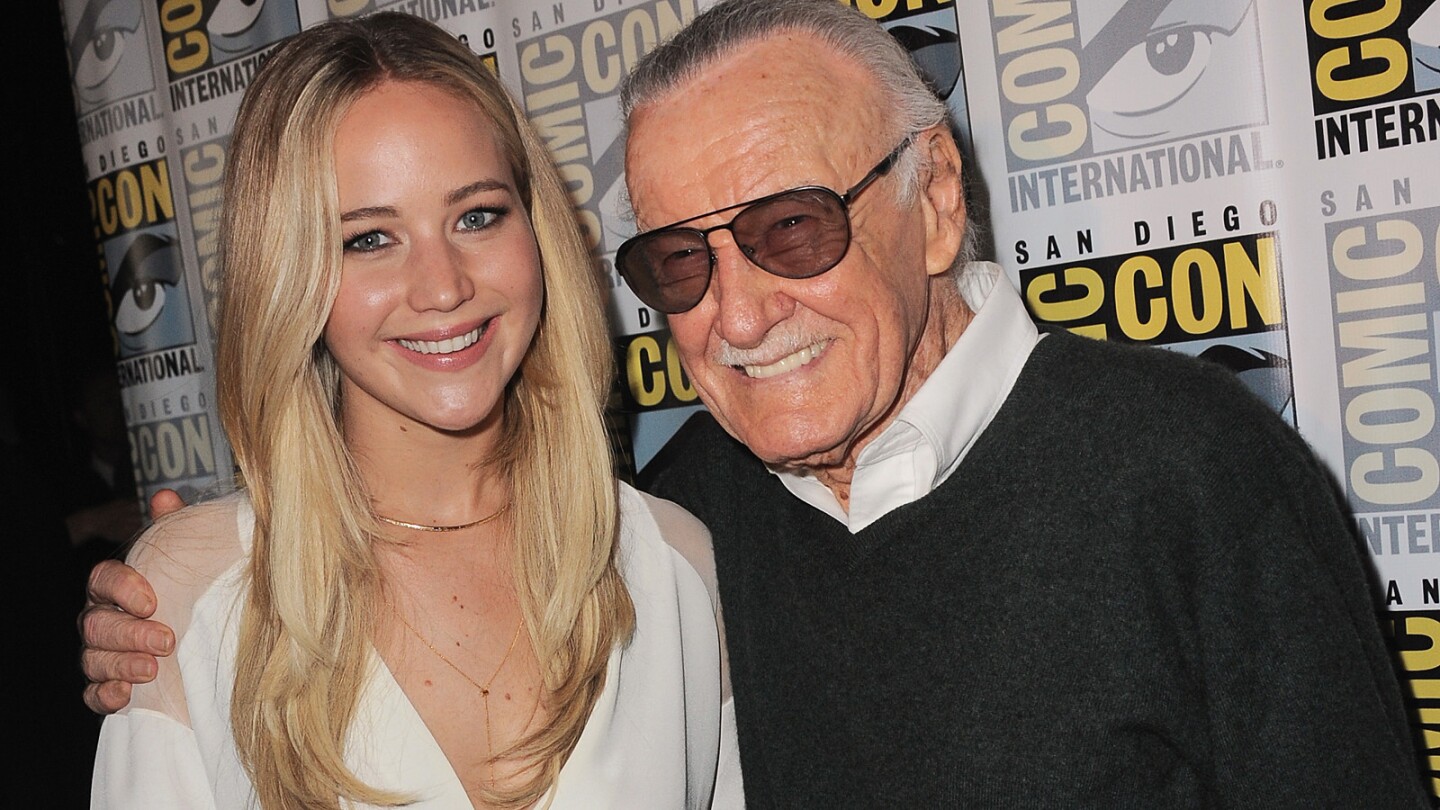 Actress Jennifer Lawrence and Stan Lee attend the 20th Century Fox panel during Comic-Con International 2015 at the San Diego Convention Center.
(Albert L. Ortega / Getty Images)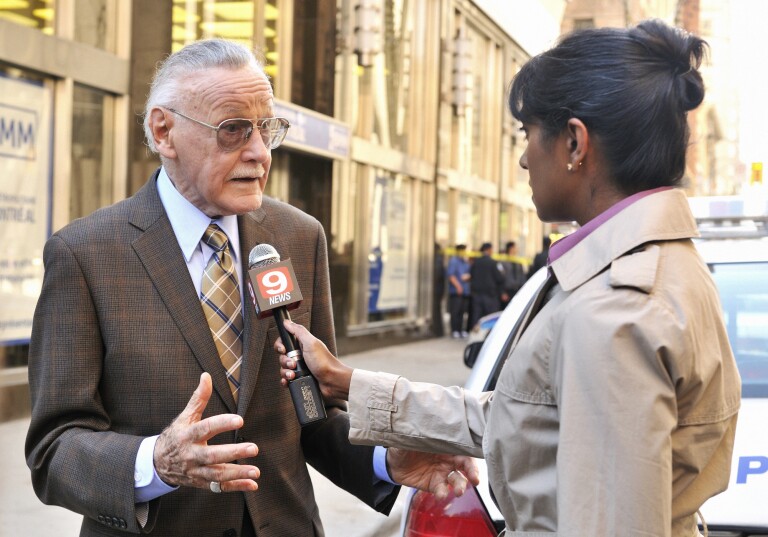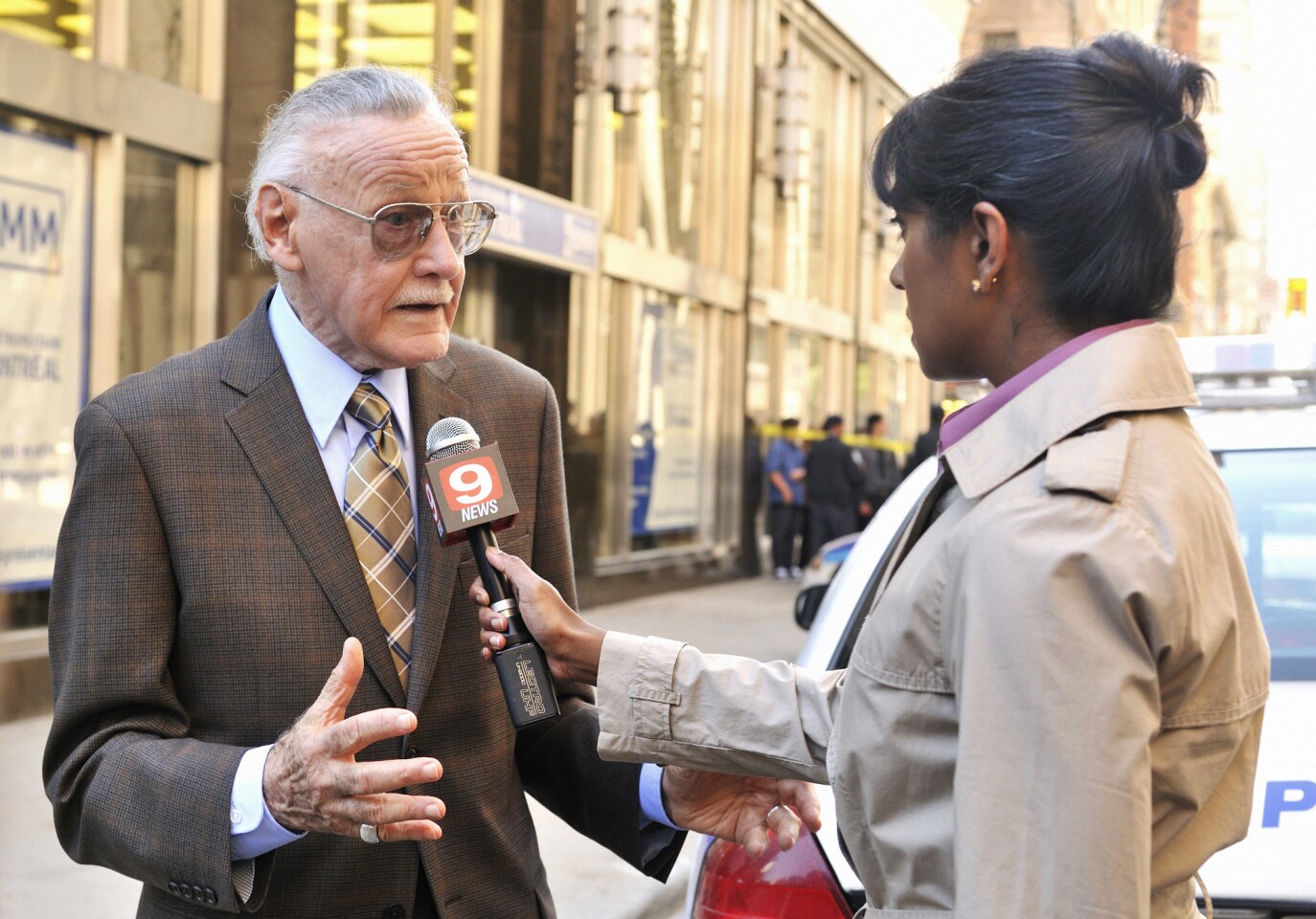 Stan Lee guest stars as a distinguished bystander and Imali Perera as the reporter in the CW show "Nikita" in an episode called "The Guardian."
(Ben Mark Holzberg / The CW)
In "The Big Bang Theory" episode "The Excelsior Acquisition," the cast (clockwise from left: Johnny Galecki, Simon Helberg, Kunal Nayyar, Jim Parsons and Kaley Cuoco) pose with Stan Lee, who guest stars as himself.
(Cliff Lipson / CBS)
Writer and comics legend Stan Lee attends the 2011 premiere of Marvel Studios' "Marvel's the Avengers" at the El Capitan Theatre.
(David Livingston / Getty Images)
Pamela Anderson, left, voices the character Stripperella on "Stan Lee's Stripperella," which ran on Spike TV.
(Spike TV)
Stan Lee arives at the premiere of Paramount Pictures' and Marvel's "Thor" at the El Capitan Theatre in 2011.
(Kevin Winter / Getty Images)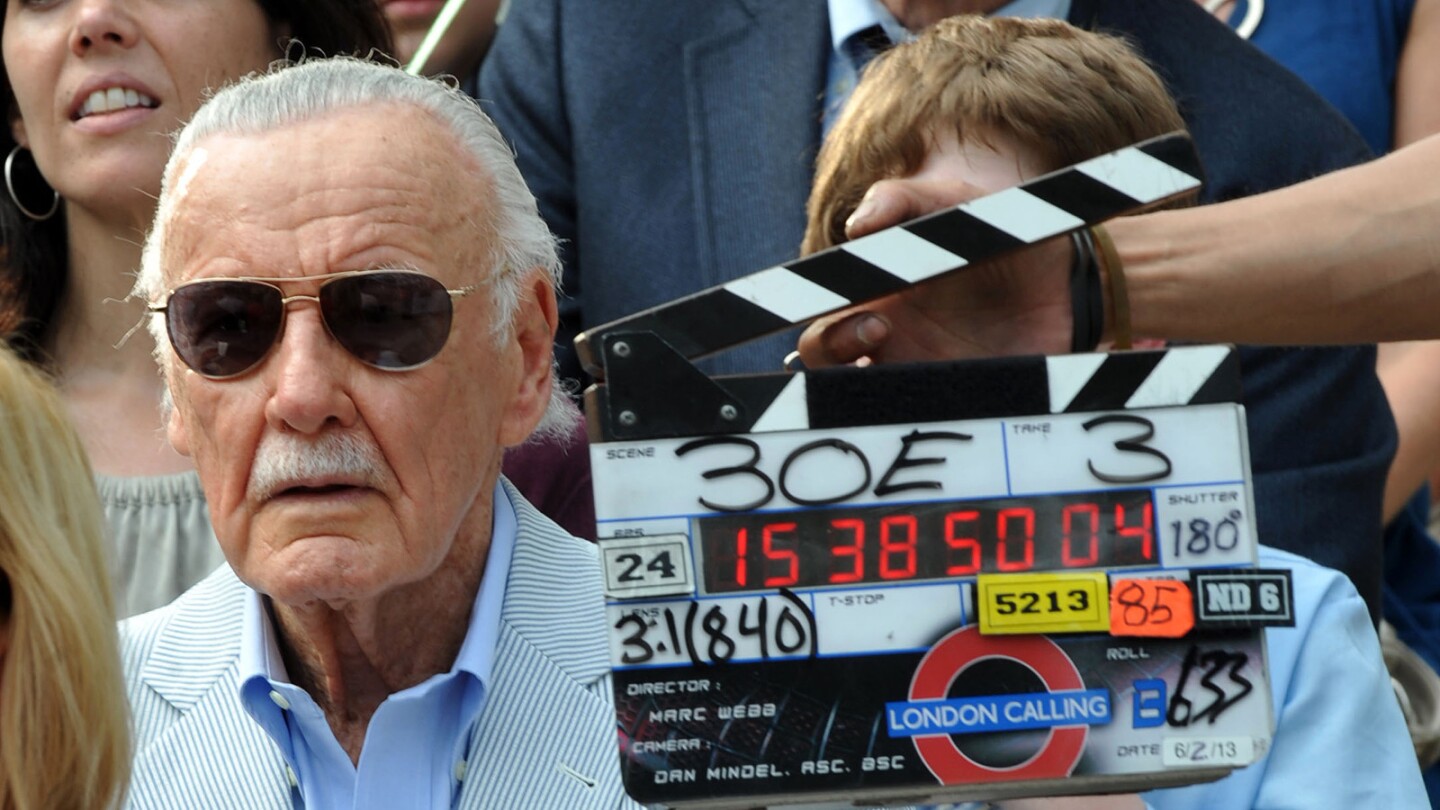 Marvel comic creator Stan Lee films a cameo for "The Amazing Spider-Man 2."
(Steve Sands / Getty Images)
Stan Lee is pictured in front of a backdrop promo for the show "Who Wants to Be a Superhero?"
(F. Scott Schafer / Sci Fi)
"Wolverine" actor Hugh Jackman, left, talks to legendary comic book creator Stan Lee after an interview at Comic-Con International 2008 in San Diego.
(Denis Poroy / Associated Press)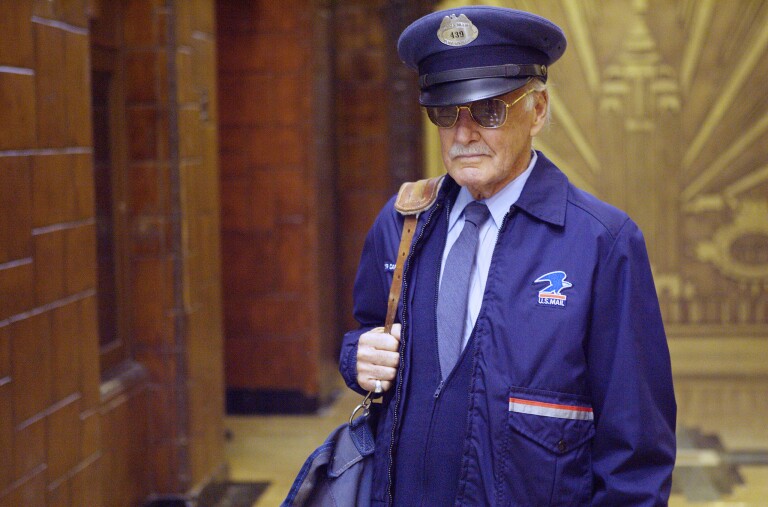 Marvel Comics legend — and co–creator of "The Fantastic Four" comics — Stan Lee has a special cameo role as mailman Willie Lumpkin in the 2005 movie "Fantastic Four."
(Kerry Hayes / Twentieth Century Fox)
Using the medium he's famous for, Stan Lee helped create "Amazing Fantastic Incredible: A Marvelous Memoir," an account of his life.
(Simon and Schuster)
Marvel comic book creator Stan Lee poses with a painting of himself and Spider-Man at his home in Los Angeles in 2002.
(Genaro Molina / Los Angeles Times)
Twitter: @NardineSaad
---
Inside the business of entertainment
The Wide Shot brings you news, analysis and insights on everything from streaming wars to production — and what it all means for the future.
You may occasionally receive promotional content from the Los Angeles Times.