Stan Lee granted restraining order against former manager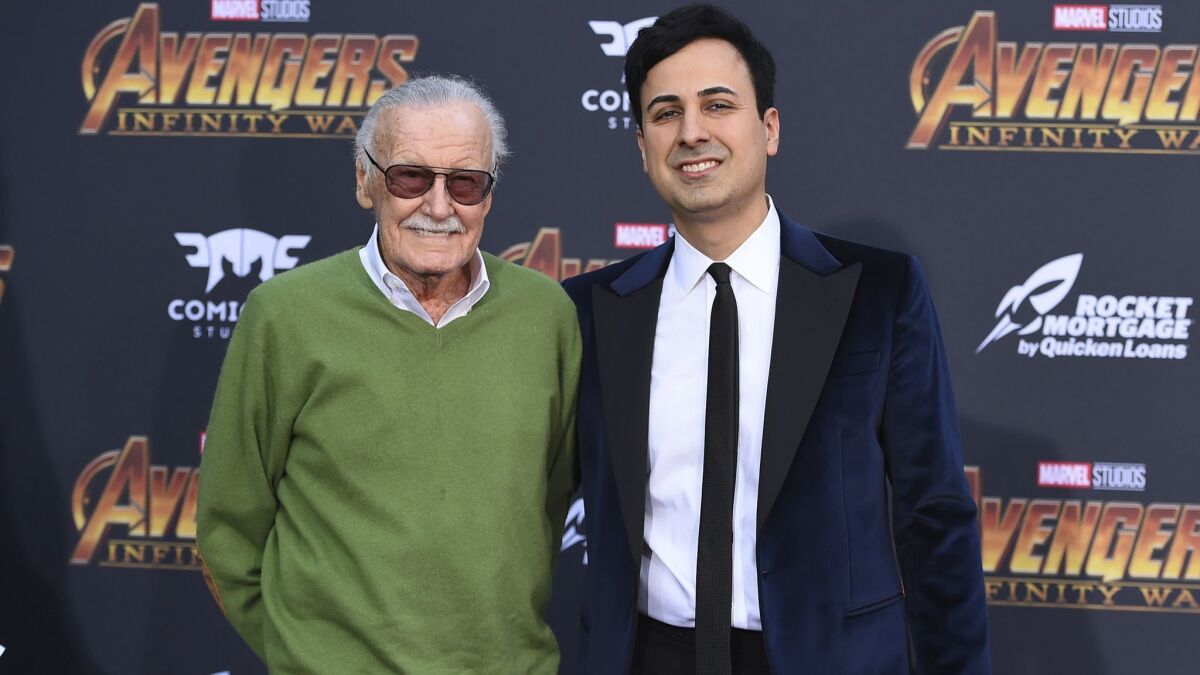 A court has granted Stan Lee a three-year restraining order against a former business manager and caregiver who has been accused of filing a false police report and engaging in elder abuse against the 95-year-old comic book legend.
Keya Morgan has been ordered to stay at least 100 yards away from Lee and his family members for a period of three years, according to a filing Friday in Los Angeles County Superior Court. The order also prevents Morgan from contacting Lee via email or phone. The order additionally prevents Morgan from contacting Lee's daughter, J.C., and brother, Larry Lieber.
"Stan Lee and the Lee family are pleased that the court granted their request to restrain this individual from further harassment and interruption in their life," Jonathan Freund, an attorney for Lee, said in a statement to The Times.
A previous restraining order against Morgan was thrown into question last month in a dispute over which attorney actually represents Lee. Friday's decision in effect extends that temporary order for three years.
In recent years, Morgan had become a central figure in Lee's private life. He has accompanied Lee to Marvel movie premieres — including the April opening of "Avengers: Infinity War" — and acted as Lee's gatekeeper by approving media access for interviews. In Friday's court filing, Morgan is described as Lee's "former caregiver and assistant."
Morgan was arrested in June on suspicion of filing a false police report. He was also being investigated over alleged elder abuse, including acts related to Lee's personal finances, according to court filings. Morgan has denied the allegations.
On June 16 he tweeted: "For over 10 years I have shown nothing but love, respect & kindness to Stan Lee, & his wife, a fact he has repeated countless time [sic]. I have NEVER EVER abused my dear friend."
Lee is suing another former associate, Jerardo Olivarez, accusing him of fraudulent behavior that resulted in the loss of "a tremendous amount of money," according to a complaint filed in April.
In July, Lee dropped his $1-billion lawsuit against Pow Entertainment, the L.A.-based media outfit he co-founded in 2001 that was sold to a Hong Kong company last year.
Lee rose to prominence as a comics author and editor under the Marvel brand, where he helped to launch such familiar characters as Iron Man, the Fantastic Four, Doctor Strange and the X-Men. Many of his creations have been turned into blockbuster movies, most of which have been released by Disney's Marvel Studios.
---
Inside the business of entertainment
The Wide Shot brings you news, analysis and insights on everything from streaming wars to production — and what it all means for the future.
You may occasionally receive promotional content from the Los Angeles Times.