The summer box office was way up this year. Was it MoviePass, rising prices or just better films?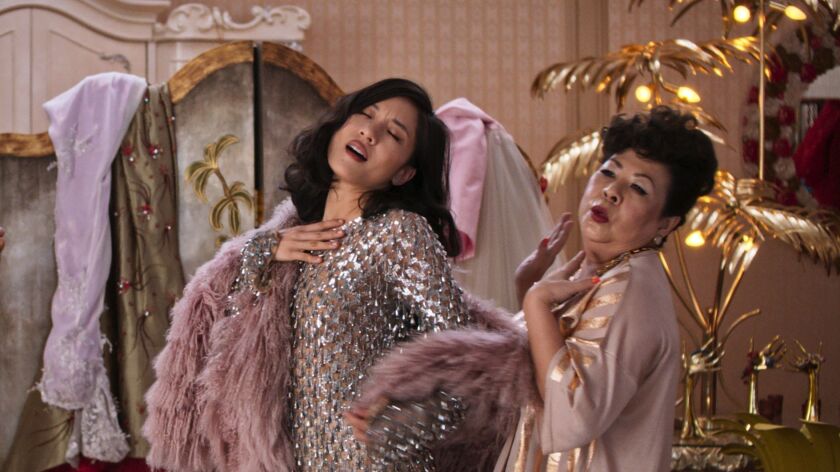 This summer, moviegoers went crazy for rich Asians. They paid to see prehistoric predators on the big screen and even swayed to the beat of an ABBA-fueled musical sequel. And, of course, they went to see superheroes. Lots of superheroes.
A crush of blockbusters boosted moviegoing during the warm summer months, providing welcome relief to Hollywood movie studios and theater chains after a dismal summer in 2017, when ticket sales plummeted to the lowest level in more than a decade.
Major hits such as "Incredibles 2" and "Mission: Impossible — Fallout" spurred double-digit growth in box office receipts during the crucial season, fueling optimism that good movies can still draw people to the theaters, despite long-term concerns about competition from streaming and buzzy TV shows.
Ticket sales in the U.S. and Canada from the first weekend of May through Labor Day are expected to hit $4.4 billion, according to ComScore, a strong result for a period of time that typically accounts for 40% of annual box office revenue.
Summer ticket sales are projected to increase more than 14% from the same period last year, when a string of costly bombs raised alarm that theatrical movies had ceded their cultural relevance to shows on Netflix, HBO and Hulu.
Multiple factors contributed to the winning streak, including a better mix of movies, the return of some popular franchises, rising ticket prices and a lack of major flops. Some analysts even cited the effect of MoviePass, the once wildly popular ticket discounting service that has faced mounting financial problems. The $10-a-month service grew to 3 million subscribers this year by offering cheap access to theatrical films.
Whatever the reason, studio executives cheered this summer's strong run of hits as a sign that people still want to leave their houses for the multiplex.
"On balance, everything excelled beyond expectations," said Kyle Davies, head of domestic distribution for Paramount Pictures. "I don't believe people have tired of going to the theater. If you can tee up a great movie, there's a lot of people eager and excited to come to the theater."
To be sure, the season was not a record-breaker. The high-water mark for summer moviegoing was set in 2013, when domestic ticket sales topped $4.7 billion. And some of this summer's increase was at least partly attributable to ticket price inflation. The average admission hit a record $9.38 in the second quarter, thanks to big action films on premium format screens such as Imax, according to the National Assn. of Theatre Owners. (Average ticket prices are substantially lower than what people in Los Angeles generally pay because they include lower-priced theaters in the Midwest, as well as matinees and senior discounts.)
The movie industry continues to face pressure from digital streaming, prestige TV and video games competing for people's attention. Hollywood also is bracing for a wave of consolidation among the major distributors as Walt Disney Co. prepares to absorb much of 21st Century Fox, including its movie studio. That is expected to give Burbank-based Disney control of more than 40% of the domestic box office — and greater leverage to negotiate how much revenue it shares with cinema operators.
Nonetheless, studio executives note that attendance in the U.S. and Canada is up 5% so far this year, with an estimated 880 million admissions. Domestic ticket sales are 9% higher and are on track to set a record in 2018, according to ComScore data.
Global markets, which are vital to Hollywood, remain a bright spot. International movie ticket sales, which reached an estimated $8.5 billion this summer, are running 5% ahead of last year's levels, reflecting continued growth in markets such as China, according to ComScore.
Studios succeeded with their usual game plan of releasing films from well-known action franchises.
Disney's animated superhero comedy "Incredibles 2" and Universal Pictures' "Jurassic World: Fallen Kingdom" took the top two domestic spots.
But distributors also varied the schedule with films that appealed to more specific audiences, including the female-focused "Mamma Mia: Here We Go Again" from Universal Pictures and "Ocean's 8" from Warner Bros.
Having a variety of films helped keep audiences interested. Many of the popcorn movies — not usually the subject of critical acclaim — received strong reviews and high Rotten Tomatoes scores.
"There's been a nice cadence of films that have had great audience reactions," said Cathleen Taff, Disney's president of theatrical distribution. "When you show up at the theater, you're not seeing the same thing every weekend."
There were still some commercial disappointments. Legendary and Universal's Dwayne Johnson action film "Skyscraper" struggled domestically, though it did better overseas. Sony Pictures and Studio 8's ambitious Ice Age drama "Alpha" failed to break out, despite positive reviews. And "Solo: A Star Wars Story" delivered a lackluster performance, considering its hefty production budget and lofty expectations.
But this year there was no "King Arthur: Legend of the Sword" or "Valerian and the City of a Thousand Planets," two of last year's biggest duds.
Some worry that studios are relying too much on sequels rather than creating new franchises. Until August, no non-sequel had opened at No. 1 at the domestic box office this summer, said Eric Handler, box-office analyst at MKM Partners. Instead, movies such as "Deadpool 2," "The Equalizer 2" and "Hotel Transylvania 3" dominated.
Still, Handler is optimistic.
"I'm sure there will be another renaissance where we see new franchises get created," Handler said. "But for right now, things are going very well."
Some new material did well. Warner Bros.'s "The Meg," about a giant shark that emerges from the deep to terrorize beachgoers, doubled opening weekend expectations with its $45-million debut. The $130-million U.S.-Chinese co-production, starring Jason Statham, has surpassed $400 million worldwide.
Then "Crazy Rich Asians," Jon M. Chu's opulent romantic comedy based on a bestselling novel, became a pop-culture phenomenon. The first major studio movie in 25 years to feature an all-Asian cast in a contemporary story, "Asians" benefited from the elusive "water-cooler" buzz usually reserved for cable dramas. A sequel is now in the planning stages.
"You're seeing content companies be successful in theaters by coming up with storytelling that's groundbreaking, interesting, inspiring and fun," said Jeff Goldstein, president of domestic distribution for Warner Bros. Pictures.
Though cinema owners and studios are loath to admit it, the struggling MoviePass, which once offered a movie a day for less than $10 a month, probably boosted attendance, analysts said. People who used MoviePass went to the cinema six more times in the preceding six months than non-subscribers, National Research Group said in April.
But the deal was too good to last, and the company has since restricted use of its app and debit card to minimize losses. MoviePass' parent company, New York data firm Helios & Matheson Analytics Inc., has lost nearly all of its stock market value, with shares recently dwindling to 2 cents. Another recent National Research Group study indicated that MoviePass customer satisfaction has plummeted.
Distributors questioned the notion that MoviePass has significantly propped up attendance, saying it's difficult to produce accurate data to show its direct effect.
Paramount's Davies noted that "Mission: Impossible — Fallout" wasn't even available on the MoviePass app when it opened in late July. Even so, the film opened higher than any of its predecessors.
"Certainly there were some bargain hunters," Davies said. But "I think MoviePass' impact is minimal."
The remainder of the year is not expected to grow as much as the summer season. That's mostly because there's no new "Star Wars" movie planned for the holidays, as there was last year.
Still, the studios will offer a multitude of much-anticipated new films, including "Conjuring" horror spinoff "The Nun," a remake of "A Star Is Born" starring Lady Gaga, Damien Chazelle's moon landing drama "First Man," and Disney's animated sequel "Ralph Breaks the Internet."
"The fall may not be as big as last year," said Jim Orr, Universal Pictures' domestic distribution head. "Nonetheless, I believe at the end of the year we'll be in a positive position."
---
From the Emmys to the Oscars.
Get our revamped Envelope newsletter, sent twice a week, for exclusive awards season coverage, behind-the-scenes insights and columnist Glenn Whipp's commentary.
You may occasionally receive promotional content from the Los Angeles Times.