Sylvester Stallone sues Warner Bros. over profits from 1993 movie 'Demolition Man'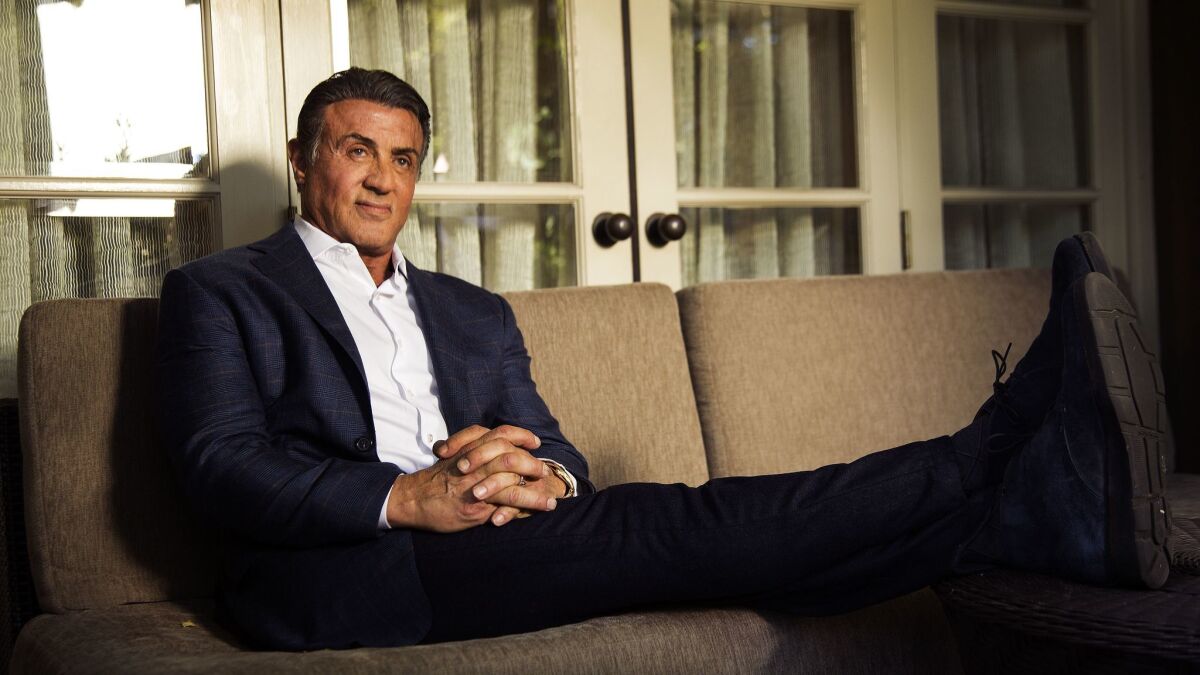 Sylvester Stallone has made a fortune on films like the "Rocky" and "Rambo" franchises, and more recently on the three "The Expendables" movies. But it is a mostly forgotten action flick from the 1990s that is at the center of a new drama pitting the Oscar-nominated star against a major Hollywood studio.
Stallone is suing Warner Bros. over the 1993 science-fiction movie "Demolition Man," claiming that the studio covered up how much money the film made and bilked his production company out of its fair share of grosses.
In a complaint filed Wednesday in Los Angeles Superior Court, Stallone alleges that Burbank-based Warner Bros. spent years sitting on money owed to Stallone's company, Rogue Marble. The studio initially said the movie was $66.9 million in the hole, but later sent him a check for more than $2 million, according to the lawsuit.
Stallone claims that his company is entitled to 15% of the movie's grosses, which he said have exceeded $125 million. The actor is alleging that the studio has engaged in fraud and is seeking damages and interest. Stallone is also looking to put "an end to this practice for all talent who expect to be paid by Warner Bros. for the fruits of their labor."
The suit offers a glimpse into the opaque world of Hollywood accounting, where talent and corporate management often spar over who is owed what and when.
Lawsuits brought by creative talent over profit participation are common. Recent suits include actor Harry Shearer suing over the movie "This Is Spinal Tap," Kevin Costner over "Robin Hood: Prince of Thieves" and Richard Dreyfuss over "What About Bob?"
In the Wednesday complaint, Stallone alleges that Warner Bros. has continuously received revenue from "Demolition Man" but failed to send Rogue Marble a profit participation statement since late 1997.
Rogue Marble, represented by the Beverly Hills law firm of Johnson & Johnson, has spent that last three years haggling with Warner Bros. over money from the movie, according to the suit. It said in early 2015, Stallone's company received a letter stating that no money was owed to it because "Demolition Man" had a $66.9-million deficit.
After inquiring further, Rogue Marble said it received a profit participation statement and a check for $2.8 million. But the statement was "one page and did not contain any detail for the figures presented, nor did it contain any detail covering the reporting period since the last statement."
Warner Bros. declined to comment.
"Demoliltion Man" opened in October 1993 and grossed $58.1 million in ticket sales in the U.S. and Canada. The movie has also generated revenue from overseas theatrical releases, home video releases and TV and cable broadcasts.
In the futuristic movie, Stallone plays a Los Angeles cop who is cryogenically frozen along with a criminal (Wesley Snipes). The two are revived years later, resuming their rivalry and taking care of unfinished business.
Stallone has worked with Warner Bros. on numerous projects, including the 2015 movie "Creed," for which the actor received an Oscar nomination for reprising his role as Rocky Balboa.
---
Inside the business of entertainment
The Wide Shot brings you news, analysis and insights on everything from streaming wars to production — and what it all means for the future.
You may occasionally receive promotional content from the Los Angeles Times.