AT&T pulls the plug on Turner's Super Deluxe studio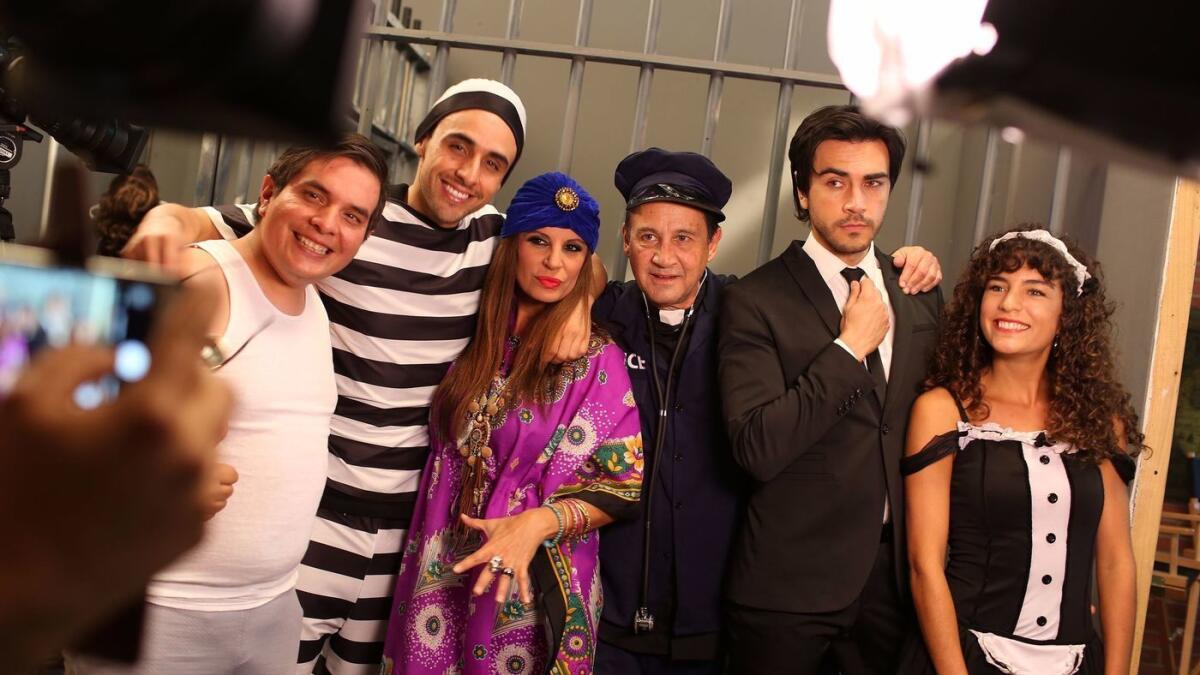 Turner's eclectic Super Deluxe entertainment studio, based in downtown Los Angeles, shut down Friday.
AT&T pulled the plug on the unconventional studio, ending a three-year digital media experiment to find new ways to reach audiences under 35.
For the record:
3:45 p.m. Oct. 19, 2018An earlier version of this post contained an incorrect number of employees at Super Deluxe.
Super Deluxe's 54 full-time employees lost their jobs in the move, according to a knowledgeable person who was not authorized to comment and requested anonymity.
The studio, which once staged a live telenovela that generated huge numbers on Facebook Live, had been on thin ice for much of this year. AT&T's takeover of Time Warner dragged on for months, and it was never clear how the irreverent group of mostly millennial workers — who also showcased former Mexican President Vicente Fox trash-talking President Trump — would fit into the phone company's plans to become a home for premium content that viewers would watch on their cellphones and tablets.
AT&T has been analyzing WarnerMedia assets since spending $85 billion in June to buy the company. In addition, the Dallas-based company recently spent $600 million to acquire the Chernin Group's stake in Otter Media, which also operates small content studios, such as Rooster Teeth. AT&T, which now has full control of Otter Media, appears to be focusing on the viability of those assets, while Turner's boutique properties, such as Super Deluxe, have become more vulnerable.
"Turner is proud of the unique brand Super Deluxe has built over the past three years, and the cutting-edge content and innovations this incredible group of very talented people has made," the company said in a statement. "However, there are now massive changes in the social and mobile-first ecosystem and duplication with other business units in our new WarnerMedia portfolio."
Earlier this week, WarnerMedia shut down DramaFever, a 9-year-old Korean drama streaming service that Warner Bros. bought two years ago from Japan's SoftBank Group. The company said that decision was rooted in "business reasons and in light of the rapidly changing marketplace for K-drama content." Many of the DramaFever employees will be retained as part of Warner Bros. Digital Labs.
However, Super Deluxe operated as an independent island, with little integration with other units of Turner, which operates CNN, TBS, TNT, Cartoon Network and Adult Swim.
Super Deluxe's president, Wolfgang Hammer, informed employees that the business was being disbanded during a Friday morning meeting, according to people familiar with the situation. Terminated employees will receive about two months of severance.
This marks the second time that Super Deluxe met an abrupt end.
The first Super Deluxe was an early digital video effort that Turner quickly abandoned during the Great Recession. But when it brought the studio back to life in 2015, Turner began fashioning a studio from the ground up.
The studio, which boasted more than 4 million followers on Facebook, also created scripted programming, including "The Chances," which stars and is written by deaf people. The Sundance Channel bought the show for its streaming service, and a second season is in production. Super Deluxe sold "Chambers," a show starring Uma Thurman, to Netflix. That project, about a young heart transplant survivor who becomes obsessed with learning about her donor, is expected to debut in early 2019.
"Super Deluxe found inspiring ways of connecting with a new generation and many of their best practices will be adopted by other Turner properties as we redirect this investment back into our portfolio," Turner said.
Super Deluxe's self-described mission was to "future-proof" television — to figure out how to survive the disruption in content delivery while producing original and distinctive programming that young consumers will embrace.
Media companies have poured millions of dollars into efforts to reach millennial viewers consuming entertainment through their phones rather than cable TV. The experimentation yielded such companies as BuzzFeed, AwesomenessTV, Gunpowder & Sky and others. Walt Disney Co. spent $675 million to buy Maker Studios. But the results have been mixed.
In addition, advertisers are not as enamored with online video as they were just two years ago.
Twitter: @MegJamesLAT
---
UPDATES:
2:30 p.m.: This article was updated with information about programs produced by Super Deluxe.
This article was originally published at 2:20 p.m.
Inside the business of entertainment
The Wide Shot brings you news, analysis and insights on everything from streaming wars to production — and what it all means for the future.
You may occasionally receive promotional content from the Los Angeles Times.