Like a zombie, profit dispute over AMC's 'The Walking Dead' refuses to die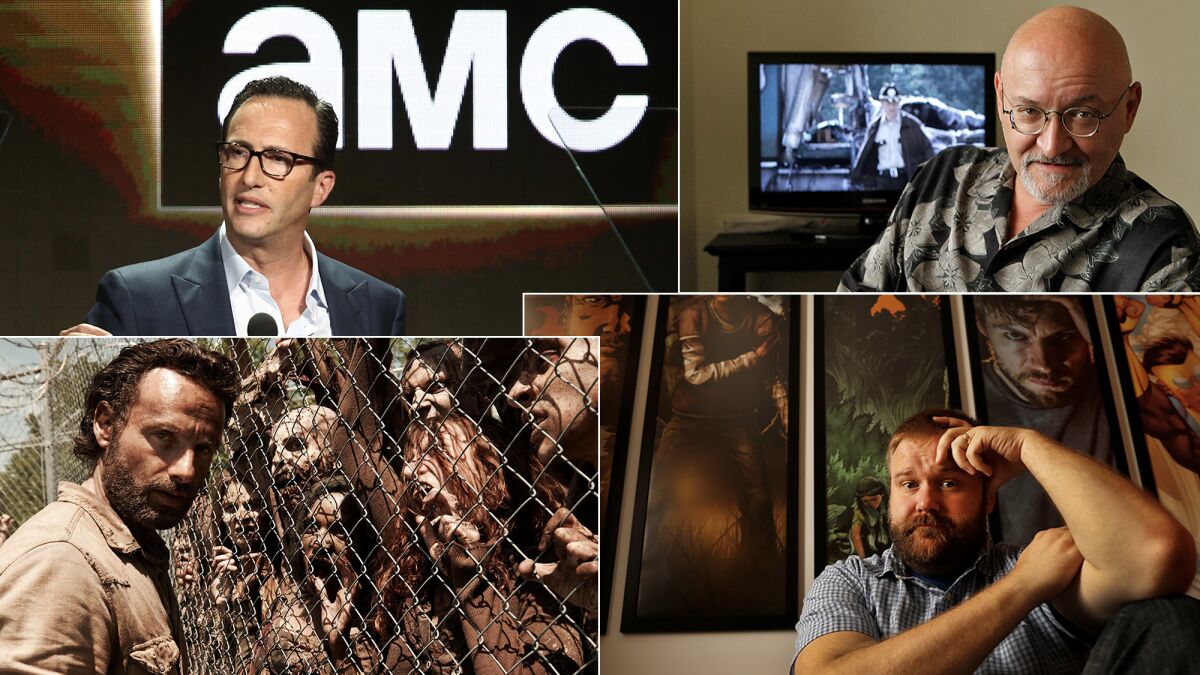 Since it began airing in 2010, "The Walking Dead" has resurrected far more than just the dearly departed.
With its through-the-roof ratings, the series breathed new life into the zombie genre, resuscitated the career of show developer Frank Darabont and revived the fortunes of AMC Networks by helping to turn its namesake cable station into a major force in the television industry.
Unfortunately for AMC, "The Walking Dead" has also reawakened a once-popular kind of Hollywood lawsuit that the network is now confronting in three lawsuits. At the heart of the widening dispute are allegations that AMC deprived Darabont and other producers of profits through "vertical integration" – a practice in which a network both produces and broadcasts a series, instead of partnering with an outside studio.
The cases offer an unusual glimpse into the murky world of Hollywood accounting and the very real tensions between networks and show creators, especially at a time when the industry has become increasingly consolidated with media conglomerates owning the major networks and studios. Such disputes increasingly are settled in arbitration and don't play out publicly, making "The Walking Dead" litigation all the more unusual. AMC recently released internal emails from Darabont in which the then-showrunner repeatedly uses profanity to criticize his staff writers, directors and crew.
"It's rare that these cases see the light of day and that it's about a show so important to the industry," said James Sammataro, a partner at Stroock who heads the firm's entertainment litigation group. He isn't involved in the AMC litigation. "Even if AMC settles this on favorable terms, they have all their so-called dirty laundry aired out. The economics of their shows are now being exposed. It will have some influence on their deal making."
AMC called the lawsuits "baseless and predictably opportunistic."
The Darabont lawsuit "is an attempt to capitalize on success that came as a result of AMC taking a risk and greenlighting 'The Walking Dead' after it had been passed on by many other networks, and AMC's successful management of the franchise long after Frank Darabont was gone from the show," the network said in a statement.
Hollywood saw a spate of so-called vertical integration lawsuits in the late 1990s and early 2000s after the rollback of federal rules that sought to limit the power of the three major networks by preventing them from owning the content that they aired. After 1995, the networks were free to produce their own series, but in the process, the door was opened to accusations of unfair self-dealing.
Before "The Walking Dead," the most famous vertical integration dispute was the 2004 case brought against the Walt Disney Co. for ABC's "Who Wants to Be a Millionaire," which was produced by Disney's Buena Vista Television. Other series to face similar suits include Fox's "Bones," NBC's "Will & Grace" and the WB's "Smallville."
But the spiraling conflict over "The Walking Dead" represents perhaps the largest vertical integration dispute in Hollywood history, with the plaintiffs collectively seeking an estimated $1 billion in recovered profits. Darabont's claims alone could amount to more than $280 million.
The studios "are figuring out ways to prevent people from bringing" these kinds of cases, said Stanton "Larry" Stein, a partner at L.A.-based Liner, who has brought numerous vertical integration, or "self-dealing," suits in Hollywood. Studios are inserting arbitration requirements in contracts mandating that profit-sharing disputes be resolved out of court.
"They don't want a jury to hear that stuff because when a jury hears the stuff that studios do, they get upset and give a big judgment," Stein said.
"The Walking Dead" dispute erupted four years ago when Darabont sued AMC after he abruptly parted ways with the show while working on the second season. He and his agency, CAA, are accusing AMC of rigging the accounting of "The Walking Dead" so that the series will never show a profit. AMC decided early on to produce "The Walking Dead" at its in-house AMC Studios. But Darabont and others contend they were paid less than what they would have earned had AMC teamed up with another studio, as it did with "Breaking Bad" and "Mad Men."
The legal fight escalated last month when five high-level producers on the show filed suits in New York and L.A. alleging similar dubious accounting. The suits involve Robert Kirkman, who penned the original comic books on which the series is based, as well as executive producers Gale Anne Hurd, David Alpert, Charles Eglee and Glen Mazzara.
On Friday, a judge in New York presided over a summary judgment hearing on the Darabont dispute but didn't issue any decisions.
Darabont has already received several million dollars in compensation for the show. The writer-director receives more than $30,000 per episode even though he left the series early on, according to people familiar with the matter who were not authorized to comment.
There appears to be no shortage of profits to go around. "Based on statements by AMC's counsel during last week's court hearing, it is clear that AMC will make billions of dollars in profits off 'The Walking Dead'," said Dale Kinsella, an attorney for Darabont.
Since AMC doesn't pay itself a license fee for "The Walking Dead," the company follows standard industry practice by devising an "imputed license fee" to determine profit-sharing.
Darabont's side says the imputed fee for "The Walking Dead" was set far below fair market value at 65% of the cost of producing the series and capped at $1.45 million per episode, with a maximum 5% increase each season no matter how successful the series becomes. This boils down to about $2 million in fees per episode, when it should be $20 million to $30 million per episode, the plaintiffs contend.
The writer-director is arguing that he is entitled to 15% of the show's adjusted profit pool — which includes other revenue streams beyond the imputed fee but also features certain deductions. AMC's position is that he should receive about 11.5%.
The burden of proof ultimately lies with the plaintiffs to show that they would have earned more if the network had struck a deal with an outside studio.
"It's extremely difficult to prove," said Michael Sippel, a senior manager at the L.A. accounting firm Green Hasson Janks, who conducts profit participation audits. "To get the data to do the proper comparison is extremely difficult because deals are often confidential."
Studios face few legal deterrents in vertical integration because courts can't award punitive damages in these kinds of cases, said Brian Grossman, a partner at Tesser Grossman who specializes in entertainment litigation.
"Studios think most of these people aren't going to sue and that most can't afford to sue," he said.
Much attention has turned to the release of Darabont's internal emails, which has inflamed an already intense situation. The profanity-laced messages, which were written during the making of the first and second seasons of "The Walking Dead," show Darabont lashing out at colleagues and making alarming threats.
"Everybody, especially our directors, better wake the --- up and pay attention. Or I will start killing people and throwing bodies out the door," he wrote at one point, according to court filings.
Kinsella, Darabont's attorney, called AMC's decision to release the emails a "completely gratuitous effort to besmirch Frank's reputation…. This is just AMC's effort to distract and place on the record out-of-context statements that are potentially harmful to Frank for no reason other than to prejudice the judge in this matter."
He said that Darabont's departure from the show was in no way related to the emails and that Darabont left under a typical "pay or play" arrangement under which he would be entitled to payment for his early departure.
Though he initially alleged he was terminated without cause, Darabont isn't pursuing claims of wrongful discharge.
Darabont's film career took off in the 1990s with the Oscar-nominated movies "The Shawshank Redemption" and "The Green Mile." His career later faltered after a pair of box-office disappointments but rebounded with "The Walking Dead."
It was the first time he had served as a showrunner on a series, a highly demanding job that requires the management of teams of writers and directors, as well as actors and the technical crew.
AMC is represented in the suit by attorney Marc Kasowitz, who has served as one of President Trump's personal lawyers.
If the two sides fail to settle, a trial on the Darabont suit would probably take place in 2018, at the earliest.
ALSO
'The Walking Dead's' Sonequa Martin-Green takes charge on 'Star Trek: Discovery'
For 'Walking Dead's' Michael Cudlitz, watching Glenn die was tougher than Abraham
How Netflix guesses what you want to watch
Inside the business of entertainment
The Wide Shot brings you news, analysis and insights on everything from streaming wars to production — and what it all means for the future.
You may occasionally receive promotional content from the Los Angeles Times.