Sonequa Martin-Green is struggling to express her feelings.
It takes very little time to realize that this is far from normal. The Alabama-born actress generally speaks in long, thoughtful streams of sparkling musicality that occasionally erupt into torrents of words, frequently punctuated by laughter and deliberate pauses in which she gathers her thoughts.
But at this moment, Martin-Green — who battled "The Walking Dead" as the ultimately doomed Sasha, courted laughs as Winston's prank junkie wife, Rhonda, on "New Girl" and threatened the very existence of Storybrooke as villainous Tamara on "Once Upon a Time" — is stumped and a little teary-eyed.
Sitting in a borrowed dressing room on the CBS Studio Center lot in Studio City, Martin-Green tries to process the fact that she is about to boldly go where no black woman has gone before: to the center of one of TV's most beloved franchises as the lead in the new CBS All Access series "Star Trek: Discovery." (The show premieres Sept. 24 on both CBS and the streaming service and will live on the latter for the remainder of its 15-episode first season.)
"'Walking Dead' was such a big phenomenon in my life, and then to come from that phenomenon to this even bigger phenomenon — because of the length of time that it's been so important to our society," she says before trailing off, her eyes starting to well. "I always hope that I can completely encapsulate the way that I feel in words, and I can never quite get it, because it does mean so much."
Set 10 years before the original series, "Star Trek: Discovery" revolves around Martin-Green's character, First Officer Michael Burnham, who moves from the USS Shenzhou, helmed by Capt. Philippa Georgiou (Michelle Yeoh), to the USS Discovery, commanded by Capt. Gabriel Lorca (Jason Isaacs), in a manner yet to be divulged. Although she is human, Burnham was raised on Vulcan by Sarek (James Frain), a.k.a. Spock's father.
To "Star Trek" fans wondering why they have never heard of Spock (played by the late Leonard Nimoy) having a foster sister, Martin-Green offers assurance that it will be addressed. Somehow.
"[Executive producer] Alex Kurtzman actually spoke on that at Comic-Con, and he said, 'For those of you that are wondering, like, why was it never mentioned before? Give us a second. We're working on it,'" she says with a laugh.
More important is the nature versus nurture element to Burnham's journey.
"It isn't just that there is the Vulcan way of thinking in [her], it is that [she] was completely indoctrinated with the Vulcan way of life," Martin-Green says of her character, the first human to attend the Vulcan Learning Center.
"It's about acculturation versus assimilation," she says of Burnham, a xenoanthropologist who studies extraterrestrial life forms and experienced the culture shock of going from her human home to Vulcan.
"[Burnham's] entire upbringing was a fight to assimilate. No one can really verbalize how difficult of a journey that is," she says. "I hope that people who have had that journey in their lives, in whatever way, can relate and see truth in it, and can be maybe even comforted by it."
While that sounds a bit lofty for a space adventure, those concepts have always been embedded in the DNA of the Gene Roddenberry series. And Martin-Green believes the franchise has served as a powerful entry point for viewers to ponder many big issues, from the tangible — war and discrimination — to the existential — the qualities of being human and the nature of existence.
"The fantasy opens them up for the societal themes and the interpersonal themes to get in," she says. "Because sometimes when a story is on the ground, people are sort of closed off to it automatically when it's too close to their own lives. But when something is so far-reaching, it activates the imagination and then little by little, the doorway of the heart is opened up."
And the 32-year-old can certainly relate to her character's culture shock. "I feel it more than anything in my upbringing in the South as a black woman," she says. After graduating from the University of Alabama, she traveled to New York, losing her accent but keeping her unique first name, to begin her career on the stage. There, she met her husband, fellow actor Kenric Green, with whom she now has a toddler son. The couple eventually headed west to break into independent film and TV; she had guest and recurring parts on "Army Wives" and "The Good Wife" before landing her breakthrough role on "The Walking Dead" in 2012.
"It was not a baby step, it was an adult step," she says of her time on the wildly popular AMC series. "I almost see it as my post-graduate degree. It was roughly four years, five seasons. It was nothing but learning and education and preparation."
Her commitment to battling walkers almost kept her from boarding the USS Discovery. Originally, "Star Trek: Discovery" was to have been cast while Martin-Green was still under contract to "The Walking Dead." But, in a twist of fate, the turbulence behind the scenes of "Discovery" — which led to the departure of original showrunner Bryan Fuller — meant that production was delayed just long enough for her to take the role.
We saw so many people who were so great in so many ways and brought that character to life in certain ways, but not all ways. It wasn't until Sonequa.
Gretchen J. Berg
"We were stoked," recalls Gretchen J. Berg who, alongside her writing-producing partner Aaron Harberts, were handed the "Discovery" showrunning reins; Martin-Green had been on their wish list. "That doesn't often happen where you're like, 'You know who'd be great? OK, now let's turn the page.' We saw so many people who were so great in so many ways and brought that character to life in certain ways, but not all ways. It wasn't until Sonequa walked in that we were like, 'Well, there she is. Thank God. There is Michael Burnham.' Things work out for a reason."
Her costars are equally grateful, waxing rhapsodic about not only Martin-Green's talent but also her spirit and work ethic as No. 1 on the call sheet.
"It's a responsibility, but it's also an opportunity to set a tone that is collaborative and inclusive, a tone of incredible warmth and diligence and all those things. And Sonequa has done that in spades," says Anthony Rapp, the Broadway vet who is playing the first openly gay character on a "Star Trek" series, science officer Lt. Paul Stamets. "She is so clearly ready for this moment in her life and in her career, and she's approaching it with incredible heart and commitment and gratitude and joy and openness and all the things that I would have ever hoped for."
"I think in real life, Sonequa Martin-Green might be part Vulcan, because she has a retention rate of words that is otherworldly," says Doug Jones, who plays Lt. Saru, a new alien life form to the "Trek"-verse. "Sometimes, we'll get a script the day before it starts filming and she's got paragraphs of 'tech talk' to do and it comes out of her with understanding the next day. This is just not normal. I sit in amazement watching her every day, I really do."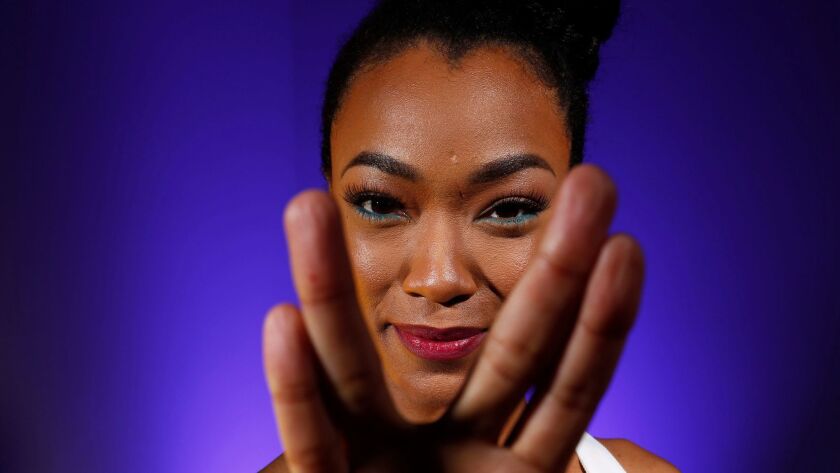 If you watch Sonequa Martin-Green in stillness, it's a master class in acting.
Yvette Nicole Brown
"Talk about making a meal, she can do so much out of an eyebrow raise," says Martin-Green's friend, sitcom veteran Yvette Nicole Brown, a frequent guest on the "Walking Dead" after-show "The Talking Dead" and star of the upcoming ABC comedy "The Mayor." "If you watch Sonequa Martin-Green in stillness, it's a master class in acting."
And, says Brown, "She's also the right spirit for whatever backlash she's going to get in the real world about her being chosen."
Martin-Green is indeed unruffled by the bizarre, un-"Star Trek"-like criticism the new show has already received for being, to put it politely, "too diverse." She also recognizes that in the absence of actual plot lines to discuss, the diversity of the cast has become the discussion.
"I hope that one day we won't have to discuss it, that we can just talk about the story and the phasers and the beings that we come in contact with, and how we're changing each other, and the pain, and the heartbreak, and the victory, and defeat, and all of that stuff that's explored in our show," she says. "But while I have a hopeful view of where we are now, I have a very realistic view of where we are now as well. I think that most likely, since conversation is still necessary, and since conversation is what's going to bring us together and bring us forward, I know it's always going be a part of it."
As the words pour forth, it's clear that in this instance, Sonequa Martin-Green knows exactly how to say what she feels.
"I am grateful for the platform to speak on it, because I truly feel that we've taken on the role of activists. 'Star Trek' always has. I only hope that I can facilitate the unity that we're hoping will come from this."
ALSO:
'Star Trek: Discovery' cast excited for new series' idealism in current political climate
'Star Trek: Discovery' panel reveals new family connections
'Star Trek,' 'Young Sheldon,' 'Will and Grace' and all the new television shows to check out this fall
From the Archives: 1968 protest against possible Star Trek cancellation
---