Whimsic Alley, the store sued by Warner Bros. over its 'Harry Potter' wares, is closing
For years, "Harry Potter" fans flocked to a Miracle Mile store that sold Gryffindor scarves, Hermione wands and even candy such as chocolate frogs, a favorite treat of Hogwarts students.
Capitalizing on the enormous popularity of the Warner Bros. film franchise based on the J.K. Rowling books, the shop became a magnet for "Harry Potter" fans. The fanciful store — whose interior was reminiscent of Diagon Alley, a fictional shopping district catering to wizards — even hosted parties and camps for devotees.
Now, more than a decade later, Whimsic Alley is shutting its doors for good.
The closure comes after owner Stanley Goldin's legal battle with Warner Bros. over what merchandise and services Whimsic Alley could offer. The parties settled, but the terms of their agreement crimped the store's sales. And making matters worse, the new Wizarding World of Harry Potter attraction at Universal Studios Hollywood siphoned away more business.
The $500-million Wizarding World debuted at Universal Studios Hollywood last year and has been a critical and commercial success. Besides rides such as the Flight of the Hippogriff roller-coaster, there is plenty of merchandise for sale. Goldin believes the Wizarding World is largely to blame for Whimsic Alley's "noticeable decline in revenue."
"Whimsic Alley was a destination shop for people not only in L.A. but throughout the country and the world," said Goldin, 66, who opened Whimsic Alley in 2004. "Now that Wizarding World has opened, if people want to satisfy that particular urge, they are going to go there — they are not going to come here."
Fans of "Harry Potter" agree with Goldin's assessment.
"Now that there is a gigantic immersive space, you aren't really drawn to the mom-and-pop one anymore," said Caity Knox, 31, who has visited the local Wizarding World four times and was moved to tears during her first visit. "It bums me out, because the people [at Whimsic Alley] worked really hard to create a haven for a specific type of people."
On the strength of the Wizarding World, Universal Studios Hollywood's attendance rose 13.9% to 8.1 million in 2016, according to consulting firm Aecom. Universal Parks & Resorts, a unit of NBCUniversal, has also developed Wizarding Worlds in Florida and Japan. The Wizarding Worlds license intellectual property from Warner Bros., which owns the bulk of the "Harry Potter" trademarks.
"[The Wizarding World] has been one of the most impressive capital investments that has ever been done in our industry," said Dennis Spiegel, president of International Theme Park Services, a management and consulting firm. "Universal has taken the Harry Potter intellectual property and used it to its fullest."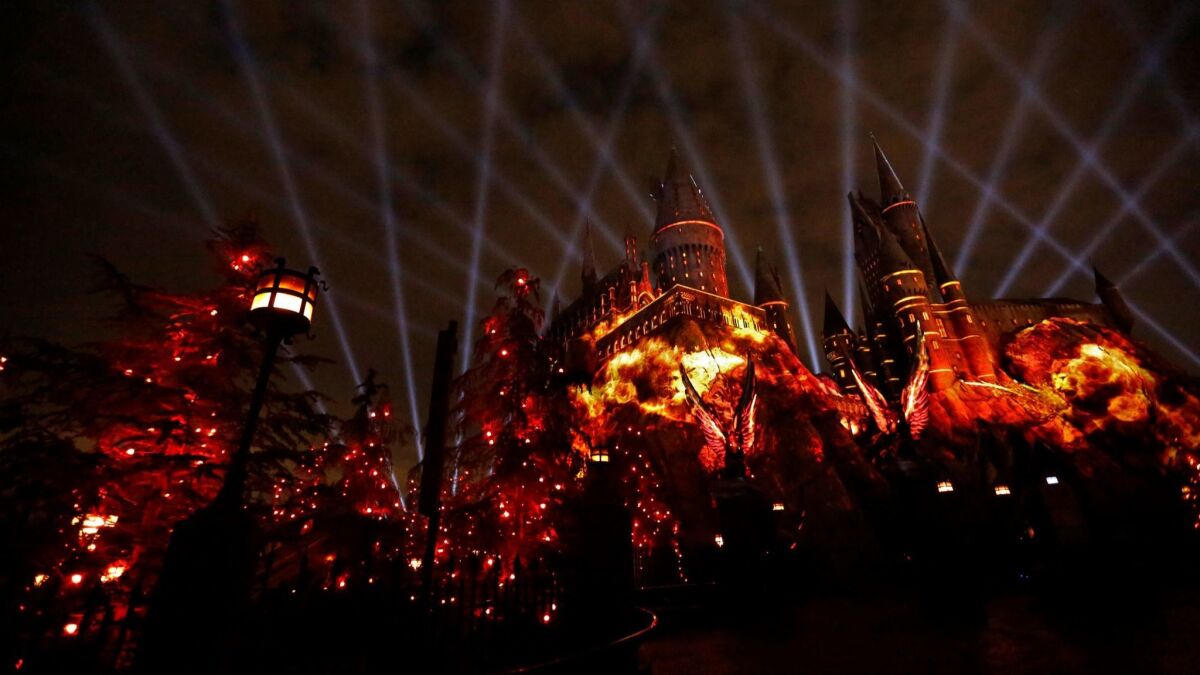 Whimsic Alley's legal entanglement with Warner Bros. offered insight into how entertainment and media companies fiercely guard their lucrative intellectual property.
In 2013, the Time Warner-owned studio filed its lawsuit in U.S. District Court in Los Angeles to stop Goldin from selling goods that it said infringed on its "Harry Potter" trademarks.
Warner Bros. alleged that Whimsic Alley's wares and services — including its merchandise, its Great Hall events space and a then-forthcoming "wizard cruise" on an ocean liner — infringed on the studio's trademarks by offering products "identical or similar in nature to and directly competitive" with licensed items.
At the time, Allen Grodsky, a lawyer specializing in intellectual property litigation, told The Times that Whimsic Alley was "getting as close to the line as possible and maybe crosses it."
After the settlement, Whimsic Alley diversified its offerings to more heavily feature "Game of Thrones," "Doctor Who" and "Sherlock" merchandise and programming. It still used its 1,450-square-foot Great Hall for events, including an annual "Game of Thrones"-themed dinner party.
But Goldin said that his inability to sell certain merchandise — including robes and sweaters reminiscent of those worn by characters in the "Harry Potter" franchise — hurt business at the store, which once had as many as 12 employees but is now down to two workers.
It was a tough setback for Goldin, who started selling "Potter" merchandise online in the late 1990s — a few years before Warner Bros. had released its first film in the franchise. Back then, he'd buy official merchandise from other retailers and resell it. He opened the first brick-and-mortar iteration of Whimsic Alley in Santa Monica before moving to the current Wilshire Boulevard location in 2010.
"In my opinion, Whimsic Alley helped create and sustain fan enthusiasm, an opinion obviously not shared by the powers that be," he said.
Warner Bros. and Universal Studios Hollywood declined to comment.
Now would seem to be a good time to be in the "Harry Potter" business. Warner Bros., whose eight "Potter" movies grossed a combined $7.7 billion in theaters worldwide, restarted the franchise in November with the release of "Fantastic Beasts and Where To Find Them." The Eddie Redmayne-starring film, based on a short book of the same name from the "Potter" cannon, took in more than $800 million worldwide. A sequel is scheduled to debut in November 2018.
Whimsic Alley won't be around to benefit. The store is expected to close July 23.
"That's the way of the world," Goldin said. "Something comes along that's better."
ALSO
Celebrating #HarryPotter20: How Harry Potter and his blockbuster films came of age on screen
Harry Potter boosts Universal Studios attendance; Disneyland visits slip
'We wants the redhead'? Disney fans get vocal over Pirates of the Caribbean change at D23 Expo
Inside the business of entertainment
The Wide Shot brings you news, analysis and insights on everything from streaming wars to production — and what it all means for the future.
You may occasionally receive promotional content from the Los Angeles Times.