Drone giant California loses bids for federal testing sites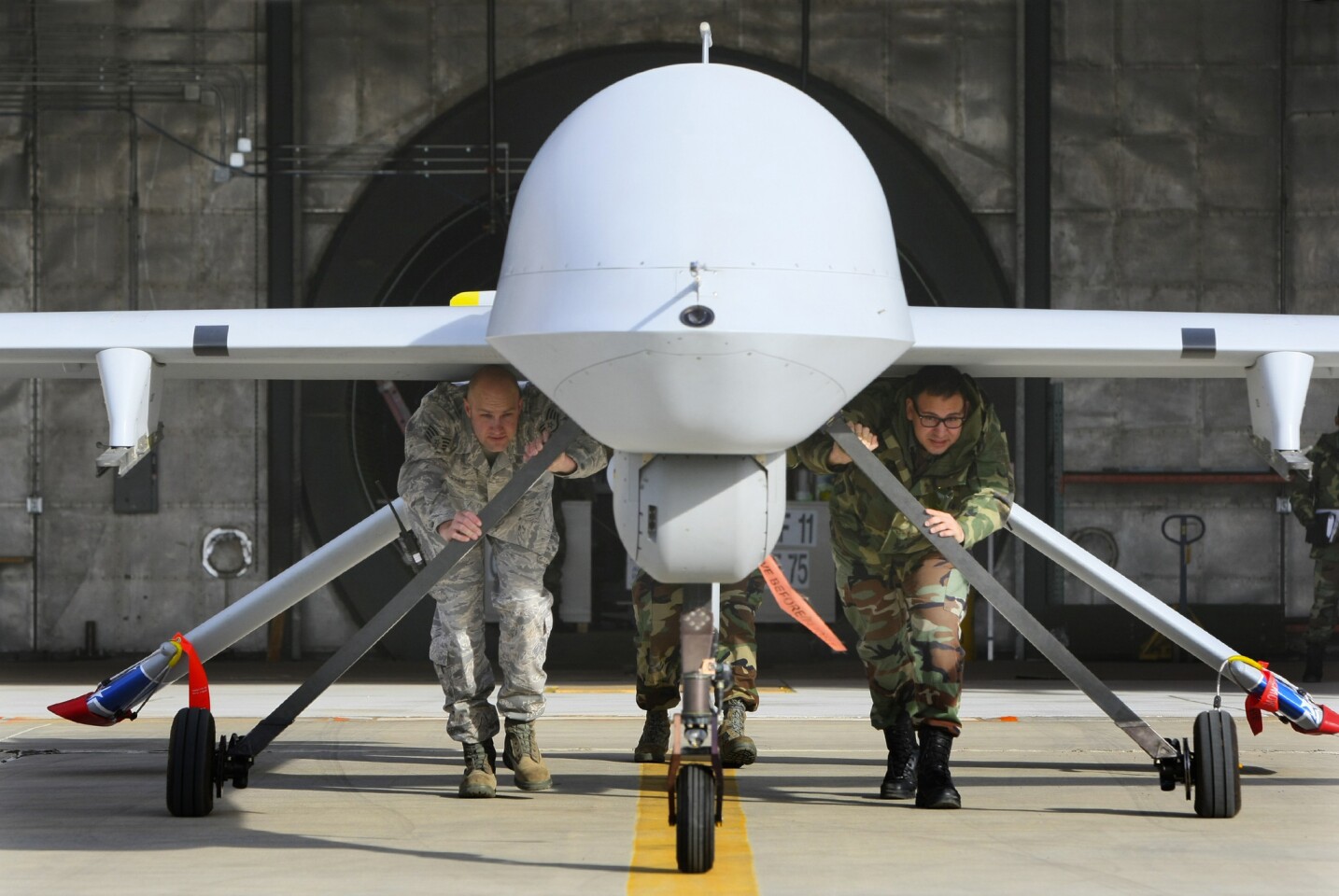 A ground crew from the California National Guard pushes a Predator aircraft from its hangar at Southern California Logistics Airport in Victorville.
(Don Bartletti / Los Angeles Times)
Technicians at General Atomics Aeronautical Systems in Poway, Calif., string wires through the fuselage of a Predator B airplane at the point where the wing will be attached.
(Don Bartletti / Los Angeles Times)
Northrop Grumman Corp. builds its high-flying Global Hawk drone for the U.S. Air Force in Palmdale.
(Brian Van der Brug / Los Angeles Times)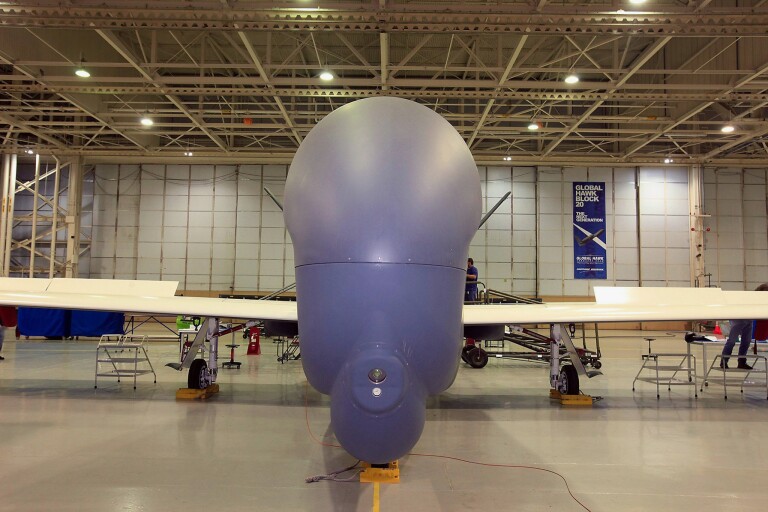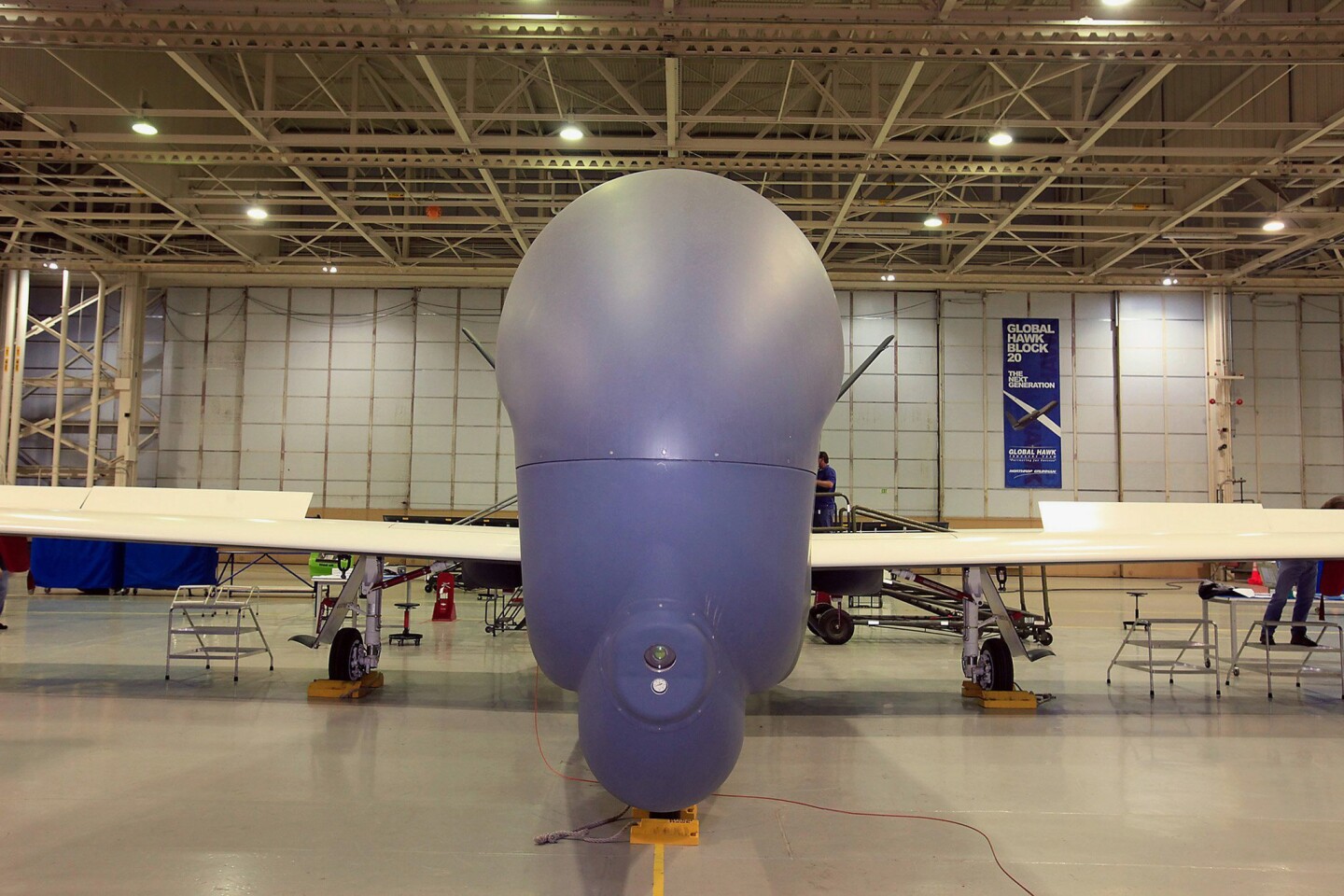 Workers at Northrop Grumman Corp.'s manufacturing center in Palmdale work on assembling the Global Hawk unmanned aircraft.
(Brian Van der Brug / Los Angeles Times)
Timothy E. Conver, chief executive of AeroVironment Inc., the largest maker of small drones for the military, holds the Nano Hummingbird as he stands in front of the Global Observer.
(Al Seib / Los Angeles Times)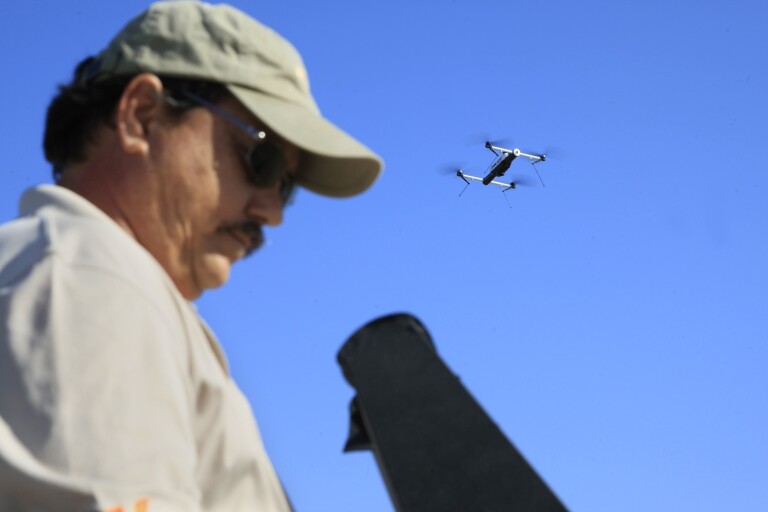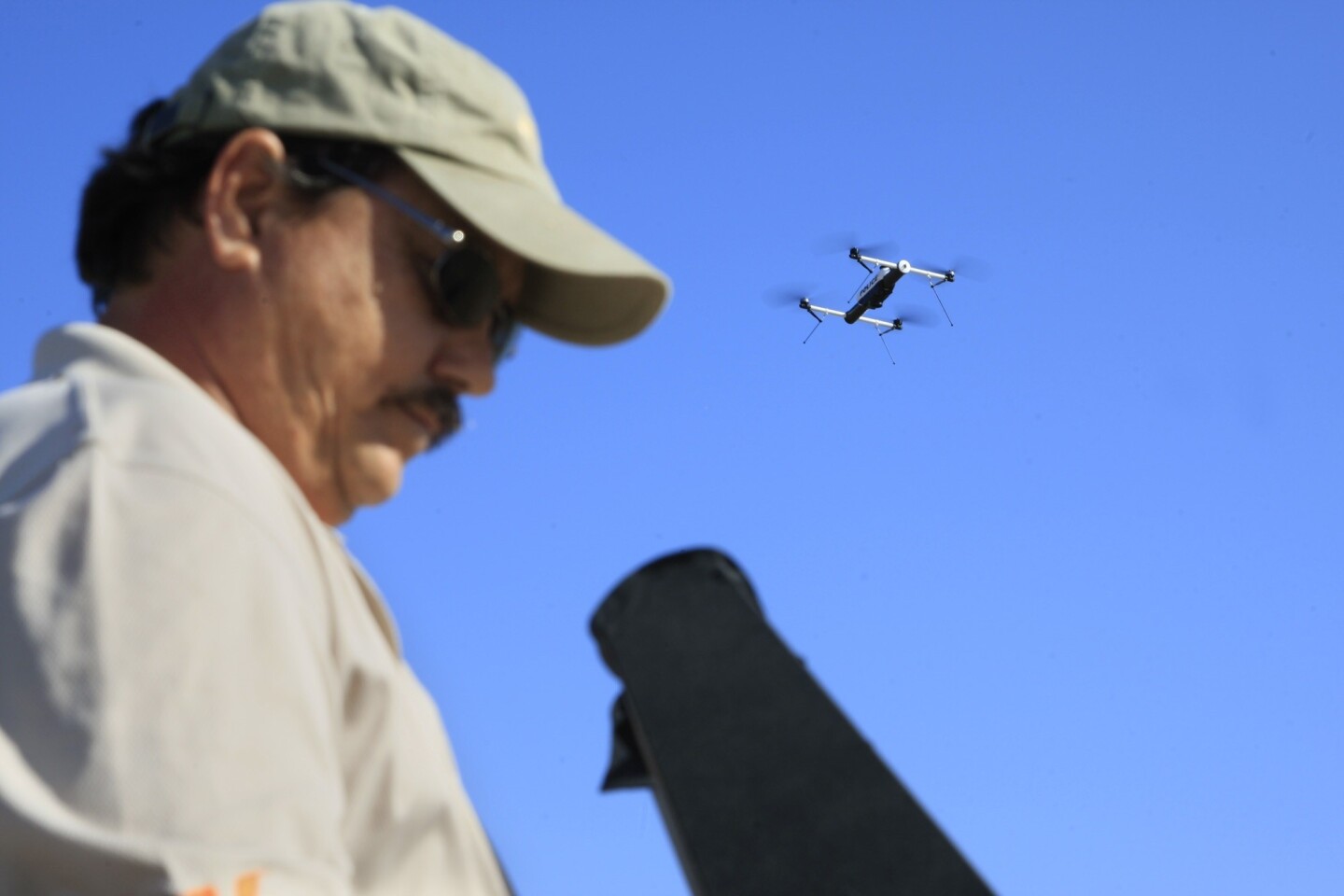 Nowell Siegel, an AeroVironment flight test pilot, helps guide a drone designed for police surveillance in Simi Valley.
(Gary Friedman / Los Angeles Times)
WASHINGTON — Although California is home to some of the nation's biggest drone manufacturers, the state was passed over Monday when the federal government picked six sites across the nation for testing the use of robotic aircraft in U.S. airspace.
The testing is designed to help the Federal Aviation Administration meet a 2012 congressional mandate to open the skies to remotely piloted aircraft, or drones, by 2015.
Disappointed California officials were at a loss to explain their failure to land a test site, though some suggested the state didn't do enough to win in the fierce nationwide competition. The state lost out to Alaska, Nevada, New York, North Dakota, Virginia and — adding salt to the wound — longtime rival Texas.
California was the only state with two groups submitting bids — one based in Ventura County and the other in Kern County.
"How California was left off the list, I haven't got a clue," said Bill Buratto, who, as president and chief executive of the Ventura County Economic Development Assn. helped pitch a bid for a test site in California. "It would seem to me that the FAA would look favorably on California."
California was thought to be a front-runner, given its rich aerospace history and the presence of major military drone makers, such as AeroVironment Inc. of Monrovia, General Atomics Aeronautical Systems Inc. of Poway, and Lockheed Martin Corp. and Northrop Grumman Corp., both of which build drones in Palmdale. Many of the military's newest drones take to the skies for the first time at Edwards Air Force Base in the Mojave Desert.
The FAA has estimated that 7,500 small drones could be aloft within five years, with industry officials predicting they could be used for such things as spotting wildfires, scouting film locations and delivering pizza.
In a conference call with reporters, FAA Administrator Michael Huerta said the agency considered a number of factors such as geographic and climatic diversity, availability of ground infrastructure, the types of proposed research and the volume of air traffic near the test sites.
Asked about the decision to reject the California proposals, he declined to say what was lacking in the losing bids. He said there would be no comment from the government until FAA officials can debrief the unsuccessful bidders.
"What we were really looking for was how do we select six that give us the broadest base of different airspace configurations, different traffic configurations and different climates," Huerta said.
Although the test site designation offered no federal money, groups in 24 states competed for it. The groups saw it as an opportunity to generate jobs from a burgeoning industry — and a matter of prestige.
Some states allocated money to promote their bids.
Brook Taylor, spokesman for Gov. Jerry Brown's Office of Business and Economic Development, said the governor's military council offered its strong support and the state worked directly with both applicants to strengthen their bids.
Winners were ecstatic. Sen. Mark Begich (D-Alaska) said the designation would "put our state on the world map when it comes to this exciting emerging technology.'' Nevada Gov. Brian Sandoval, in a tweet, called the selection a "historic moment" for his state.
The competition was smart on the government's part, because it raised awareness about the emergence of commercial drones and built coalitions between state and local politicians to push the technology forward, said Peter W. Singer, author of "Wired for War," a book about robotic warfare.
"It's a huge step for the advancement of the industry," Singer said. "It makes the future of the technology and the political, legal and ethical questions all the more real."
Drones, which have played an increasing role in military combat around the world, have also begun to take on new commercial roles, often going where it's too dangerous for a pilot in a cockpit.
They have helped measure radiation in the wake of the meltdown at Japan's Fukushima Daiichi nuclear power plant, penetrated the eyes of hurricanes to gather scientific data and helped firefighters see hot spots during wildfires. The FAA has also allowed limited surveillance uses for a few police agencies.
Currently, drones are not allowed to fly in the U.S. except with special permission from the FAA. The agency said there are 545 active certifications for such flights, many involving educational and scientific uses.
As drone technology becomes more advanced, demand has increased from police agencies and others for using drones. Oil and gas companies want to utilize them to keep an eye on their pipelines. Farmers in Japan already use small drones to spray their crops with pesticides. The idea of using drones as transport vehicles has been discussed as a way to deliver tacos and Domino's pizza.
This month, online retail giant Amazon.com unveiled a plan to use small drones to deliver packages weighing no more than 5 pounds into customers' hands in half an hour or less. It was the first time that a big-name retailer offered a compelling vision for using the technology.
Although drone technology has evolved, many questions remain, including safety and privacy concerns. The FAA has said that remotely piloted aircraft aren't allowed in national airspace on a wide scale because they don't have an adequate "detect, sense and avoid" technology to prevent midair collisions.
The test sites will work toward accomplishing that goal, which had been a concern of the Air Line Pilots Assn., the world's largest pilot union that represents nearly 50,000 pilots. The group said drones should be integrated into national airspace only after it could be shown that the aircraft, pilots and operators meet the same high standards as other commercial aircraft operations.
The Assn. for Unmanned Vehicle Systems International, a drone trade group, has long touted the economic benefits of the proliferation of the technology. The association issued a study last year that found, as a result of the existing aerospace infrastructure in the state, California is positioned to create more than 12,000 jobs and realize an economic impact of $2.39 billion in just the first three years after integration.
There are other hurdles as well. The prospect of robotic aircraft flying over communities has generated cries of spies in the skies — and prompted legislation from city halls to Congress to restrict their operations.
The FAA said Monday that test-site operators will be required to obey laws protecting an individual's right to privacy. But ACLU staff attorney Catherine Crump said that the FAA's requirement that test sites have privacy policies was not enough.
"Someday drones will be commonplace in U.S. skies and, before that happens, it's imperative that Congress enact strong, nationwide privacy rules," she said.
Selected as the test site operators were the University of Alaska, which will work with groups in Hawaii and Oregon to conduct testing in those states too; Griffiss International Airport in upstate New York; North Dakota's Department of Commerce; Texas A&M University in Corpus Christi; and Virginia Tech, which also will be testing with groups in New Jersey.
The first testing site is expected to be up and operating in 180 days.
---
For reporting and exclusive analysis from bureau chief John Myers, get our California Politics newsletter.
You may occasionally receive promotional content from the Los Angeles Times.