Judge denies Airbnb's request to halt San Francisco short-term rental law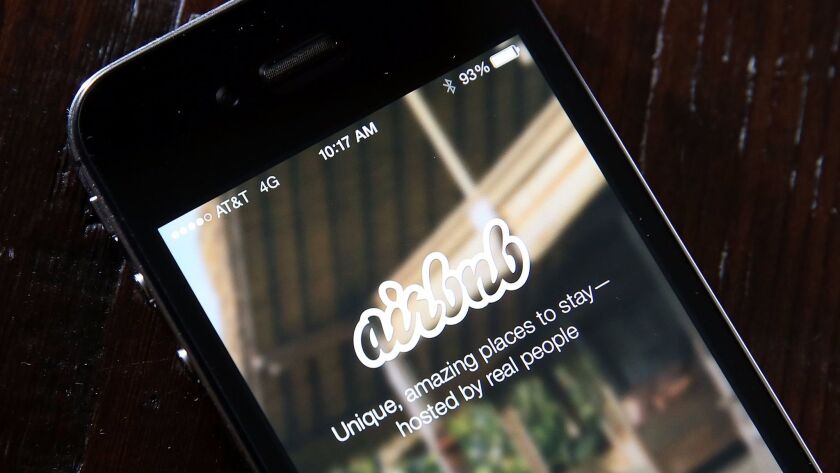 A federal court judge declined Tuesday to impose a preliminary injunction against a San Francisco law that makes it a crime for short-term rental companies to collect booking fees on properties not registered with the city.
Airbnb, the popular short-term rental site that has listed more than 7,000 homes for rent in San Francisco, had sued its hometown, contending that a law passed this year violates Airbnb's 1st Amendment rights as well as federal protections for Internet companies.
U.S. District Judge James Donato rejected the preliminary injunction request, saying Airbnb isn't prohibited from listing a rental or monitoring what is posted on its site. Instead, the company can simply post a notice that rental owners must register with the city before posting on Airbnb.
Still, the judge said there may be another reason to temporarily halt San Francisco's law: The city has no way for Airbnb and other sites to promptly determine whether a property is registered. Donato has called on lawyers for both sides to meet again next week to discuss the matter.
San Francisco has voluntarily agreed not to enforce the law, pending an outcome of the legal dispute.
San Francisco housing advocates have blamed Airbnb for a shortage of affordable housing in the city.
Airbnb said it disagrees with the judge's conclusions.
"No matter what happens in this case, we want to work with the city to fix the broken system long before the legal process runs its course," Airbnb spokesman Nick Papas said.
San Francisco Supervisor David Campos said he agrees with the judge's ruling. But he also took a shot at Airbnb, saying the company has not been willing to work with the city to find a solution to the dispute.
"Airbnb has had opportunity after opportunity to work with San Francisco's City Hall to craft regulations that actually protect our neighborhoods, while still allowing them to make billions," he said in a statement. "But instead they've employed an all-or-nothing strategy that's wasted San Francisco's time and money."
The city of Anaheim banned the short-term rentals and was threatening to impose fines on listing sites such as Airbnb for posting homes and apartments that violate the city's rental regulations. But Anaheim backed down after Airbnb sued, announcing in August that the city would not impose the fines against such short-term rental sites.
To read more about the travel and tourism industries, follow @hugomartin on Twitter.
---
UPDATES:
5:35 p.m.: This article was updated with additional details about San Francisco's short-term rental law.
The article was originally published at 4:45 p.m.
---
Must-read stories from the L.A. Times
Get the day's top news with our Today's Headlines newsletter, sent every weekday morning.
You may occasionally receive promotional content from the Los Angeles Times.