Airbus says it may stop making its giant A380 as it beats Boeing on sales of smaller planes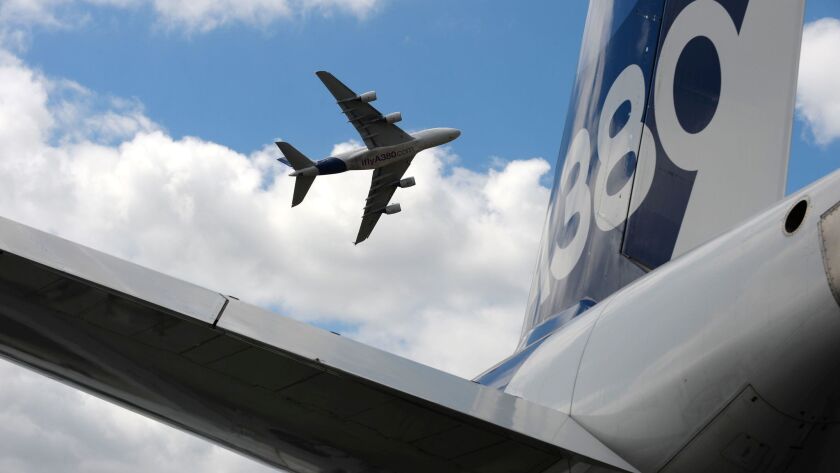 Bloomberg
Airbus SE publicly questioned the future of its A380 superjumbo jet, saying the program risks being shut down if the manufacturer fails to win a crucial order from the plane's main backer, Emirates of Dubai.
Emirates is the only airline with enough capacity to take enough planes to keep the program alive, Airbus sales chief John Leahy said Monday in an online presentation. Discussions are ongoing, he said.
"I believe we can find a solution with Emirates in hopefully the not too distant future," Leahy said in an interview with Bloomberg TV. "But we do need a strong base that only a big operator like Emirates can provide."
Meanwhile, Airbus widened its sales-order lead over Boeing Co. in 2017 following a record year of jet sales, and it eyed overtaking the North American giant by deliveries as well.
Airbus booked contracts for 1,109 airliners, or 52% more than in 2016, the Toulouse, France-based company said in a statement Monday, extending the margin over Boeing to 197 aircraft as its rival secured 912 net orders.
Although Boeing retains the title of world's biggest planemaker after delivering an all-time high of 763 aircraft versus Airbus's 718, the order tally represents a coup for the European group after it lagged behind for much of 2017, even enduring a sales defeat in its own backyard at the Paris Air Show in June.
While the A380 struggles, Airbus is outselling Boeing on smaller single-aisle aircraft like the A320 family. The company announced a bonanza of orders in late December and said Monday that it sold more than 1,000 of the planes in 2017. The achievement is especially notable since Boeing refreshed its lineup last year with the 737 Max 10, a direct competitor.
Airbus has now outsold Boeing for six straight years, encouraging the company to predict that it's just a few more away from also out-delivering its Seattle-based competitor, something last achieved in 2011. The group's overall backlog stands at an industry record 7,265 planes, compared with 5,864 at Boeing.
Airbus has struggled to rack up sales of the A380 superjumbo, which it argues will be needed to help increase passenger traffic at the world's busiest airports. The company was forced to slash production rates in July to try and stretch out the order book.
Emirates, by far the biggest operator of the plane, scuttled a deal to buy 36 of the planes in November, leaving Airbus hanging and raising doubts about the future of the program.
Airbus wants Emirates to order enough planes to sustain production at six a year over the next 10 years, giving the planemaker scope to sell two or three of the superjumbos on top of that to eke out a profit on the program, Leahy said.
The company produced 15 in 2017, will hand over 12 this year and just eight in 2019. Because most of the program's cost are in the past, Airbus can produce as few as six of the planes a year with "reasonable efficiency," commercial aircraft chief Fabrice Bregier said, adding that a formal decision to drop to that level hasn't yet been made.
The plane's future has been in doubt for several years. As far back as 2014, Chief Financial Officer Harald Wilhelm said the program could be killed if demand didn't pick up.
The four-engine A380, introduced in 2005, is so big that some airports had to expand runway facilities in order to accommodate the 550-seat plane. While it's used in the world's biggest airports including Los Angeles International and New York's JFK, the industry as a whole has moved toward smaller planes going point-to-point, reducing airlines' dependence on bigger hubs.
More business from Emirates is key to attracting other buyers of the A380 and ensuring jets sold now would hold their resale value. With a list price of $446 million, the plane is one of the most expensive and least flexible for airlines to deploy in their fleets. Without new orders, it becomes impossible for Airbus and its suppliers, which include Rolls-Royce Holdings Plc, GKN Plc and the General Electric Co.-United Technologies Corp. venture Engine Alliance, to make a profit.
Benjamin Katz writes for Bloomberg.
---
Your guide to our new economic reality.
Get our free business newsletter for insights and tips for getting by.
You may occasionally receive promotional content from the Los Angeles Times.