Are airlines padding flight times to improve on-time performance?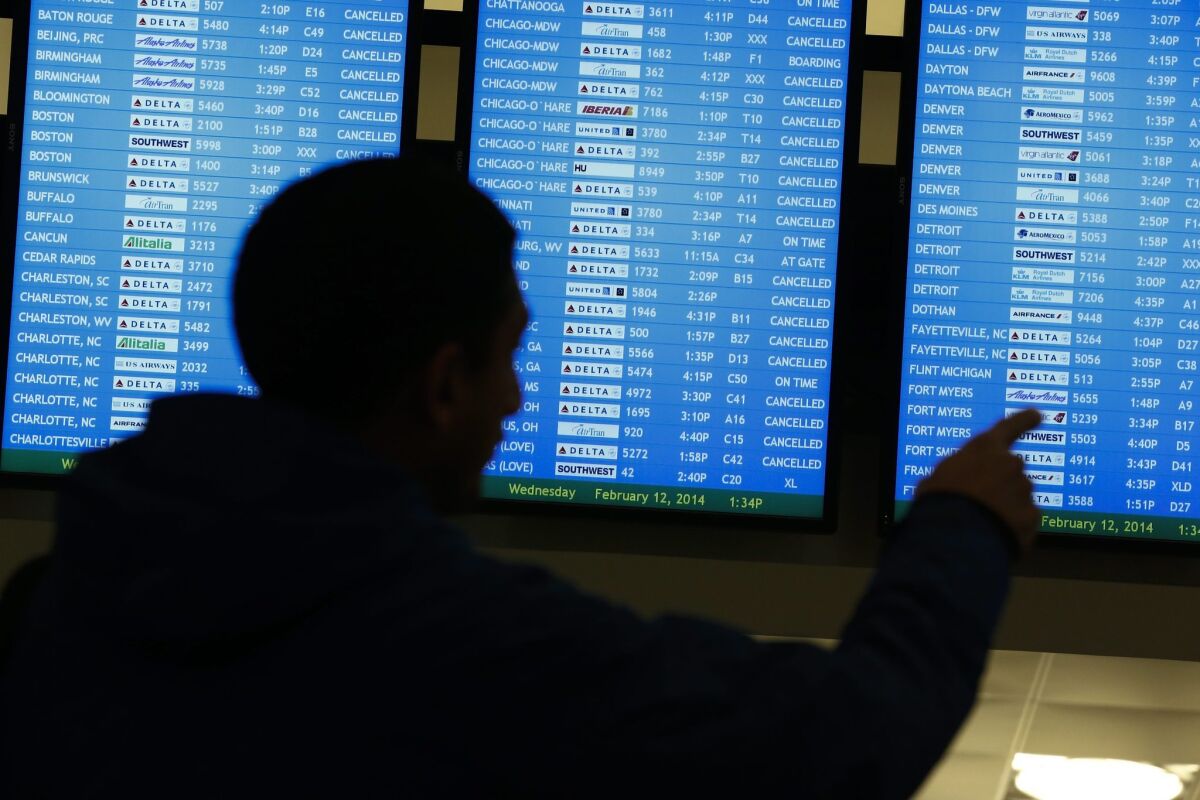 About a decade ago, Joe Nolan, a semi-retired electrical engineer from Palm Desert, could expect to hop on a flight at Palm Springs International Airport and arrive in San Francisco 55 minutes later.
Now the flight is usually scheduled for about 90 minutes. Nolan suspects that airlines are allotting more time for each flight to make it easier to meet their arrival schedule.
"It tells me that the on-time statistics are worthless," he said.
Nolan might have a point. A study by a British company that collects and analyzes travel data concluded that airlines around the globe have been padding their flight schedules for nearly 20 years.
In the U.S., on-time performance rates for commercial airlines have been on the rise and airline executives have boasted about the percentage of flights that arrive within 15 minutes of their scheduled time.
The study by OAG Aviation Worldwide looked at several routes around the world to conclude that the "block" times set aside for many flights have been growing since 1996.
For example, OAG looked at more than 1,400 flights scheduled between Los Angeles International Airport and San Francisco International Airport in 1996 and found that no flights took longer than 90 minutes, according to the study. By 2015, nearly half of the flights scheduled between the two airports allotted between 91 minutes and 110 minutes, the study said.
On average, the allotted time for flights between Los Angeles and San Francisco increased 8% from 1996 to 2015, the study found.
The OAG study suggested that airlines have added the extra travel time so they can post better on-time rates but also to help carriers deal with growing congestion on the airport tarmac.
"At airports which are congested, airlines need to keep schedules realistic so their timetables are reliable," the study said.
A spokesman for an airline trade group rejected the idea that commercial carriers are increasing the time allotment for flights just to improve on-time performance.
"We have the same goals as our customers, which is to get them, their luggage and packages to their destination safely and on time," said Vaughn Jennings, a spokesman for Airlines for America, the trade group for the country's airlines.
To read more about travel, tourism and the airline industry, follow me on Twitter at @hugomartin.
---
Sign up for the California Politics newsletter to get exclusive analysis from our reporters.
You may occasionally receive promotional content from the Los Angeles Times.