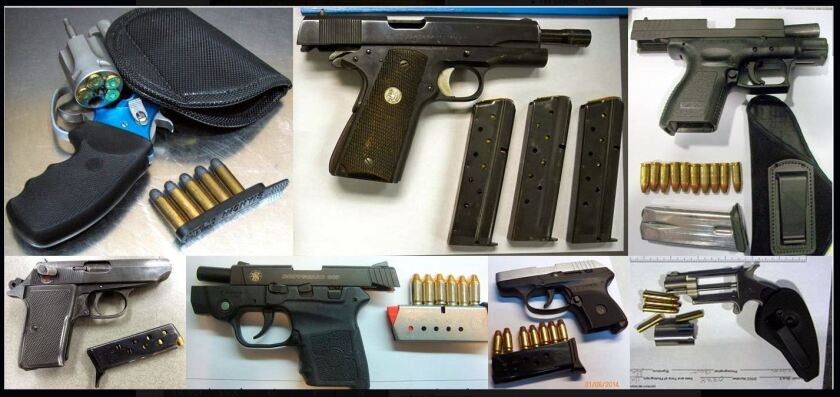 With nearly two months left in the year, airport security agents have already confiscated 1,855 firearms from passengers -- more than in all of 2013.
The Transportation Security Administration said 1,471 of those handguns and rifles were loaded, with the greatest number found at Dallas/Fort Worth, Hartsfield-Jackson Atlanta, Phoenix Sky Harbor and Houston George Bush international airports.
The 1,855 firearms were among 3,084 weapons, firearm components, stun guns, replica firearms and inert explosive material uncovered so far this year, the TSA said.
TSA officials declined to attribute a reason for the increase in guns but noted that the number of firearms found at airports has risen steadily since 2005, when 606 were uncovered.
In a statement, Homeland Security Secretary Jeh Johnson said the tally is "an example of the good work the men and women of the Department of Homeland Security perform on behalf of the American people."
One factor in the increase may be the rise in passenger volume, which grew 2.3% in the first seven months of the year compared with the same period in 2013, according to the Bureau of Transportation Statistics.
Federal law prohibits passengers from carrying weapons, explosives, knives or replicas in the cabin of a commercial plane. TSA agents do not have the power to cite or arrest passengers and instead notify local police when a weapon is uncovered.
Arrests occur in about 20% of the cases, according to the U.S. Department of Homeland Security.
Among the most recent weapons uncovered by the TSA were an inert hand grenade in Atlanta, a sword cane in Charlotte, N.C., a .357 magnum revolver in Orlando, Fla., and a cannon barrel in Kahului, Hawaii.
The most common explanation given by travelers found with a firearm was that they forgot it was in their carry-on bag, TSA officials said.
To read more about travel, tourism and the airline industry, follow me on Twitter at @hugomartin.
---