Jack Ma to hand Alibaba's reins to CEO Daniel Zhang next year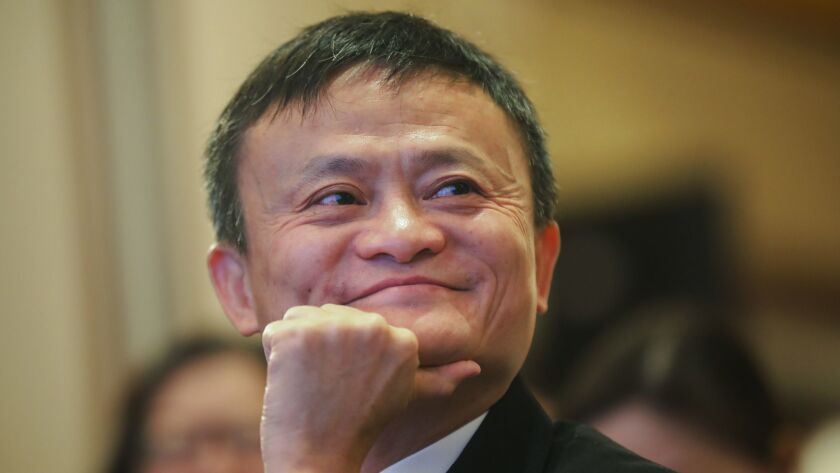 Bloomberg
Alibaba is heralding the end of the Jack Ma era.
A former English teacher who helped found Alibaba Group Holding Ltd. two decades ago, Ma outlined plans to hand the executive chairman role to Daniel Zhang, a finance veteran who's presided over an ambitious expansion and won over investors in three years as chief executive.
Ma will officially pass the baton in exactly 12 months' time, on his 55th birthday, but remain on the board until 2020. He now intends to focus on philanthropy and education but also pursue unspecified "new dreams," he said in a statement Monday.
China's richest man has become synonymous with turning the company that started in his Hangzhou apartment into a global e-commerce giant with burgeoning cloud computing and package delivery businesses. Ma's 46-year-old successor has pushed Alibaba deeper into the wallets of Chinese consumers as it bought and transformed bricks-and-mortar outlets — a so-called "new retail" vision that has cost billions of dollars — and took it into the realm of physical stores.
"Starting the process of passing the Alibaba torch to Daniel and his team is the right decision at the right time, because I know from working with them that they are ready," Ma said in the statement. "Since he took over as CEO, he has demonstrated his superb talent, business acumen and determined leadership."
The succession plan will unite Alibaba's two biggest roles for the first time since Ma gave up his CEO title in 2013 to focus on being chairman and groom lieutenants, including Zhang, a Shanghai-educated certified accountant.
Zhang joined Taobao in 2007 as chief financial officer of the consumer-to-consumer marketplace. He pioneered the company's push into getting established brands to sell to customers and is credited with helping turn Singles' Day into a Chinese shopping bonanza.
Zhang's appointment may come as a surprise to those accustomed to tracking Ma's other high-profile lieutenants, such as Vice Chairman Joseph Tsai. The CEO has proved a capable hand and Alibaba's stock has surged 87% over his tenure and now has a market value of about $420 billion, bigger than arch-foe and WeChat operator Tencent Holdings Ltd.
Ma is moving on with Alibaba in a dominant position in China and pushing into overseas markets from Southeast Asia to Russia. Leadership will now fall to Zhang and the 35 other partners who control the company.
The billionaire started Alibaba.com in 1999 as a business-to-business marketplace with 17 co-founders. An investment from Japan's SoftBank Group Corp. helped the company expand to allow consumers in China to buy online and fueled its rise. Through the Taobao and Tmall platforms, it is responsible for billions of dollars in sales and last year saw daily package deliveries reach 55 million.
Alibaba has since moved into cloud computing, digital payments, healthcare, Hollywood movies and backing China's start-ups. Its share price has more than doubled since its record 2014 initial public offering.
"Ma possesses an enviable clarity about how everything fits together," said Mark Tanner, founder of Shanghai-based research and marketing company China Skinny. "He has understood Chinese consumer needs better than anyone and provided online services to meet them through convenience, entertainment and efficiencies."
Ma said in an interview with Bloomberg TV last week that he plans to shift his focus to philanthropy and education, taking him back to his profession before starting an e-commerce empire. He has created a foundation in his own name, modeled in part on the efforts of Microsoft Corp. co-founder and fellow billionaire Bill Gates.
"I've prepared a Jack Ma Foundation. All these things that I've been preparing for 10 years," he said. "There's a lot of things I can learn from Bill Gates. I can never be as rich, but one thing I can do better is to retire earlier."
Ma has remained the public face of Alibaba, showing off his wit and dispensing folksy wisdom on the global stage. That made him China's highest-profile business leader. He's a rarity in a country where many come up through the ranks of state-owned enterprises, and is a supporter of the ruling Communist Party.
"There isn't a face or name more recognizable globally that represents the rise of China's internet and its consumers than Jack Ma," said Tanner.
Ma has headlined conferences around the world and was one of the first foreign business leaders to meet with Donald Trump after his election. He has struck a careful balance even as tensions between China and the U.S. have risen over trade.
But he has also said in the past that he isn't happy being the wealthiest person in China, where vast personal fortunes have emerged in recent years and are subject to intense scrutiny.
A number of high-profile executives have vanished from public view only to turn up later in connection with corruption or criminal probes, including the heads of Anbang Insurance Group Co. and CEFC China Energy Co. Such scandals haven't been associated with Ma or Alibaba.
The company has a strong management team and Ma is likely to still have a role in setting top-level strategy, said Brock Silvers, managing director of Kaiyuan Capital.
"On a day-to-day basis, Alibaba shareholders probably have little to fear," Silvers said.
---
Your guide to our new economic reality.
Get our free business newsletter for insights and tips for getting by.
You may occasionally receive promotional content from the Los Angeles Times.