Allegiant pilots vote to strike if dispute over scheduling system isn't resolved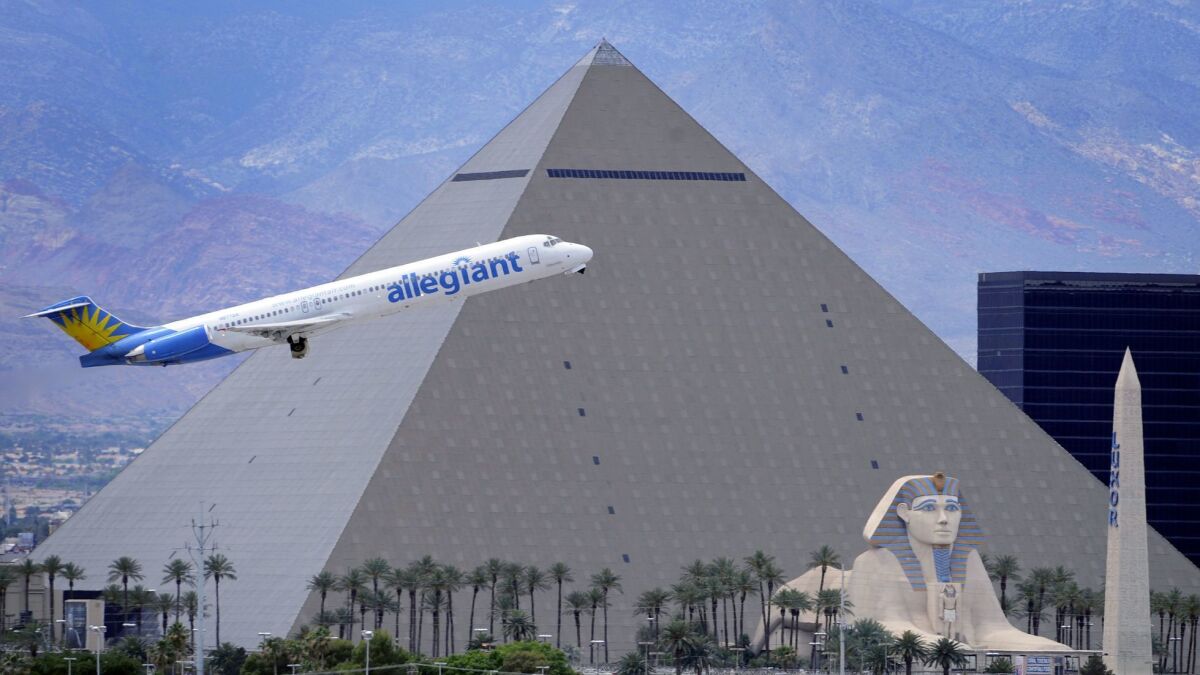 A dispute over a scheduling system has set the stage for a possible pilot strike at Allegiant Air.
The low-cost carrier based in Las Vegas has been meeting with its pilots union for nearly two years to resolve a dispute over a scheduling system that the union says disregards the seniority and preferences of the airline's 877 pilots.
In a vote taken over the last week or so, 93.5% of Allegiant pilots said they are willing to strike if necessary to push management to resolve the problem, according to representatives for the Airline Pilots Assn., Teamsters Local 1224.
Although a strike isn't assured, if such a job action were to take place, the effect could be felt heavily at Los Angeles International Airport, where Allegiant flew more than 200,000 passengers last year.
The feud centers on a scheduling system that the pilots describe as "a sham" that goes against industry standards because it arranges the work schedules of pilots without taking into consideration seniority or preferences. The union said the airline promised in 2016 to fix the system within 180 days but continues to "stonewall" negotiations over the system.
"Striking is a last resort, but we'll do whatever it takes to hold Allegiant to its promise and to make our airline the best it can be for our pilots, our families and our passengers," said Andrew Robles, an Allegian pilot and executive council chairman of the union.
In a statement, Allegiant said it is working toward "implementing the scheduling system" but added that the issue "would not constitute grounds for a legal work stoppage."
The airline was the subject of controversy in April when the CBS news show "60 Minutes" said federal documents indicate that Allegiant flights were 3 ½ times more likely to suffer an in-flight breakdown than flights operated by other major carriers.
The show's report also repeated a long-running accusation by the pilots union that the airline discourages pilots from reporting mechanical problems with planes. It also took aim at the Federal Aviation Administration for failing to take action against Allegiant.
Allegiant issued a statement saying the airline complies with all FAA requirements and called suggestions that the airline muzzled employees "offensive and defamatory."
To read more about the travel and tourism industries, follow @hugomartin on Twitter.