Prime Day-Ramadan conflict spurs rare Amazon worker agitation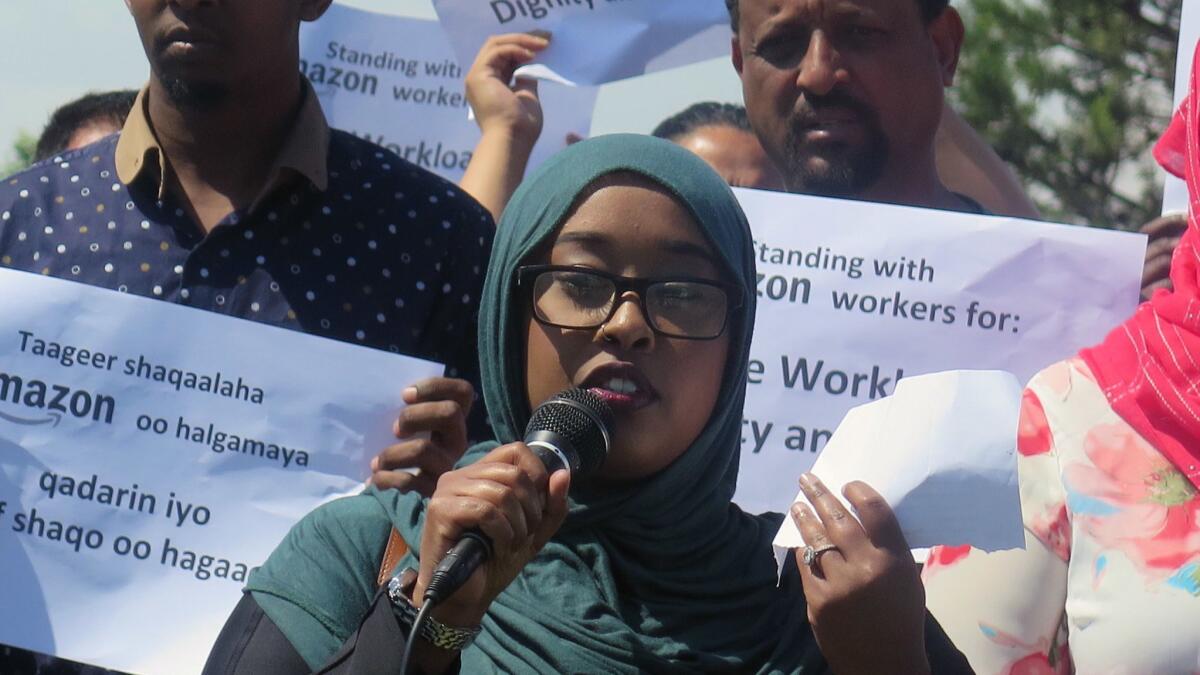 The run-up to Amazon Prime Day, the e-commerce giant's big July sales promotion, overlaps with Ramadan, 30 sacred days during which many observant Muslims fast and seek time off.
That's creating tension in Minnesota's Twin Cities region, where activists say Amazon.com Inc. employs more than 1,000 East African Muslim immigrants at four warehouses. Amazon needs to stuff its facilities with inventory in preparation for one of its busiest days of the year at the very time many of those workers want a break.
The conflicting demands of the religious holiday and the corporate one have helped spur something almost unheard of: concerted workplace activism by employees of Amazon. In a tight labor market, at a sensitive moment for management, employees say the company is making moves to address the culture clash.
"We don't want to pick between our wages and our faith," said Abdirahman Ali, one of dozens of workers from the four facilities who organizers say have become leaders in the effort.
In a statement, Amazon said, "We offer a positive, safe and accommodating workplace for employees, including providing a great pay of $15 per hour and comprehensive benefits. We respect the religious practices of employees and offer accommodations as needed."
One person familiar with the situation, who asked not to be identified giving details about it, said that Amazon has historically made accommodations for workers observing Ramadan, such as providing prayer space and mats and adjusting break times.
Amazon has largely avoided the consumer backlash associated with "Christmas creep" — retailers opening on Thanksgiving Day to kick off the season, only to take heat from employees and customers for commercializing the November holiday — since all shopping is done digitally and its warehouse workers toil out of sight of customers. The clash over Ramadan is a rare public display of Amazon's warehouse workers seeking relief from the demands of a web store that never closes.
On Monday, organizers said, 15 Amazon employees and a few dozen other activists converged on the retailer's Eagan, Minn., delivery center, where they rallied outside and then filled the entryway, chanting, "Yes we can" in Somali and English.
The demonstrators handed a management representative a letter with a series of requests, including a call to curb their heavy workloads while they're fasting and to let them take time off without penalty for Eid, the festival that ends Ramadan.
That followed organizing last month at Amazon's fulfillment center in nearby Shakopee, where employees circulated fliers throughout the building urging their co-workers to wear shirts and hijabs that were blue, the color of the Somali flag, on a chosen day to show support for similar demands. Before the day employees had designated, workers said, the facility's top manager pulled them together to announce that the company was creating on-site prayer rooms and would ease up on employees' quotas for the duration of the fast.
"That showed us that we are very powerful," said Aaisha Jama, an employee at the facility who's been mobilizing colleagues for the cause and working with counterparts from other sites.
Amazon has been on a years-long hiring binge to accommodate sales growth. It had 563,100 employees as of March 31, up 60% from a year earlier, mainly because of its acquisition of Whole Foods Market Inc. but also because of new warehouses around the country.