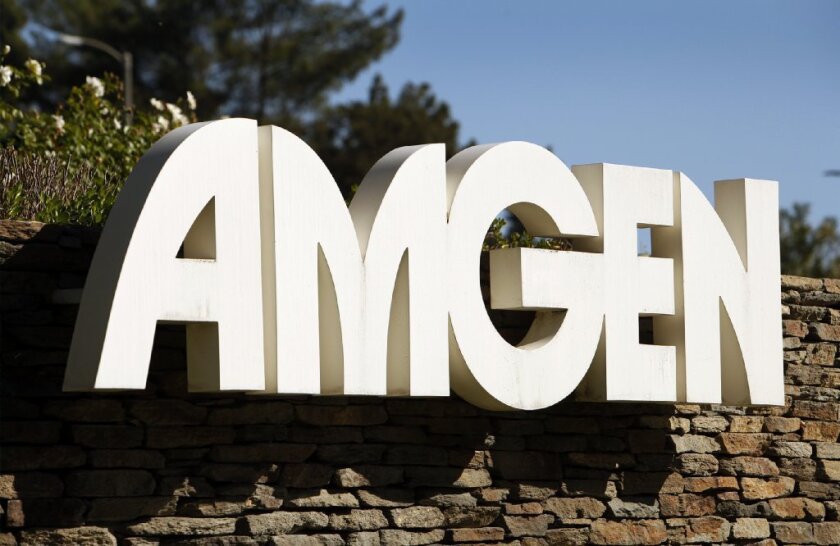 Thousand Oaks biotech firm Amgen Inc. said its profit jumped 7% in the second quarter as sales of several key drugs increased.
The results, released after markets closed Thursday, were better than analysts had expected. The company also increased its estimated revenue and profit for the year.
Amgen said it earned $1.65 billion in the quarter, or $2.15 a share, up from $1.55 billion in the same quarter last year.
"Focused execution with our growth products drove record revenues in the second quarter, and expense discipline further leveraged earnings and our ability to invest in new and forthcoming launches," said Robert A. Bradway, Amgen's chairman and chief executive.
The company's revenue increased 4% to $5.37 billion in the three months that ended June 30 compared with the same period last year.
Sales of Enbrel, a rheumatoid arthritis drug, were up 8% to $1.35 billion, Amgen said. Osteoporosis drug Prolia sales jumped 29% to $340 million. On the downside, sales of infection-fighting Neupogen fell 14% to $256 million.
Stunning photos, celebrity homes: Get the free weekly Hot Property newsletter >>
The company's stock was up about 2% in after-hours trading. It gained 22 cents on Thursday to $171.69. The stock is up 8% this year.
Amgen increased its 2015 adjusted earnings forecast to a range of $9.55 to $9.80 a share, up from $9.35 to $9.65. The company said it expects revenue for the year of $21.1 billion to $21.4 billion, up from $20.9 billion to $21.3 billion.
Twitter: @spfeifer22
MORE FROM BUSINESS
Economy grows 2.3% in spring; 1st quarter revised higher
Whole Foods to take on Trader Joe's in L.A. with smaller stores
The mini-mogul behind Relativity Media said he'd change Hollywood, now studio files bankruptcy
---