Bayer won't fight EPA ban on pesticide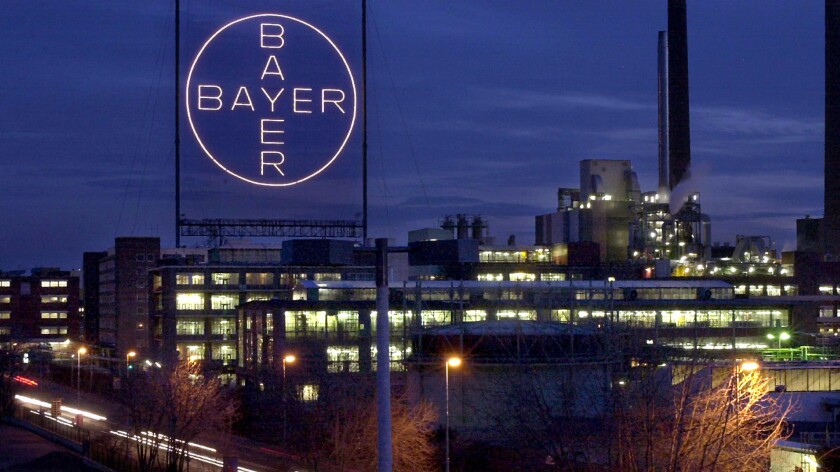 Bayer CropScience will give up its fight with federal regulators over their ban of a pesticide commonly used on almonds, alfalfa, tomatoes and other California crops.
The company said in a statement Wednesday that it was too risky to take its case to a federal appeals court or to reapply for approval of the chemical, flubendiamide, marketed by Bayer under the brand name Belt and by Nichino America as Tourismo and Vetica.
The companies have stopped selling those products, although stockpiles they already shipped can be sold and used, according to a recent decision by an appeals panel of the U.S. Environmental Protection Agency.
Pressing the fight might have allowed Bayer to renew its scientific claims that the chemical poses no serous threat to freshwater animals, such as snails, worms, and mussels, but "that opportunity was far from certain," said Charlotte Sanson, Bayer's director of registrations.
Further appeal, Sanson said, "carried a fair amount of risk, including the potential that some of the gains we made … would be lost."
Among the gains were a decision by the EPA's appeals board to modify the cancellation of flubendiamide to allow distributors and retailers other than Bayer and Nichino to sell or distribute existing stock. Neither the agency nor Bayer revealed how much of the product is still available to growers, who have applied it to more than 200 crops on nearly 2.5 million acres.
Bayer and Nichino received conditional approvals in 2008 for flubendiamide, provided they agreed to voluntarily cancel the agency's registration of the chemical if EPA scientists later determined that its further use posed "unreasonable adverse effects on the environment."
That provision was created by Congress in part to allow chemical companies to receive more rapid approval of novel pesticides while further studies are underway. It included a provision for the EPA to likewise revoke the approval rapidly and ban any further use if agency scientists found the chemical caused harm.
EPA earlier this year concluded that the chemical posed an unreasonable threat and gave the companies a week to surrender their registration. The companies balked, arguing that the condition of the registration — including the rapid termination — was unlawful, and that the EPA's scientific review ignored additional data that Bayer had gathered while the chemical was in use.
An administrative law judge upheld the termination, and the appeals board agreed, but reversed the judge regarding whether stocks of the chemicals shipped by the companies before the cancellation could be sold or distributed.
EPA officials told the review board that the agency didn't intend to use similar conditions to approve other chemicals, a decision Bayer hailed as a victory.
California growers applied 42,495 pounds of flubendiamide to 521,140 acres in 2013, the last year for which complete data were available, according to the state Department of Pesticide Regulation.
More than a third of that was applied to almonds — 14,693 pounds on 125,557 acres, according to the department. Growers applied 6,002 pounds of it to 91,828 acres of alfalfa, and 3,684 pounds to 78,348 acres of processing tomatoes, which are used in paste and other products.
Earlier this month, Germany-based Bayer AG, the parent company of Bayer CropScience, announced a $66 billion acquisition of U.S.-based Monsanto Co. The deal is under review by regulators.
Follow me: @LATgeoffmohan
---
For reporting and exclusive analysis from bureau chief John Myers, get our California Politics newsletter.
You may occasionally receive promotional content from the Los Angeles Times.