New L.A. car-sharing service aims to serve low-income neighborhoods
The Los Angeles Department of Transportation rolls-out the new car-sharing program BlueLA. (Video by Mark Boster / Los Angeles Times)
A new car-sharing service is launching in Los Angeles that is aimed at lower-income families who can't afford eco-friendly cars.
The BlueLA Electric Car Sharing Program, announced by Mayor Eric Garcetti on Friday, will bring 100 electric cars and 200 electric vehicle charging stations to Westlake, Pico-Union, Koreatown, Echo Park and downtown Los Angeles starting this summer.
The cars will be available 24/7 at self-service kiosks and can be rented by the minute or via a monthly subscription. Exact rates haven't been set, but city officials said prices will range from 15 cents to 80 cents per minute of drive time.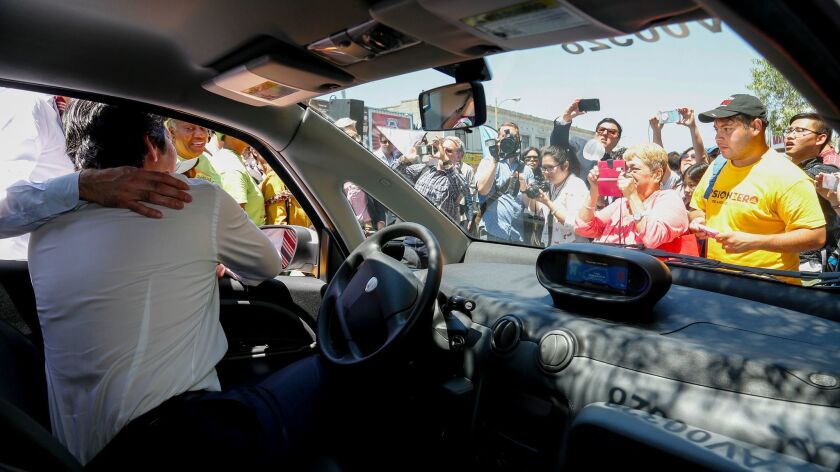 State lawmakers have been pushing Californians to consider zero-emission vehicles such as hybrids and electric cars. But going green can be especially difficult for low-income families.
"You can't do a good environmental program if it doesn't include everyone, and income should not dictate people's activism," Garcetti said.
BlueLA's focus on disadvantaged neighborhoods and accessibility of low-emission technology makes it unique from other car-sharing services in the country, said Hervé Muller, president of BlueLA.
Car-sharing companies such as Zipcar charge rates that can add up to $78 per day, putting personal transportation out of reach for many low-income Angelenos, Muller said. To make matters worse, those families often live in neighborhoods that have poor air quality because they are close to factories and freeways, according research from the city of L.A. Sustainability Team.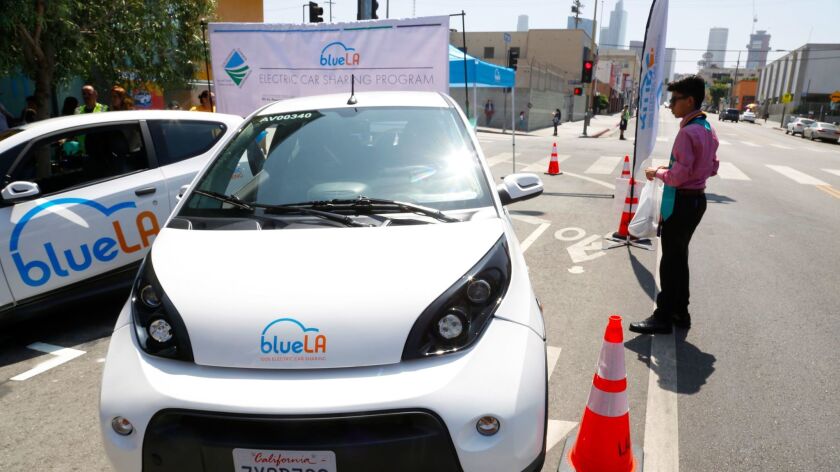 Although anyone can rent a BlueLA electric car, there are special incentives for low-income users.
Depending on an individual's income, a 25% rebate will be available for those who pay by the minute, and a 40% discount may be applied to the monthly subscription fee.
BlueLA stations will be on-street, consisting of one self-service kiosk and four to five parking spots, each with an electric charger. The service is point-to-point, so users don't need to return the car to the kiosk where they initially picked it up.
BlueLA is a partnership between Blue Solutions, a division of the Bollore group of France, and the L.A. Department of Transportation. It is being funded by a $1.7-million grant through California Climate Investments, a statewide program aimed at reducing greenhouse gas emissions and improving public health in disadvantaged communities.
Serge Amabile, general manager of Blue Solutions, said the goal of the car service is to give low-income residents options other than public transportation and to provide them with autonomy and independence.
The service will be available to anyone over 18 with a driver's license.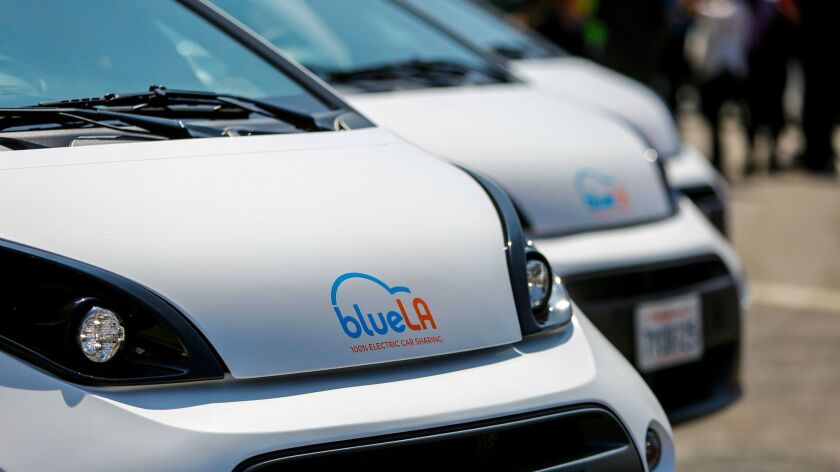 ---
Must-read stories from the L.A. Times
Get the day's top news with our Today's Headlines newsletter, sent every weekday morning.
You may occasionally receive promotional content from the Los Angeles Times.