More minorities are hiking and camping — good news for makers of outdoorsy gear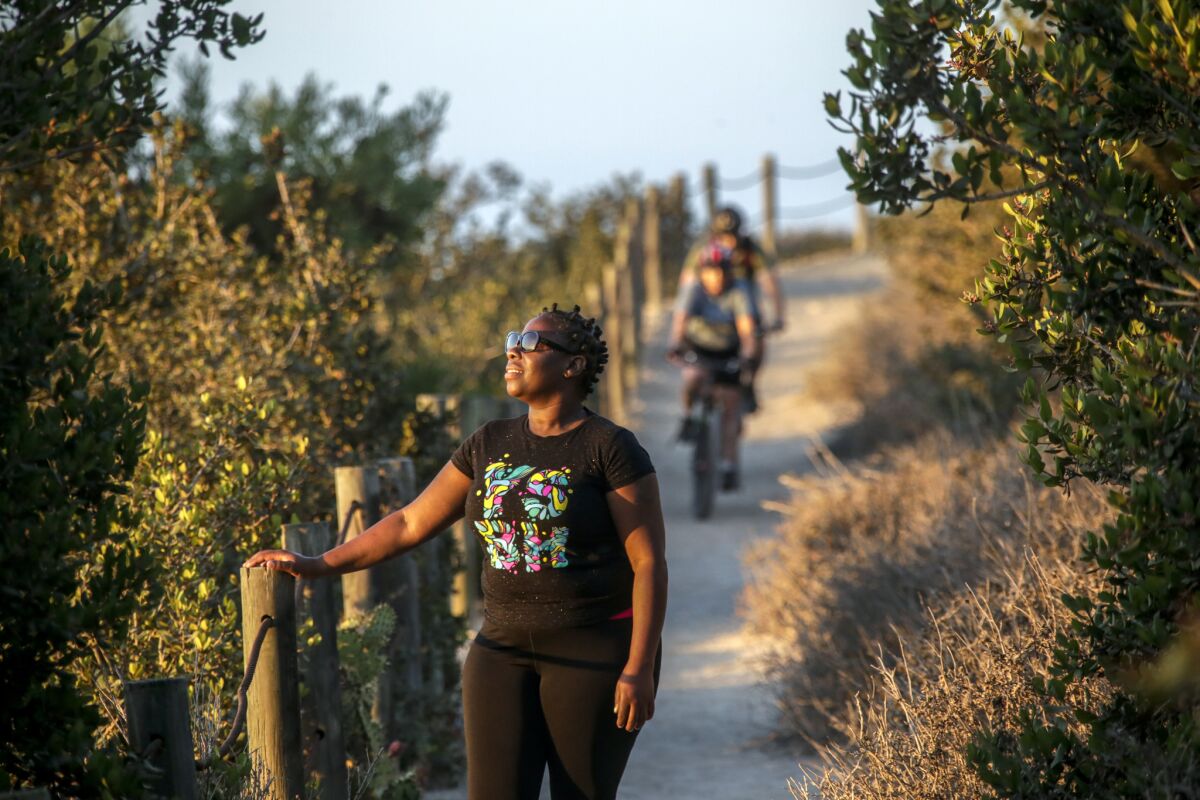 Recalling the childhood fun she had at summer camp, Ciji McBride has decided to go back to the outdoors.
The 41-year-old African American beauty consultant from Baldwin Hills recently joined the Sierra Club, began taking day hikes in the Santa Monica Mountains and is planning a camping trip to Yosemite National Park next summer.
"As a kid, I always liked being in the outdoors, and as I approached my mid-30s and 40s, I said, 'What are some of the things I like to do,' " she said. "You can go to bars and movies, and that's all great, but we live in a state with great weather."
McBride's renewed interest in hiking and camping reflects the growing percentage of minorities spending time in the great outdoors, a significant shift for a demographic long underrepresented among campers and hikers in the U.S even as the nation's population becomes more diverse. The development holds the promise of a potentially lucrative new market for state and national parks as well as makers of outdoorsy equipment and clothing.
A recent survey of nearly 3,000 Americans and Canadians found that among the 1 million people who began camping for the first time last year, nearly 1 in 5 was black and 11% were Latino, nearly twice the rate for those groups in 2014.
The survey, commissioned by Kampgrounds of America, showed that the latest generation of campers more closely represent the nation's overall ethnic breakdown.
An increase in participation among minorities in the outdoors could help boost state and national park attendance as well as sales of hiking boots, camping tents, backpacks and other outdoor equipment.
"The changing demographics of the U.S. is the demographics of consumers," said Ivan Levin, deputy director for the Outdoor Foundation, the nonprofit arm of the trade group that represents the outdoor recreation industry. "It's important to get these people interested in the outdoors now."
Minority groups represent a growing and largely untapped market for outdoor gear manufacturers and retailers with buying power that is rising much faster than for the general population, marketing experts say.
U.S. Latinos' buying power — defined as household income minus taxes — increased 167% between 2000 and 2015, while the overall buying power of all U.S. consumers rose 82% in that same period, said Jeff Humphreys, director of the Selig Center for Economic Growth at the University of Georgia's Terry College of Business. The same 15-year period saw 91% growth in African Americans' buying power and a 199% increase for Asian Americans, he said, based on annual studies by the Selig Center.
"The reason why these multicultural markets are so compelling is that they are quite large and are exhibiting extraordinary growth," Humphreys said. Buying power is surging for all three groups, he said, because of a rising level of education, above-average population growth and increasing entrepreneurship.
Increased interest by diverse groups is redefining the $646-billion outdoor recreation industry, which despite annual sales growth of about 5% a year, hasn't managed to increase the overall participation rate in outdoor activities such as biking, hiking, camping and fishing. Close to half of the nation's population participated in an outdoor activity in 2015, a rate that has been almost unchanged for the past nine years, according to annual studies by the Outdoor Foundation.
In California, attendance at the state parks has dropped 6% since 2006. National parks fared better, with a 13% increase in visitors during that same period.
The managers of state and national parks say increasing visitation numbers means ensuring that parks have funding to stay open.
"The more people appreciate the parks, the more constituents we have for our parks," said Karl Knapp, who is part of a team at the California State Parks trying to make parks more relevant to the state's diverse population. "It's not just a numbers game. It's an appreciation."
One of the reasons more minorities are venturing into parks and forests, according to the KOA survey, is that technology, including smartphones and online apps, makes it easier to book campsites, locate hiking trails or meet up with fellow outdoor enthusiasts.
Nadine Jackson, an African American cafeteria manager from Compton, said she was prompted a few years ago to spend more time in the outdoors when she saw the Facebook posts of a friend who enjoyed hiking near Rancho Palos Verdes.
After checking out videos and photos on Facebook of other people having outdoor adventures, Jackson, 46, said she decided last year to take 17 family members to Sequoia National Park.
"I'm on a mission to see as many national parks as I can before I leave this world," she said.
McBride agrees that technology has helped encourage her to spend time in the outdoors. She said she recently used a sky map app on her smartphone to look at a meteor shower.
"Things are much more accessible," she said.
In opinion surveys, the top reasons African Americans and Latinos have said they don't spend more time on outdoor activities are the expense or the lack of time or skills to participate.
Recognizing the need to draw more minorities into the outdoors, park managers and outdoor industry groups have launched several outreach programs in the past few years.
The Outdoor Foundation launched a program in 2014 called the Outdoor Nation Challenge that rewards college students for taking time to birdwatch, hike, camp or other activities. The college that scores the most points gets a trophy and up to $5,000 in cash and outdoor gear.
The program started with 10 colleges and 8,000 participants and has expanded to 90 colleges and nearly 20,000 participants. The contest is designed to pique the interest of young, ethnically diverse populations, Levin said.
In California, the state parks department launched a "transformation" effort in 2015 to draw more Californians into state parks.
Among the initiatives of the group is to create a community liaison program to encourage young people in urban areas to venture into the parks. The program also includes a partnership with Google to map state parks, making it easier to find trails and landmarks easier. The state parks also are working to install more wireless Internet access at campgrounds.
"It's a more digital generation than in the past," said Knapp of the state parks.
The national park service also has launched an effort to get minorities into the outdoors by inviting artists, photographers, bloggers and writers who have huge followings on social media to visit parks and post videos, stories and photos of their experiences.
Will Shafroth, president of the National Park Foundation, the official charity of the national park system, said the future of the national parks depends on getting a more diverse generation of millennials to be regular visitors to the parks.
"We are going to need people to stand up and fight for the parks," he said. "We are going to continue to need financial support."
To read more about the travel and tourism industries, follow @hugomartin on Twitter.
To read the article in Spanish, click here
ALSO
Yahoo helped the U.S. government spy on emails, report says
Users of popular prepaid debit cards finally get some federal consumer protections
Google shows off new phone, virtual reality headset and home assistant
---
Sign up for the California Politics newsletter to get exclusive analysis from our reporters.
You may occasionally receive promotional content from the Los Angeles Times.