Judge tosses suit against Capital Group that accused fund manager of shortchanging retirement plan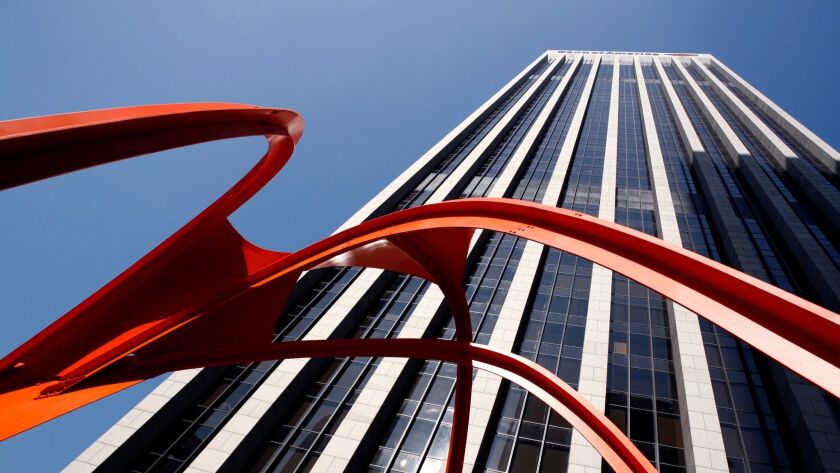 A federal judge has dismissed a lawsuit against Los Angeles fund giant Capital Group that alleged the firm was bilking employees by steering their retirement savings into its own mutual funds.
Former employee D'Ann Patterson sued the company in June, saying it had made "imprudent and self-interested decisions" by offering mostly its own mutual funds to employees through the company's 401(k) plan, and that those funds charged excessive fees.

For the record:
10:40 AM, Jan. 27, 2018A prior version of this story referred to U.S District Judge Dale Fischer as a male. Fischer is female.
U.S. District Judge Dale Fischer called the allegations implausible, saying it did not appear the company either overcharged its employees or erred by offering them its own mutual funds.
Capital Group, which manages $1.7 trillion in assets, had called the lawsuit meritless when it was filed. Company spokeswoman Hannah Coan said Friday, "We are pleased with the judge's order, and agree with the ruling."
Patterson's attorneys did not respond to a request for comment.
The suit, filed in Los Angeles federal court, compared Capital Group's American Funds family of mutual funds with similar offerings from passive investing specialist Vanguard. It argued Vanguard provided better performance and lower fees, giving Capital Group employees a bad deal.
There have been a handful of similar cases filed over the last few years against money-management firms, all arguing that companies are harming employees by steering retirement savings into anything other than cheap, passively managed funds — ones that track the S&P 500 and other stock indexes.
Fees for American Funds, which are actively managed by stock pickers, are generally higher than for passive funds.
But some of the comparisons in Patterson's suit showed that American Funds outperformed Vanguard funds, even after the higher fees were taken into account.
In her order dismissing the case, Fischer wrote that Capital Group's fees were not "obviously excessive."
Fischer also wrote that retirement plan mangers must be able to take into account more than just the fees associated with particular mutual funds.
She dismissed the case but gave Patterson and her attorneys until Feb. 20 to file an amended complaint.
Follow me: @jrkoren
---
Your guide to our new economic reality.
Get our free business newsletter for insights and tips for getting by.
You may occasionally receive promotional content from the Los Angeles Times.