Q&A: Is the real estate market about to crash? No way, says this CEO — and here's why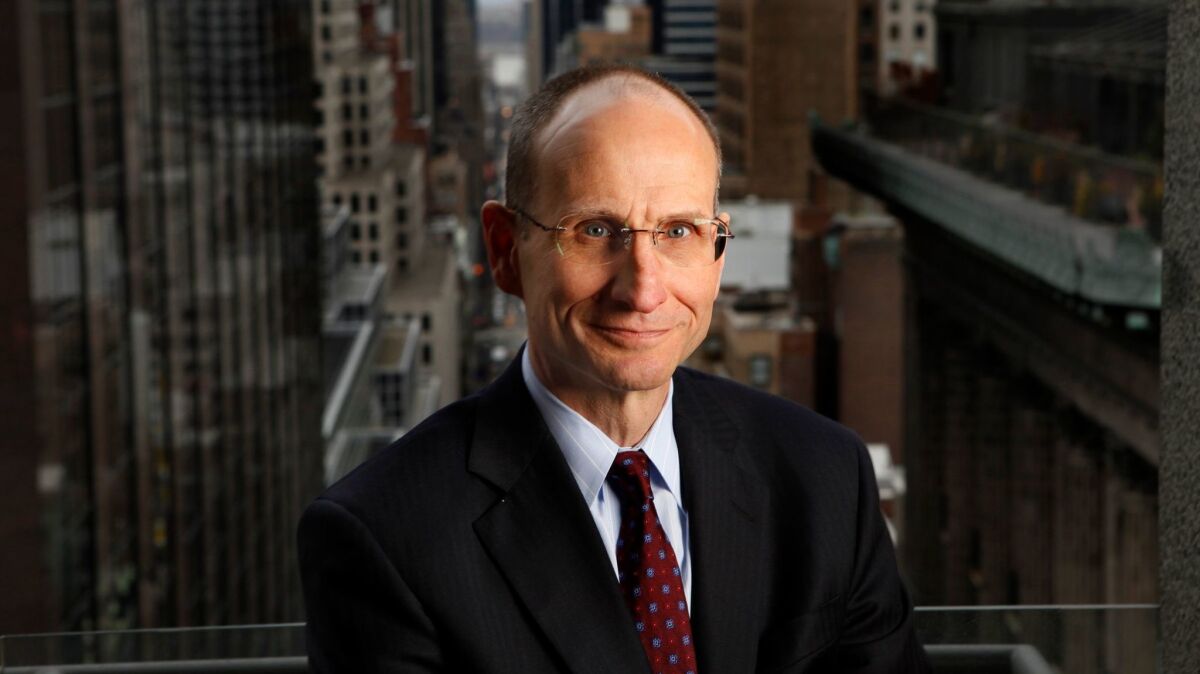 With corporate headquarters on Bunker Hill downtown, CBRE Group Inc. — the world's largest real estate services firm — is one of only a handful of Fortune 500 firms based in Los Angeles.
And it's riding high after a long real estate boom. The company finished the first quarter with its profit up nearly 60% compared with a year earlier to $130 million after posting record revenue of $13.1 billion in 2016.
Los Angeles has notably benefited from the boom too, and looks to continue doing so. The city ranked No. 1 in a recent CBRE survey of global real estate investors looking to buy property this year in North America.
"L.A. is the Clayton Kershaw of destinations for institutional capital," said Chief Executive Robert Sulentic, 60, who has led the company since 2012 and previously was chief executive of Trammell Crow Co., a Texas real estate developer CBRE acquired in 2006.
The company, known for decades as Coldwell Banker & Co., makes money on commissions from brokers who arrange sales and leases of offices, warehouses and other commercial property, and by managing real estate for corporations and other property owners.
Though it keeps a fairly low profile in its hometown, its roughly 75,000 employees have a vast footprint, with clients in more than 100 countries. It counts outposts in such financial centers as New York, London, Paris, Sydney, Hong Kong and Singapore.
In a recent wide-ranging interview, Sulentic, who grew up in Iowa and graduated from Harvard Business School, discussed how his firm is faring and whether the real estate market is due for a big correction, as some fear.
What is it about L.A. that makes real estate investors write big checks?
One of the key things is that there is good job growth here — more than in San Francisco and San Jose combined. L.A. has a cross-section of what millennials like: It's the entertainment capital of the world with beaches, mountains and edgy places like Venice and Hollywood to live. Tech companies like that.
One of the problems Silicon Valley has is no office space. We have a decent amount of empty space in L.A., and that's a good thing. It's also cleaner than other international cities. The whole emissions-control program has been a big difference maker.
CBRE leases and sells a lot of shopping centers. Isn't the whole retail sector getting hammered by online sales?
About 12% of all retail sales are only online, so a massive amount of product is still bought in stores. Well-located malls and high-street retailers in places like L.A. are doing quite well — retail rents grew faster than office rents last year. B and C-level malls are under pressure, however, and where retailers overbuilt there is going to be a day of reckoning independent of e-commerce.
But why travel to a mall when you can get exactly what you want with a few mouse clicks?
There isn't a single baseball game that will be played in the big leagues that you couldn't watch better on your couch, but 75 million people will go to the ballpark this year because people want an experience, want to be with other people.
Imagine being a millennial in a favored place like downtown or Hollywood. If I said to you, "By the way, there is no retail," would you go live there? You would not, and neither would they. That's why retail is not going away.
We do think e-commerce is a big deal. We just don't think e-commerce is going to run retail off.
The industrial real estate market has practically no vacancies in much of Southern California and elsewhere. What's going on?
This is where e-commerce is a growing factor. People like to buy good stuff from around the world, and that fills up warehouses. There has to be a whole distribution system to handle that. This year it looks like we're going to build more than we lease, though. It has been the other way around.
Have we overdosed on so-called creative offices, where most employees share an open floor plan and individual offices are out of fashion?
Some people say the pendulum has swung too far, and it probably has. But most companies want to work with some version of creative space. You can do that in a downtown high-rise or a warehouse in Venice. People are saying, "We've got to figure out who we are and what works for us." Maybe that's more private offices.
Tech companies are leading the way. Pull up a picture of Apple's new headquarters. It's hardly a loft space.
Experience teaches us that the real estate market is cyclical, and we've been on the upswing for years now. Is it time for a downturn?
We expect the economy will sustain slow growth into next year. If it's slow growth, there won't be a lot of overbuilding. Historically, several years into an economic expansion there is overbuilding. Now the market is more organized. This is unlike any cycle I have seen in my 33-year career.
Are you saying the real estate industry somehow finally got smart enough to avoid overbuilding and tanking the market?
The industry is capitalized and managed more transparently and thoughtfully than it has been historically, with less easy money floating around. Banks got smarter, equity sources got smarter and developers got smarter and more conservative. Compared to 25 years ago, the business is more transparent, professional and institutional. That makes a crash less likely.
CBRE beat analysts' earnings estimates by at least a dime for the last two quarters. What did analysts miss?
They are handicapping us to perform like the real estate market, but we have some things going on that aren't fully understood. For example, our real estate outsourcing business we call Global Workplace Solutions (a property management service) is growing consistently at a double-digit rate. If investment sales slow down, that doesn't slow down. Across the board we have been doing a good job of taking market share.
Twitter: @rogervincent
ALSO
Super Bowl in Los Angeles is delayed a year; Inglewood will host in 2022
Famous Hollywood recording studio Grandmaster Recorders sold for redevelopment
Here's why a busy downtown Honda dealership is moving to South L.A. near the Coliseum
Our six-week newsletter will help you make the right decision for you and your property.
You may occasionally receive promotional content from the Los Angeles Times.