Despite Trump stumbles, optimism of top U.S. CEOs hits highest level in three years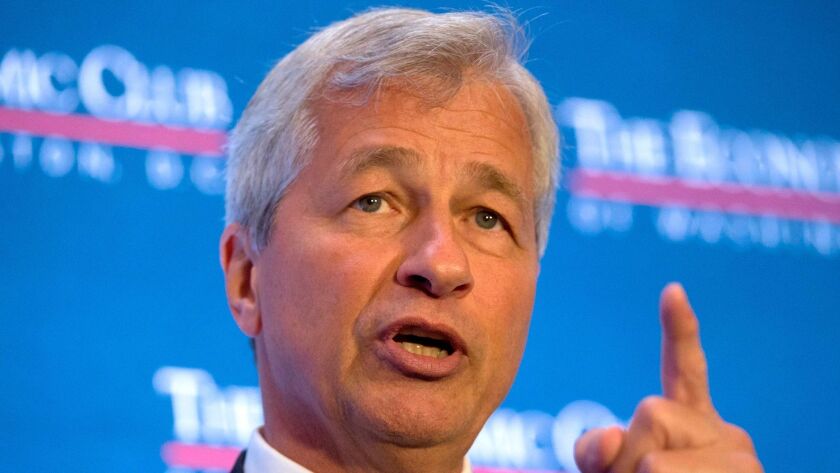 Washington —
Despite some stumbles by President Trump, chief executives of America's largest companies are more optimistic about the economy than they have been in three years, according to survey results released Tuesday.
The CEOs remain hopeful about a sweeping overhaul of the tax code, including a steep cut in the corporate rate, despite limited details so far from the White House and the lack of formal legislation in Congress.
Those developments have led the Trump administration to back off its expectation to get tax reform enacted by August.
But hopes remain high that major tax changes are coming soon, according to the 148 chief executives surveyed this month by the Business Roundtable trade group.
"The survey results reflect confidence from America's leading employers in the prospects for tax reform as well as the tangible economic benefits that tax reform will produce," said Jamie Dimon, chief executive of JP Morgan Chase & Co., and chairman of the group, which is composed of the heads of about 200 of the largest U.S companies.
Its CEO Economic Outlook Index increased to 93.9 in the second quarter, up slightly from the first quarter, boosted by stronger expectations for capital spending.
The index is based on projections for sales, capital spending and hiring over the next six months, and ranges from minus-50 to 150, with a reading above 50 indicating that the economy is expanding. Since the survey began in 2002, the average has been 80.
In the first quarter, the index jumped by its most in seven years as Trump took office with promises to slash taxes and regulations.
The urgency of tax reform cannot be overstated.
— Jamie Dimon, chief executive of JP Morgan Chase & Co.
But Trump's agenda has been slowed as the White House deals with controversies, such as investigations into possible collusion by campaign officials with Russia during the 2016 election.
"Of course, whenever there are distractions from the agenda that we want to see accomplished in Washington, everybody's concerned," said Business Roundtable President Joshua Bolten, who served as White House chief of staff during the George W. Bush administration.
"But I'd be careful not to overstate that concern," he said. "What the survey reflects is ongoing optimism about the prospect for ongoing regulatory reform … and the prospect for tax reform."
Trump wants to to cut the corporate tax rate to 15% from 35%, which is the highest among developed economies. He also wants to eliminate U.S. taxes on foreign earnings.
"The urgency of tax reform cannot be overstated," Dimon said.
A separate Business Roundtable survey last month showed that tax reform would boost corporate spending and hiring, while a delay would cause CEOs to hold off on those moves.
In the latest survey, CEOs scaled down their projection for economic growth this year to 2% from a 2.2% estimate in the first quarter.
The index for capital spending plans increased while expectations for sales remained essentially flat. Plans to expand payrolls decreased somewhat, although Bolten noted that came after a big jump in hiring expectations in the first quarter.
Twitter: @JimPuzzanghera
ALSO
Trump to pick former CEO of OneWest Bank for key financial regulatory post
California bill would end 'purely profit-driven' practice of drug-company coupons
Tesla's Elon Musk and Disney's Robert Iger quit Trump advisory councils, citing climate change
---
Must-read stories from the L.A. Times
Get the day's top news with our Today's Headlines newsletter, sent every weekday morning.
You may occasionally receive promotional content from the Los Angeles Times.