CFPB nominee Kathy Kraninger faces questions on her role in 'zero tolerance' immigration policy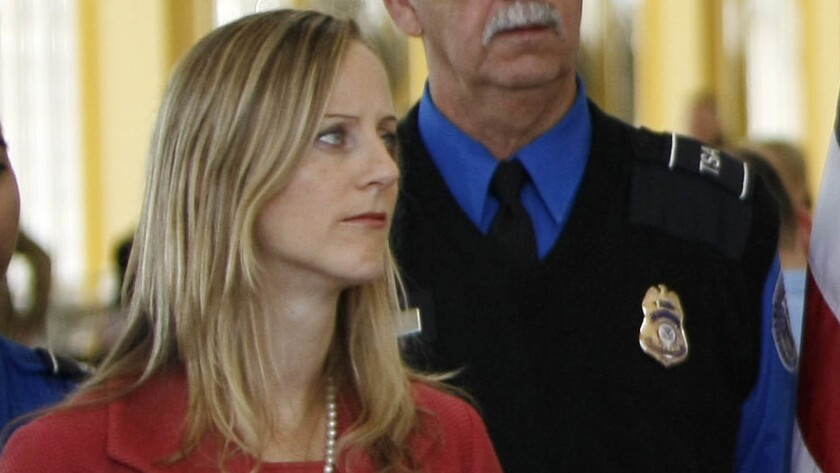 Reporting from Washington —
Two Senate Democrats want to know what role Kathy Kraninger, who is President Trump's choice to lead the Consumer Financial Protection Bureau, played in the administration's "zero tolerance" immigration policy as a White House aide.
Kraninger oversees the budgets for the Department of Homeland Security and the Justice Department, which have been implementing the controversial policy that has separated at least 2,000 children from their parents crossing the U.S.-Mexico border since April.
"Kathy Kraninger helps oversee the agencies that are ripping kids from their parents," Sen. Elizabeth Warren (D-Mass.) said Tuesday on Twitter.
Warren said she would put a hold on Kraninger's nomination to be director of the consumer bureau and "fight it at every step — until she turns over all documents about her role in this."
In a letter to Kraninger released Tuesday, Warren and Sen. Sherrod Brown (D-Ohio) asked her for a "complete description" of any role she played in the policy decision in her job as associate director for general government at the White House Office of Management and Budget.
They're also asking for any emails or other documents she might have exchanged with Homeland Security, Justice Department or White House officials about the immigration policy.
"The American people deserve to know what role you have played in developing and implementing this appalling process," Warren and Brown wrote in the letter, which was dated Monday.
White House spokespeople did not immediately respond to a request for comment.
The senators' inquiry poses another potential hurdle for the nomination of Kraninger, who has been criticized for her lack of experience in finance, bank regulation and consumer protection.
The White House surprised analysts, consumer advocates and financial industry executives on Saturday with the announcement that Trump intended to nominate the little-known aide for one of the most powerful financial regulatory positions in the federal government.
Kraninger's background is largely in Homeland Security.
Trump administration officials have touted her expertise on budgetary matters as a qualification to run the consumer bureau. They noted that that since taking the OMB job in March 2017, Kraninger has overseen $250 billion in funding for seven Cabinet departments and 30 agencies.
Warren and Brown noted in their letter that Kraninger's oversight role includes "providing 'ongoing policy and management guidance, oversee[ing] implementation of policy options' and working with agencies throughout the year as they shift money to implement new legislation or administration policy."
Atty. Gen. Jeff Sessions announced the zero-tolerance policy in April to increase immigration enforcement on the U.S.-Mexico border. That policy has included separating children from parents when they are apprehended at the border.
In recent days, the practice has drawn widespread outrage, including from some prominent Republicans, even as Trump administration officials have defended it and falsely blamed Democrats for the separations.
Now, Kraninger's nomination could be caught up in the controversy.
"You have served as a top White House budget official with oversight of DOJ and DHS as those two agencies developed and implemented the zero-tolerance policy," Warren and Brown wrote to Kraninger.
"In that role, you may have been involved in providing 'policy and management guidance' on the zero-tolerance policy, helped implement the zero-tolerance policy, and worked with DHS on budgetary and funding issues as it adjusted to the zero-tolerance policy," the letter said.
Twitter: @JimPuzzanghera
---
Must-read stories from the L.A. Times
Get the day's top news with our Today's Headlines newsletter, sent every weekday morning.
You may occasionally receive promotional content from the Los Angeles Times.