L.A.'s 'bank to the stars,' City National Bank, now under Canadian ownership
For the last 40 years, a chief executive named Goldsmith has led downtown L.A.'s City National Bank.
Bram Goldsmith steered the financial institution from 1975 until 1995, and his son Russell has been in charge since.
But now, for the first time, the Goldsmith at the top of City National has a boss to answer to.
SIGN UP for the free California Inc. business newsletter >>
On Monday morning, the Royal Bank of Canada, led by Chief Executive David McKay, completed its acquisition of City National, known for years as the "bank to the stars."
The deal, first announced in January, marks an end to local control of the bank, which was founded in Beverly Hills in 1953 and has had deep ties to the movie business and celebrities.
One of its founders, Alfred Hart, was a board member at Columbia Pictures, and the bank famously lent Frank Sinatra cash to pay a ransom when his son was kidnapped in 1963.
Along the way, City National grew to become L.A.'s biggest bank, with $33.5 billion in assets.
Though City National will now be part of Canada's largest bank, executives say the change should be hardly noticeable in Los Angeles — despite the Toronto bank's $800 billion in assets, which dwarfs the smaller bank in size.
City National will keep its name and its downtown L.A. headquarters, and Russell Goldsmith will stay on as chief executive and take over RBC's wealth management business in the U.S.
Still, wealthy and famous local clients have long been attracted to the bank for its personalized service and local ownership. Out-of-town control could be a turnoff for some, said Daniel Walker, chief executive of competitor Farmers & Merchants Bank of Long Beach, which like City National has been run for decades by the same family.
Now you have to call Canada. Do I have to dial the country code to talk to the people in charge of City National?
— Daniel Walker, chief executive of competitor Farmers & Merchants Bank of Long Beach
"If you needed to talk to City National's owners, you could just call them on the phone," said Walker, a great-grandson of his bank's founder. "Now you have to call Canada. Do I have to dial the country code to talk to the people in charge of City National?"
Definitely not, Goldsmith said. Despite RBC's ownership, he said City National will keep its autonomy and that most every decision involving a customer or a loan will still be made locally.
"It's business as usual," he said. "I'm still CEO. Our chief credit officer is still the chief credit officer, and he has the same level of authority he had Friday. It's all going to be decided here in Los Angeles."
The only difference, he said, is that through RBC, City National will be able to provide some services it has had to cede to Wall Street banks in the past — for instance, advising firms on public stock offerings.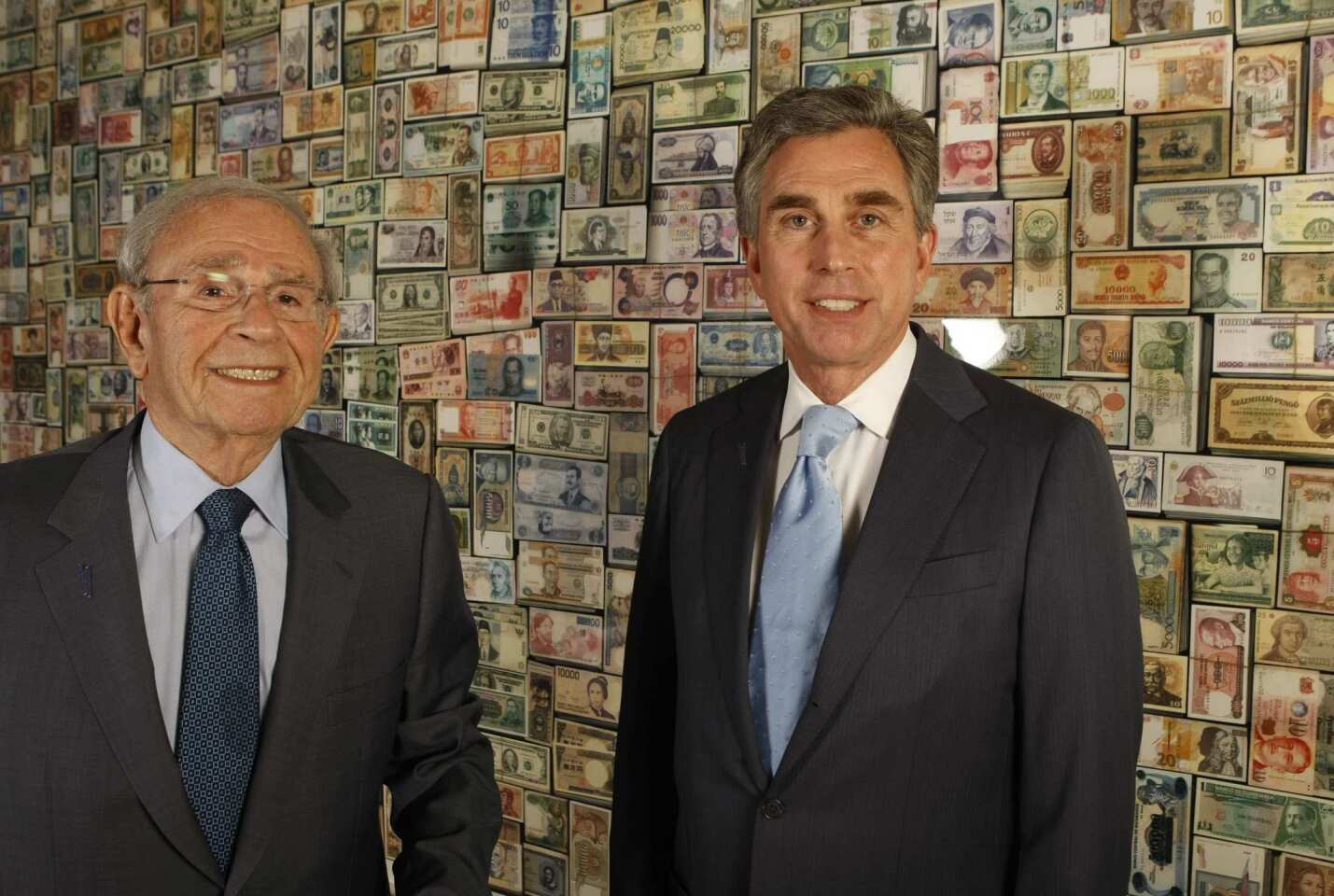 Bram Goldsmith, left, has seen it all at City National Bank. Son-in-law of a founder, he was a client in the 1950s, joined the board in 1964 and became chief executive in 1975. Son Russell Goldsmith, right, became CEO in 1995.
(Mel Melcon / Los Angeles Times)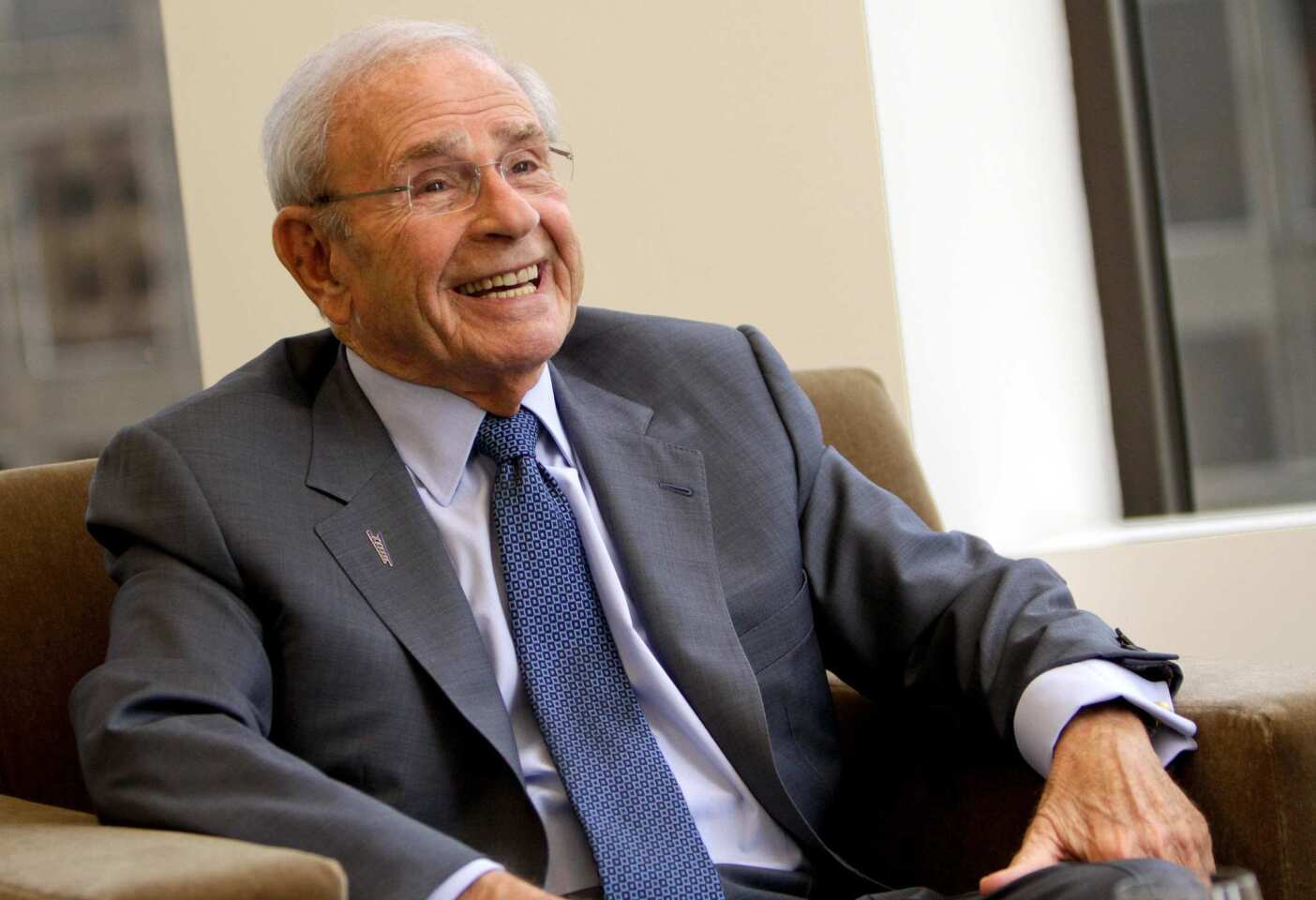 Bram Goldsmith has enjoyed notable success in banking. He pegged his compensation to the bank's stock price, and the rapidly expanding City National so outperformed its rivals that Goldsmith earned $3.1 million in 1984 when the bill came due.
(Mel Melcon / Los Angeles Times)
Russell Goldsmith of City National Bank speaks onstage at Variety's Business Managers Elite Breakfast at the Montage Beverly Hills on Nov. 13, 2014.
(Rachel Murray / Getty Images )
The acquisition, approved by regulators last month, marks a second go-round in the United States for RBC. It bought North Carolina's Centura Bank in 2001 and tried for a decade to build it up before selling — at a loss — to Pittsburgh's PNC Financial in 2011.
"That was not a good outing for them," said Sohrab Movahedi, an analyst for BMO Capital Markets who follows RBC. "Going back now, they're committed to executing and being successful."
RBC's McKay said City National and Centura are "night and day."
He described Centura as a mass-market retail bank, one that offered fairly basic banking products. City National, on the other hand, is an institution with a base of wealthy clients who need business loans, wealth management and other services.
The idea is that City National's expertise will dovetail with RBC's U.S. business. The Canadian bank has more than 300,000 wealth-management clients on this side of the border, but no banking operations. In buying City National, RBC executives said they hope to offer bank services to those wealth-management clients.
"For our high-net-worth clients, we don't have a private bank or commercial bank," McKay said. "City National brings that."
The acquisition marks the largest in a string of recent deals that have reshaped the local banking scene.
In August, New Jersey lender CIT Group closed its acquisition of Pasadena's OneWest Bank, the third-largest local lender. Last year, PacWest Bancorp completed its purchase of CapitalSource Inc. and is now the fourth-largest bank in town.
RBC paid $5 billion in cash and stock for City National. When the deal was first announced in January, it was valued at $5.4 billion. RBC's stock is down about 9% since then, accounting for the lower final price. Still, City National shareholders are getting about $90 a share, a 22% premium to where City National shares were trading before the deal was announced.
The big price RBC paid will make it critical for the bank to make this U.S. acquisition work out, Movahedi said. "Any hiccups in integration and the deal could look like an expensive mistake," he added.
City National has branches and banking offices in Southern California, the Bay Area, Las Vegas, Reno, Nashville, Atlanta and New York.
McKay said in the long term, he sees Washington, D.C., and Houston as markets where the bank could expand.
For now, though, he and Goldsmith said the focus will be on growing its list of clients, and expanding the services it provides to clients in existing markets.
"There are still tremendous opportunities for City National to grow in the geographies we're in," Goldsmith said.
Hours after the deal closed, Goldsmith was asked if it felt different to report to a boss instead of only his board.
He said simply: "Not yet."
ALSO:
Time Warner Cable takes baby step toward more affordable pay-TV service
Low finance rates, high consumer confidence send October auto sales soaring
Activision Blizzard buying 'Candy Crush' maker King Digital for $5.9 billion
---
Sign up for the California Politics newsletter to get exclusive analysis from our reporters.
You may occasionally receive promotional content from the Los Angeles Times.