Consumer spending drops in September as income growth slows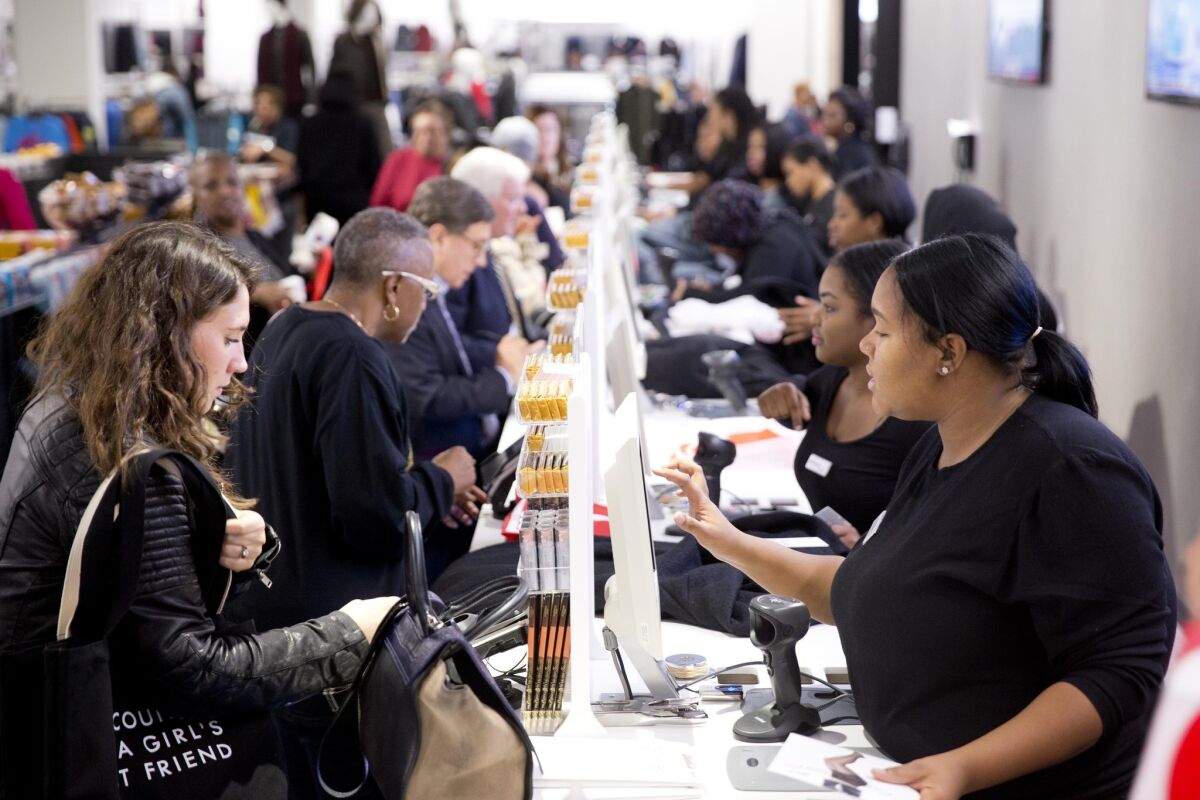 Reporting from Washington —
Americans unexpectedly opened their wallets less in September, with spending posting its first drop in eight months as income growth slowed, the Commerce Department said Friday.
Consumer spending declined 0.2% last month, after a 0.5% jump in August.
Personal income rose 0.2%, the smallest rise since December. Incomes were up 0.3% in August.
Analysts had forecast spending growth to slow last month but still tick up 0.1%. Incomes were expected to rise 0.3%.
Instead, overall consumer spending fell $19 billion to $11.97 trillion in a sign economic growth might be slowing heading into the year's fourth quarter.
Economists downplayed the drop, noting that it came after a big jump in August.
Consumer spending, including monthly mortgage payments that are not included in the Commerce Department figures, accounts for about two-thirds of economic activity.
Auto purchases accounted for most of the decrease in spending last month and most of August's 0.5% increase, the Commerce Department said.
Chris Rupkey, chief financial economist at Union Bank said auto sales still were strong in September and that he was optimistic overall spending would quickly bounce back.
"The future for consumer spending looks bright with falling gasoline prices putting extra dollars in consumers' pockets, and for the first time since the recession we can say it looks like wages are starting to rise," he said.
Chris G. Christopher Jr., director of consumer economics at IHS Global Insight, also cited falling gas prices, saying they were "a big plus for discretionary spending and consumer mood" entering the holiday shopping season.
Spending probably rebounded in October and holiday retail sales are expected to be stronger this year than in 2013, he said.
With spending down in September and incomes still rising slightly, Americans saved.
The savings rate rose to 5.6% in September, up from 5.4% the previous month, the Commerce Department said.
The new data came after the government reported Thursday that the overall pace of economic growth slowed in the July-September period.
------------
FOR THE RECORD
Oct. 31, 2:46 p.m.: An earlier version of this post said the government reported Thursday that the overall pace of economic growth slowed in the August-September period. The period was from July through September.
------------
Gross domestic product, a broad measure of economic activity, rose at a still-healthy 3.5% annual rate after a 4.6% increase in the second quarter.
Part of the reason for the decline was a drop in consumer spending.
It increased at an annual rate of 1.8% in the third quarter, down from a 2.5% annual rate in the second quarter.
Inflation remained low in September, the Commerce Department said.
The personal consumption expenditure price index, the Federal Reserve's preferred inflation gauge, was up 0.1% in September. It had dropped 0.1% the previous month.
For the 12-month period ending in September, prices were up 1.4%, well below the Fed's annual target of 2%.
For breaking economic news, follow @JimPuzzanghera on Twitter.
Sign up for the California Politics newsletter to get exclusive analysis from our reporters.
You may occasionally receive promotional content from the Los Angeles Times.