When you buy a plane ticket, here's what you have to agree to
When you buy a plane ticket, here's what you have to agree to
United Airlines is on the defensive again for its treatment of passengers, following an incident captured on video of an overbooked passenger being dragged out of the cabin by airport police after he refused to leave.
The incident follows a controversy that erupted last month after the Chicago-based carrier refused to let two teenage girls board a plane because they were wearing leggings put a spotlight on the regulations that airlines impose on employees and customers.
The terms and conditions that apply to the general public are lengthy — as much as 50 pages long for one airline — and are known as an airline's "contract of carriage" or "condition of carriage." Although airlines usually don't discuss the specific terms until a dispute with a passenger arises, the conditions can be found on airlines' websites.
Here are a few of the most unusual and unexpected rules and policies listed in the contract of carriage agreements for the nation's four biggest carriers: American, Delta, United and Southwest.
What can get you booted
On all four of the airlines, you may be refused a seat on the plane if you have an offensive odor that is not caused by a disability or illness.
On United, you can be removed from the plane or asked to buy a second seat if you cannot fit in one seat, with the seat belt secured; if you can't put down the armrests for the entire flight; or if you "significantly encroach" on the adjoining passenger.
On United, passengers can be booted from a plane if they are unwilling to end a cellphone call after the aircraft doors close.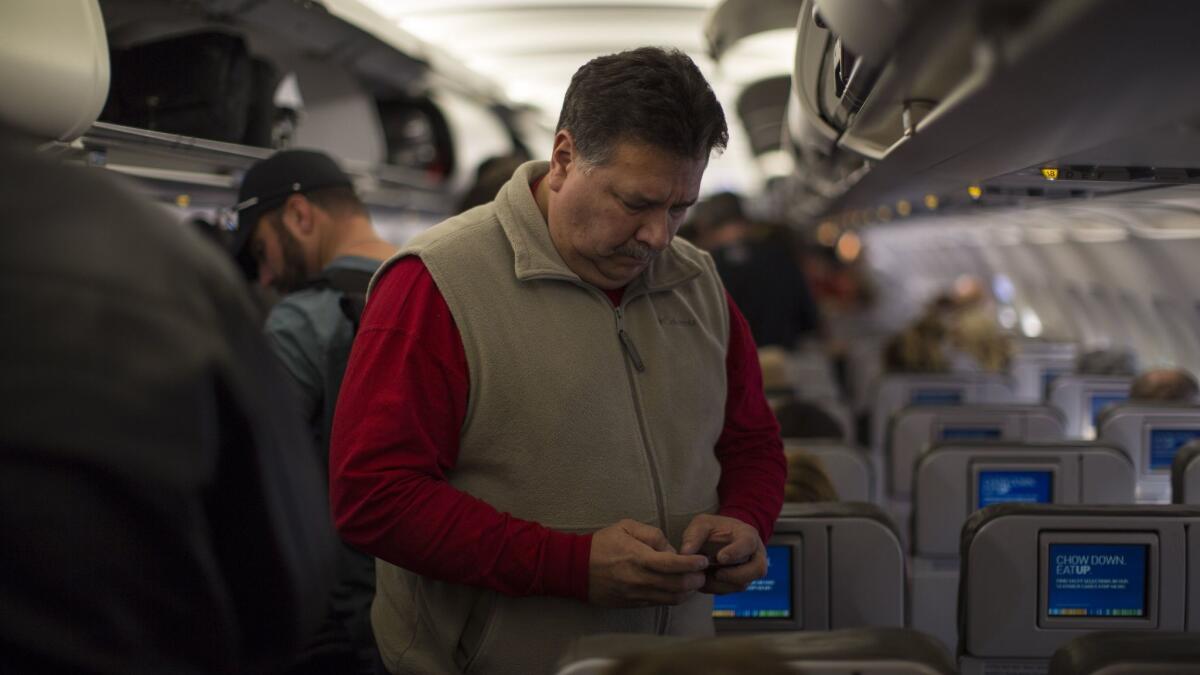 If the flight is overbooked
If Delta overbooks its flight and can't get enough passengers to voluntarily give up their seats, the airline may remove passengers in coach first before turning to travelers in first class or business class or to loyalty reward members with elite status. United has a similar policy.
American considers several factors when deciding who to boot, including the fare a passenger paid.
On domestic flights, federal rules require airlines to offer compensation to passengers who are involuntarily removed from a flight at a rate of 200% of the original fare (or a maximum of $675) if they are put on a flight that gets them to the destination between one and two hours later than the planned arrival time of the overbooked flight. If the alternative flight arrives more than two hours after the planned arrival time of the overbooked flight, the airline must pay a rate of 400% of the original fare, with a maximum of $1,350.
Pets on a plane
Delta does not accept snub-nosed or pug-nosed pets as checked baggage under any circumstances. (Studies suggest snub-nosed dogs have difficulty breathing on planes.)
United does not accept pit bulls in the cabin.
United will not accept snakes, other reptiles, ferrets, rodents or spiders as service animals in the cabin.
Southwest, which accepts cats and dogs in carriers as carry-ons, says the animals "must be healthy, harmless, inoffensive, odorless, and require no attention during the flight" — and warns that oxygen masks and first aid won't be available for them.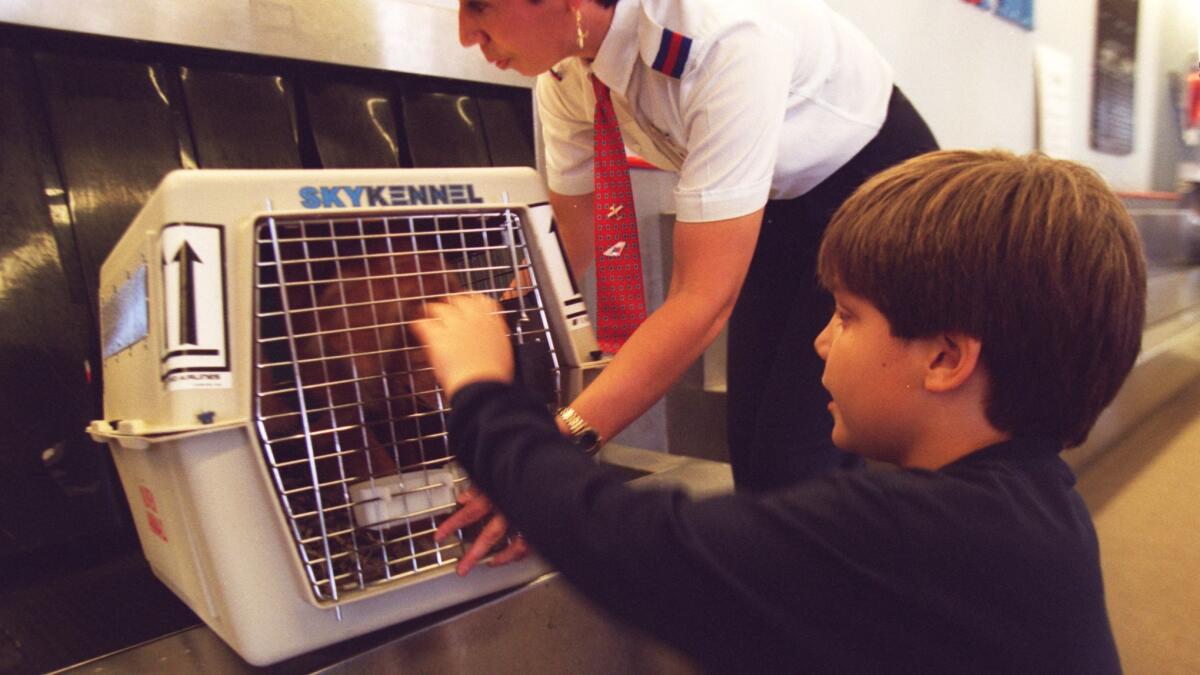 What you can pack
On Southwest, a bicycle packed in a hard-sided box will be accepted as one of the two free checked bags allowed for each passenger but only if the box is under 62 inches in total dimensions and weighs 50 pounds or less.
If you want to bring a musical instrument onto a Southwest plane but it is bigger than a normal carry-on baggage, you must pay the child's fare for the adjoining seat that holds your instrument. United makes you pay the adult fare under those circumstances.
On United, passengers are allowed to check one container holding up to 10 liters of Zamzam water at no extra charge. The water, which comes from the Zamzam well in Mecca, is considered holy by Muslims.
On Delta, antlers may be accepted as checked baggage with a charge of $150 each way.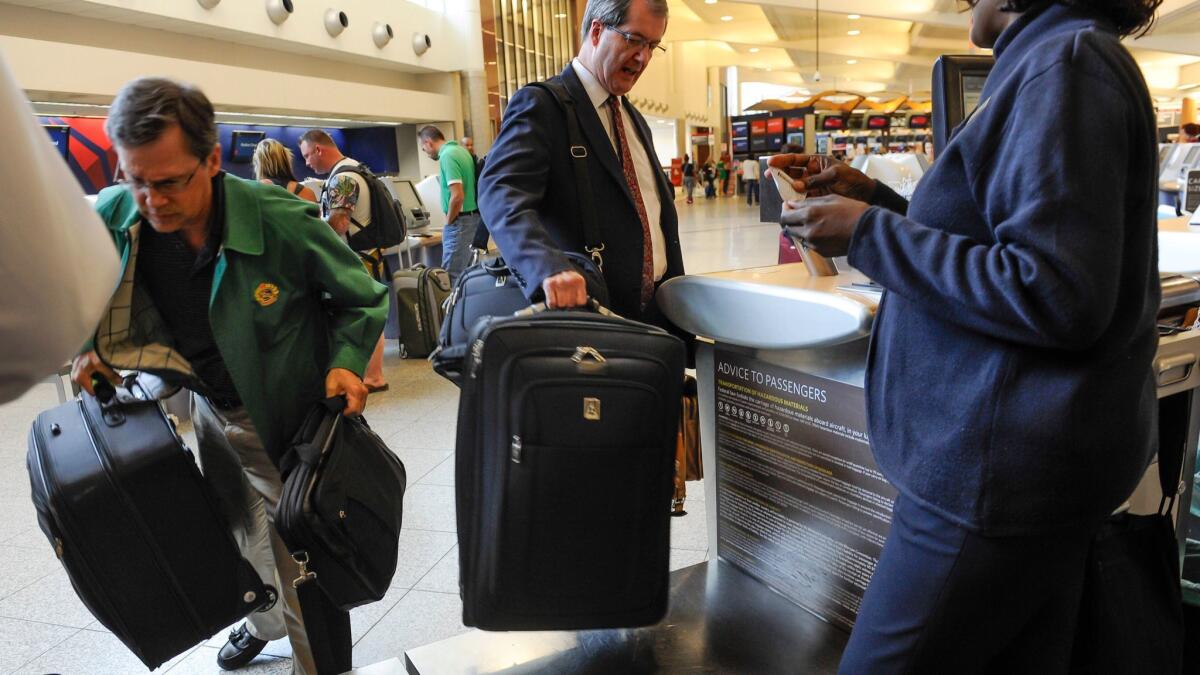 Airlines' obligations
If you find a super-low American Airlines fare that was posted online due to a computer error, the airline reserves the right to cancel your reservation and refund your money.
On Delta, if you forget a carry-on bag on the plane, the airline is not responsible for finding or replacing it.
Delta assumes no obligation to verify the identity of the person who picks up the luggage at the baggage claim area once you land.
Twitter: @hugomartin
ALSO:
Once the queen of the skies, the 747 will soon be just a flying truck
United Airlines says regular customers are 'welcome' to wear leggings
Nearly half of TSA PreCheck travelers say airport lines are still too long
---
UPDATES:
April 10, 11:05 a.m.: This article was updated to include information about an incident in which a United passenger was dragged off an overbooked flight and details about federal rules requiring compensation for passengers who are involuntarily removed from a flight.
This article was originally published March 30 at 11:15 a.m.