California attorney general accuses retailer Curacao of unlawful business practices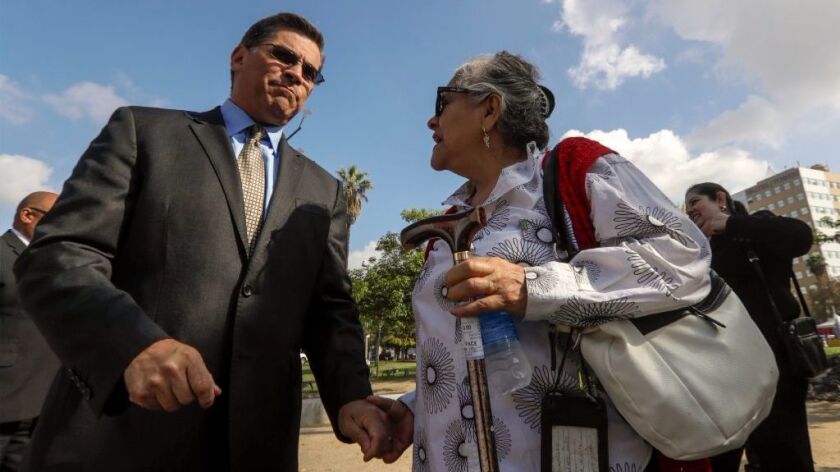 Curacao, a Southern California electronics retailer that caters to Latinos, was accused of several unlawful business practices in a civil lawsuit filed by state Atty. Gen. Xavier Becerra.
The practices harmed consumers and in some cases resulted in shoppers paying substantially more for products and services than advertised, Becerra alleged at a news conference Friday in Los Angeles.
"They are taking advantage of people who work very hard, who don't have very much money and who believe that they'll get fair treatment," Becerra said.
The 12-store Curacao chain engaged in misleading advertising and provided unwanted "add-ons" such as warranties and installation services, according to the suit filed Thursday in Los Angeles County Superior Court.
"In some instances, Curacao adds these items without consumers' knowledge or consent, or tells consumers that items are free when, in fact, consumers are charged for them," the suit alleged.
The chain also allegedly failed to honor warranties and returns, and engaged in illegal debt-collection policies, the suit said.
Curacao called the suit "baseless" and said it was "confident that when the facts are presented in court, they will disprove the attorney general's unfounded and sensational claims."
The chain said that in a yearlong investigation, in which it gave Becerra's office full access to its stores, employees and records, "the attorney general's office identified only a handful of incidents allegedly supporting its claims" and in each case Curacao showed "we had already done everything in our power to address the customers' concerns" before Becerra's office got involved.
Curacao, with headquarters in Los Angeles, has nine stores in Southern California, two in Arizona and one in Nevada.
The company also has a travel agency and provides internet and financial services, including the ability for customers to transfer money abroad, according to Curacao's website.
"Targeting Latino immigrants who lack credit, Curacao lures consumers into its stores by advertising easy credit and low prices," the suit said.
"Once in the store, however, consumers discover that they can only purchase merchandise at the advertised price if they agree to buy 'add-ons' such as warranties, installation services and/or accessories," the suit alleged.
Becerra said Curacao "actively markets its products to people who don't have a lot of experience with long-term contracts for the purchase of goods and services, who don't have the most experience when it comes to making credit payments."
"Unfortunately, what they don't say in their ads is that buying a TV from their store can be a heavy debt burden that a customer did not expect and did not know he or she was signing up for," Becerra said.
The suit seeks a permanent injunction against Curacao to stop the alleged practices, along with penalties and restitution for customers to be determined at trial.
The suit did not say how much money might be involved in total. But Alicia Hancock, a deputy attorney general, said "anyone who bought a warranty that was backed by Curacao has likely been impacted, and that is in the thousands of customers" by itself.
Twitter: @PeltzLATimes
---
UPDATES:
4:35 p.m.: This article was updated with Curacao calling the lawsuit "baseless" and otherwise disputing the claims.
This article was originally published at 3:20 p.m.
---
Your guide to our clean energy future
Get our Boiling Point newsletter for the latest on the power sector, water wars and more — and what they mean for California.
You may occasionally receive promotional content from the Los Angeles Times.