Justice Department approves $69-billion merger between CVS Health and Aetna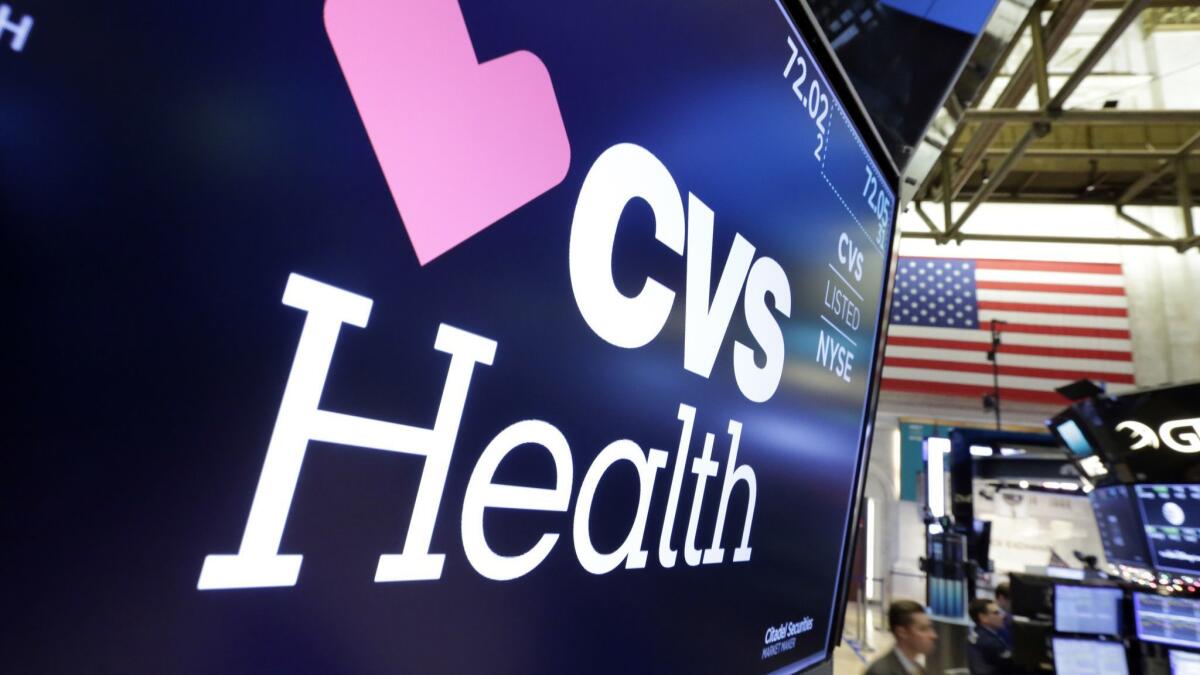 CVS Health Corp.'s plan to buy Aetna Inc. for $69 billion was cleared by U.S. antitrust regulators Wednesday, paving the way for the nation's largest pharmacy chain to acquire one of the largest healthcare insurers.
The deal was approved because Aetna has agreed to sell its Medicare prescription-drug business, or Medicare Part D, to WellCare Health Plans Inc., which the Justice Department said "would fully resolve the department's competition concerns."
CVS said the Aetna deal remained on track to close in the current quarter.
"We are pleased to have reached an agreement with the DOJ that maintains the strategic benefits and value-creation potential of our combination with Aetna," CVS Health Chief Executive Larry Merlo said in a statement.
The CVS-Aetna marriage is part of a wave of consolidation rolling across the U.S. healthcare industry. The major players are bulking up and diversifying their product and service offerings in the face of uncertainty about the direction of the nation's healthcare policy, threats of heightened competition and a desire to streamline their combined operating costs and to gain leverage for negotiating lower drug prices.
Cigna Corp., another health insurer, agreed early this year to buy pharmacy benefits manager Express Scripts Holding Co. for about $52 billion, a deal that also has received clearance from the Justice Department.
Internet retail giant Amazon.com Inc. agreed in June to acquire online pharmacy PillPack for an undisclosed price.
Amazon and two other major U.S. companies, the bank JPMorgan Chase & Co. and billionaire Warren Buffett's conglomerate Berkshire Hathaway Inc., also announced a joint plan to find ways to reduce healthcare costs for their U.S. employees — which many viewed as a precursor of more disruption in the industry.
And another drugstore chain, Rite Aid Corp., had planned to be purchased by grocery operator Albertsons Cos., which also owns Vons and Safeway. But that deal was scuttled in August amid opposition from some Rite Aid stockholders.
CVS operates about 9,800 drugstores — including more than 1,150 in California — and it's a pharmacy benefits manager under the Caremark brand. The Woonsocket, R.I., company's revenue last year totaled $178 billion.
About 1,100 of CVS' retail locations include walk-in healthcare clinics, and CVS hopes to use the Aetna deal to expand the range of health services it can offer to Aetna's vast membership and other customers.
Aetna has about 22 million medical members, and its 2017 revenue totaled $63 billion.
The Hartford, Conn., company last year had tried to acquire rival insurer Humana Inc. for $34 billion, but that deal also was dropped after a federal judge blocked that merger on antitrust grounds.
In announcing the Justice Department's stance on the CVS-Aetna deal, Assistant Atty. Gen. Makan Delrahim, the head of the agency's antitrust division, said the merger "has the potential to generate benefits by improving the quality and lowering the costs of the healthcare services that American consumers can obtain."
Carl Tobias, a law professor at the University of Richmond who tracks major corporate mergers, said he was cautious about those prospects.
"The bottom line is whether this will help consumers, but is it going to be an improvement for consumers or simply make more money for the [combined] company?" Tobias said. "I don't know that that's clear. We'll see."
CVS agreed in December to buy Aetna for $207 a share, with $145 in cash and the rest, $62, in CVS stock. Aetna's shares dropped 31 cents, or 0.2%, to $203.41 on Wednesday and CVS fell 57 cents, or 0.7%, to $78.92 a share.
Aetna's agreement to sell its Medicare prescription-drug business, in order to get clearance for the merger with CVS, was part of a settlement reached with the Justice Department and five state attorneys general, including California's.
The settlement also remains subject to approval by certain other states, and CVS' Merlo said the company was "working to complete the remaining state reviews."
California Atty. Gen. Xavier Becerra said in a statement that the Justice Department settlement "resolves California's yearlong investigation" into the CVS-Aetna deal, which "raised significant antitrust concerns due to its potential impact on prescription-drug prices for seniors in Medicare Part D," among other issues.
---
UPDATES:
1:20 p.m.: This article was updated with a comment from the Justice Department and an analyst, and with closing stock prices.
10:45 a.m.: This article was updated with staff reporting throughout, including details about the antitrust clearance and other healthcare industry mergers.
This article was originally published at 8:10 a.m.