Hedge fund known for 'milking' newspapers for cash takes aim at Gannett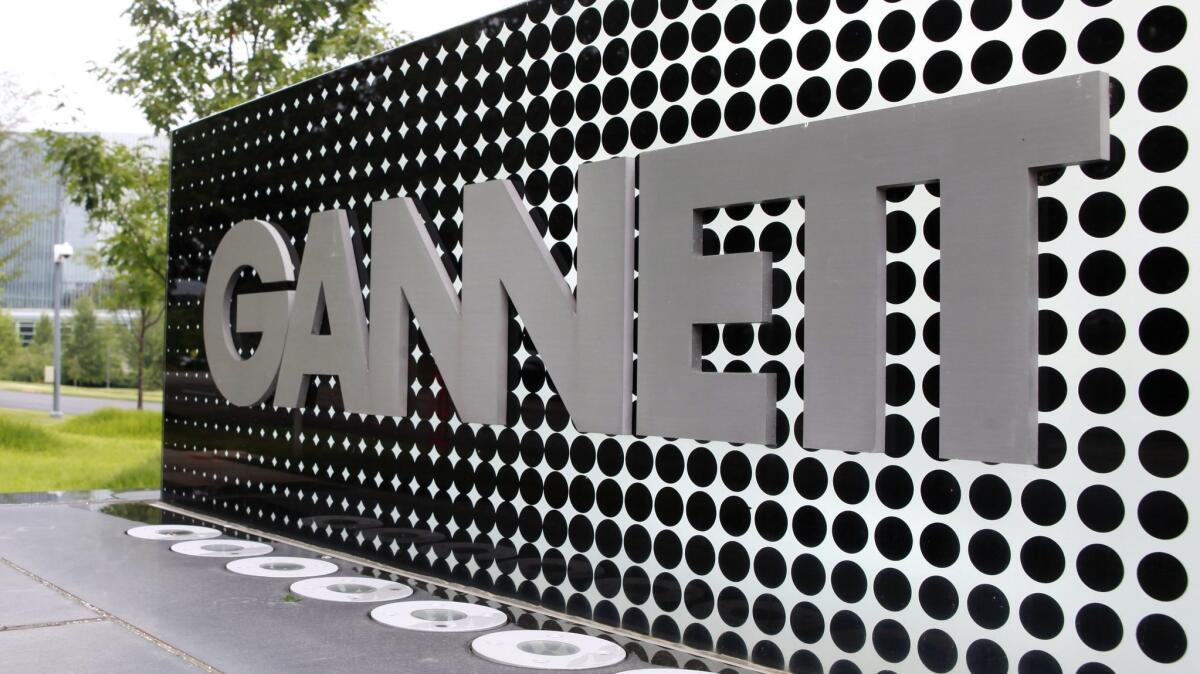 A few dozen newspaper employees staged a protest in May outside the New York City office of their owner, hedge fund Alden Global Capital. Carrying signs that read "Invest or Sell Now," the journalists chanted, "Alden Global's got to go!"
Eight months later, Alden Global isn't gone. The company wants to expand its newspaper empire even further: On Monday, it made a hostile bid to buy Gannett Co., owner of USA Today and many local newspapers — including the Ventura County Star and the Desert Sun in Palm Springs — for $1.36 billion.
A deal would make Digital First Media, an Alden Global subsidiary, by far the largest newspaper owner in America, adding more than 100 titles to its roster of dailies and weeklies across the country. Its publications already include the Orange County Register, Los Angeles Daily News, San Jose Mercury News and Denver Post.
Digital First offered $12 per share for Gannett, a more than 23% premium above its Friday closing price of $9.75. Gannett's shares have rebounded after a rough spell in 2018, and on Monday they climbed 21.2% to $11.82.
The Wall Street Journal was first to report that Digital First has built up a 7.5% stake in Gannett, and that it has been rebuffed repeatedly by Gannett about a sale.
Gannett said Monday that its board would carefully review the proposal.
Although many of its papers are household names to their readers, Alden Global is a little-known entity outside the financial world. Founded by Wall Street titan Randall Smith, Alden Global is now led by his 39-year-old protege, Heath Freeman, who keeps a low public profile.
The Daily Beast once called Freeman "the Gordon Gekko of newspapers," a reference to the fictional character in the 1987 film "Wall Street." A 2016 story in the Denver magazine 5280 described Freeman as having "no real affinity for newspapers," preferring freelancers over full-time staffers to save money and wondering why the Denver Post needed photographers.
Digital First declined to make Freeman or other executives available for an interview.
In a rare interview with ESPN in 2017, Freeman said he's a "huge Duke fan" and had paid $119,500 to buy the jersey that Duke basketball star Christian Laettner wore during his famous game-winning shot in 1992. Freeman was a walk-on kicker for Duke University's football team.
As the newspaper industry struggled in recent years in the age of the internet and social media, Digital First accumulated local titles. It is part of a trend of Wall Street financiers buying up swaths of the beleaguered industry.
Digital First consolidated operations and cut staff in already thinned-out newsrooms, triggering protests from journalists who say the continued layoffs have undermined their mission to cover their communities.
Its strategy has been profitable, Digital First says. The adjusted profit margin has increased each of the last three years, surpassing 16% in the fiscal year that ended June 30, according to Digital First's letter Monday to Gannett's board. That's a wider profit margin than Gannett's, the letter said.
Gannett also has a record of buying media companies and slashing costs. It, like newspapers it has acquired, has faced intense pressure to maintain revenue and attract advertising dollars.
Gannett's profit has been in decline for years, and in November the company lowered its full-year expectations on weak revenue growth in digital advertising. It is also seeking a new chief executive: Robert Dickey announced plans in December to step down this year.
Digital First has been more profitable than many of its newspaper peers, thanks in large part to its approach of "continuing to milk its newspapers until they run dry," according to newspaper analyst Ken Doctor.
Alden Global has bet on other industries besides newspapers, and not all have been successful. One of its largest investments is in Fred's Inc., a pharmacy chain based in Memphis, Tenn. Freeman serves as board chairman. Fred's shares have dropped 86% from their December 2016 peak, and the company has been selling assets in an attempted turnaround.
Over the years, Alden's investors have included the California Public Employees' Retirement System and the John S. and James L. Knight Foundation, which issues grants to support journalism, among other things, according to Julie Reynolds, a journalist who has written about Alden Global.
In its letter to the board of McLean, Va.-based Gannett, Digital First said it has a "successful track record of acquiring newspaper businesses and running them in a profitable and sustainable way." Digital First added that it has saved newspapers like the Orange County Register and the Boston Herald that "were left for dead and put into bankruptcy by their former owners."
But the ability of Digital First's newspapers to cover their communities in the same way with fewer journalists is debatable. In March, Alden Global bought the Boston Herald out of bankruptcy for almost $12 million and then cut about a quarter of the staff. In April, employees at Alden Global's Denver Post, where the staff has shrunk to fewer than 100 from about 200 in the last eight years, publicly rebuked the owner after being ordered to cut 30 more jobs.
A Denver Post editorial in April said, "if Alden isn't willing to do good journalism here, it should sell the Post to owners who will."
The Associated Press was used in compiling this report.