What would Disney theme parks do with Fox properties like 'X-Men' and 'Simpsons'?
Not long after Disneyland opened in Anaheim, creator Walt Disney noticed a cowboy character from Frontierland strolling through the futuristic world of Tomorrowland.
The clash of themes bothered Disney so much, according to theme park historians, that the subsequent design of Walt Disney World in Florida included tunnels and secret entrances to keep characters from wandering through themed lands not their own.
With its proposed purchase of a big chunk of 21st Century Fox, Disney's multimedia empire may have to add a lot more tunnels.
The $52.4-billion deal announced Thursday would give Walt Disney Co. the rights to a pantheon of popular television, movie and comic book characters, including X-Men, Fantastic Four, Deadpool and everyone from the world of Homer Simpson and family.
Some of these could be showcased at Disney theme parks alongside the current stable of intellectual properties such as Marvel's "Guardians of the Galaxy," the "Star Wars" franchise and characters from "Toy Story," "Monsters, Inc." and the "Cars" movies produced by Pixar.
Disney and Fox executives haven't publicly addressed the deployment of new characters behind theme park gates or the possible fate of those already employed by others — namely "The Simpsons," which enjoy prominent placement at two Universal Studios parks.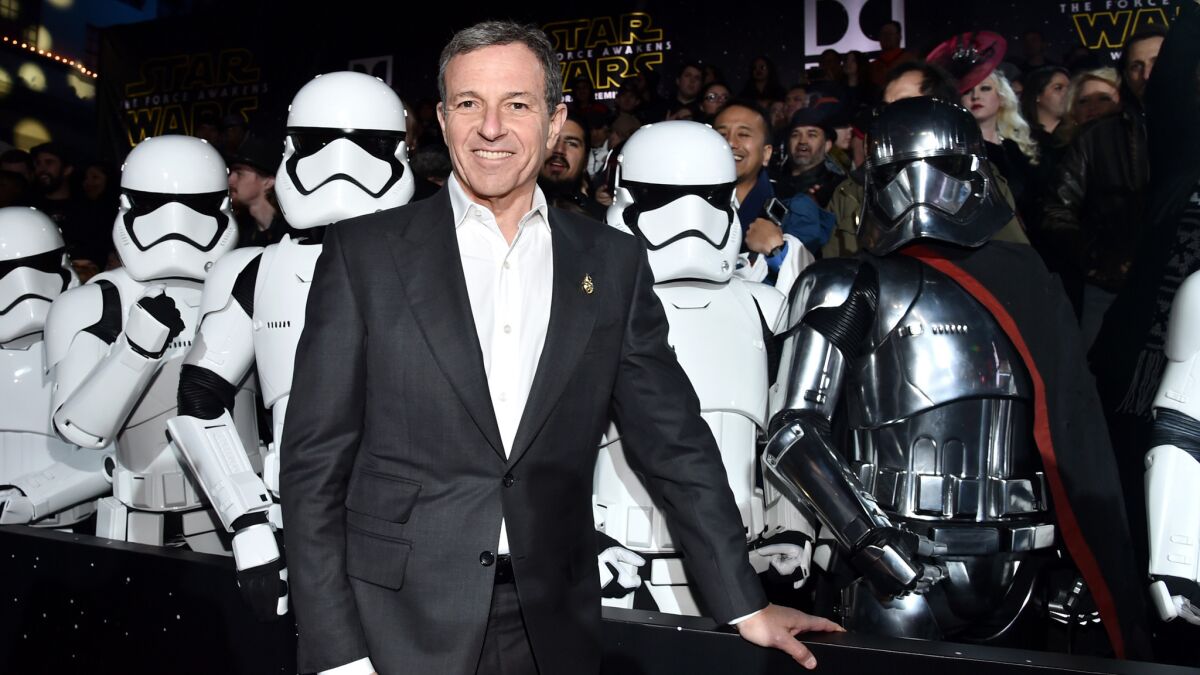 Disney Chairman and Chief Executive Bob Iger, in a conference call Thursday, assured investors that the proposed acquisition would enhance the company in many ways.
"With 20th Century Fox Film, we have the opportunity to expand iconic franchises for new generations of fans around the world — just as we have with Marvel and 'Star Wars,'" he said.
Here's what Disney is acquiring in its blockbuster deal with 21st Century Fox »
Industry experts say the mega-deal gives Disney more money-making options to expand and upgrade the parks far into the future.
Theme park consultant Dennis Speigel said the proposed purchase "makes Disney the emperor of IP," shorthand for intellectual property. "They now have more different and varied IPs than anyone in the world," said Speigel, president of International Theme Park Services in Cincinnati.
Disney fans have mixed feelings about adding new movie and comic book characters at Disney parks, with some worrying that newcomers could dilute or squeeze out Disney's classic attractions. They describe the theme parks as already too crowded with characters from various movie franchises, creating a weird mishmash of themes and stories.
"It's not as if Mickey Mouse is literally holding hands with Iron Man or Kylo Ren," said Matthew Gottula, a 28-year-old marketing worker from Altadena and longtime Disneyland fan. "But the waters do get muddy when Disney brings these properties to the parks and they're separate things, but presented as being all the same."
Others are confident Disney will incorporate new characters while showing respect for the much-loved attractions that visitors return to again and again.
"There was a time when the idea of two non-Disney properties like 'Star Wars' or 'Indiana Jones' would have been considered completely off brand, but Disney has a knack for finding ways to organically weave together story lines," said Lisa Robertson, a public relations expert who writes a regular theme park blog called Babes in Disneyland.
Still, adding new franchise characters hasn't always been a smooth ride for Disney.
When Disney announced plans to overhaul the Twilight Zone Tower of Terror attraction at Disney California Adventure and replace it with an attraction featuring Marvel's "Guardians of the Galaxy" characters, it didn't get a warm reception initially.
More than 35,000 fans of the original "Twilight Zone" attraction signed petitions on the website Change.org, asking Disney not to change the ride.
But the new "Guardians of the Galaxy" attraction, which opened in May, has grown to become one of the most popular rides in the park, with wait times now as high as 90 minutes.
Disney purists will always be upset about the "mishmash" of characters at Disney parks, said Martin Lewison, a theme park expert and business management professor at Farmingdale State College in New York. But Disney has a history of knowing how to use new intellectual properties to draw crowds at the parks, he said.
"They are not going to spend money on an IP unless they can get some revenue, some cash flow out of it," Lewison said.
The deal with 21st Century Fox also gives Disney the intellectual property rights to characters from "The Simpsons" television series, which already are featured at Universal Studios theme parks in Los Angeles and Florida.
Both parks include areas evoking Springfield, the fictional town where the Simpson family lives, and operate virtual reality roller-coasters involving series characters.
A Universal Studios representative declined to discuss details about its rights to "The Simpsons." The company issued a statement saying: "Today's business headlines will have no impact on our ride or our guest experience."
Disney already has the rights to use the characters from the 2009 Fox blockbuster "Avatar." Disney now operates a themed land at its Animal Kingdom park in Orlando, Fla., called Pandora — The World of Avatar.
Some of Fox's movie and comic book characters may be easier to add to the theme parks than others, Speigel said.
For example, the X-Men can be included in Marvel's superhero land proposed at Disney California Adventure, where they could co-mingle with the Fantastic Four and the Guardians of the Galaxy characters.
But one of those characters, Deadpool, was depicted in a 2016 R-rated movie that was heavy with blood, gore and sexual references — themes that don't combine well with Disney's family-friendly brand.
"Deadpool might be a little hard to showcase in its current form," Speigel said.
Disney, he added, also has the option of injecting its new Fox characters into Disney parks outside of the United States, where fans are less likely to object to a mixture of stories and characters.
Speigel said that Disney may be able to build a "Simpsons" land at any of its parks in Europe and Asia without conflicting with Universal's ownership rights in the United States.
"What do you think they bought these IPs for?" he asked. "To put them in a library?"
To read more about the travel and tourism industries, follow @hugomartin on Twitter.
ALSO:
Disney buys much of Rupert Murdoch's 21st Century Fox in deal that will reshape Hollywood
Disney extends CEO Bob Iger's contract through 2021
Disney's deal to buy Fox studio could bring substantial layoffs, analysts say
Disney has a wholesome, family-friendly image. Will acquiring Fox create a culture clash?