Disneyland 'demand pricing' will cost you $5 less on slow days and $20 more when it's busy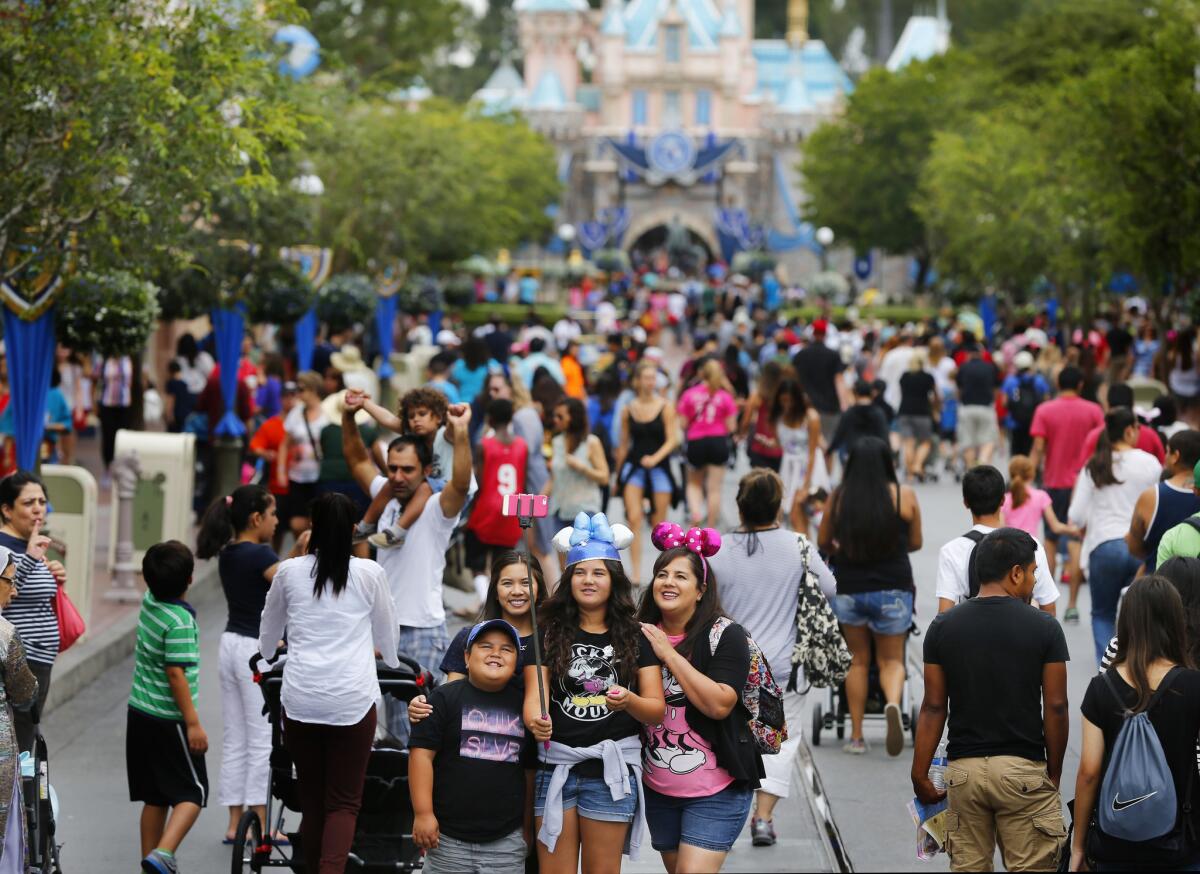 Walt Disney Co. is adopting a new pricing policy at Disneyland and other U.S. theme parks that would reduce ticket costs on low-demand days and boost entrance fees for more popular times.
Starting Sunday, anyone willing to drop in on a typically slow day — maybe a Wednesday in September — will pay a few dollars less than previously. But for most days of the year, expect to spend more for a daily ticket.
Disney is portraying the move to peak pricing as a crowd-management technique rather than a push to maximize profits.
Airlines and hotels do it during spring break and other high-demand times; Uber and Lyft also charge more when the need for ride-hailing services surges, such as New Year's Eve.
"The demand for our theme parks continues to grow, particularly during peak periods," Disneyland spokeswoman Suzi Brown said. "In addition to expanding our parks, we are adopting seasonal pricing on our one-day ticket to help better spread visitation throughout the year."
Disneyland and Disney California Adventure have been charging $99 for a one-day ticket. Under the new policy, each day on the calendar will be designated a "value" day, a "regular" day or a "peak" day. The new price will be $95 for a value day, $105 for a regular day and $119 for a peak day.
See more of our top stories on Facebook >>
Over a 12-month period, 30% of the days will be "value" days, 44% will be "regular" days and 26% will be "peak" days, Disney calculates.
Disney has long been rumored to be considering a pricing change. Walt Disney Resorts put out feelers to annual pass holders last year, asking their opinion of a three-tiered pricing system aimed at charging more during Christmas, spring break and summer.
But Universal Studios Hollywood beat Disney to the punch, adopting a variable pricing system earlier this month, before the park opens the Wizarding World of Harry Potter attraction on April 7. Demand to check out the boy wizard's stomping grounds is expected to be fierce.
Universal Studios' pricing policy, however, didn't increase ticket prices. The cost of a Universal Studios ticket for a peak-demand day is $95, the same price previously charged at the gate. Visitors who buy tickets for low-demand days can save up to $20 a ticket over the regular gate price.
Interested in the stories shaping California? Sign up for the free Essential California newsletter >>
The pressure for Disney to address its overcrowding problem has been growing.
In the three-month period that ended in December, the company reported a 10% increase in visitors at its domestic parks, reaching a new attendance record. During the holiday season, Disneyland has been forced to shut its gates for a time when the park reaches maximum capacity.
Although daily ticket prices will rise for most days under Disney's new policy, park officials note that they are adding attractions to help justify the extra costs.
Disneyland is now working to add a 14-acre "Star Wars" land and plans to add a new stage show based on the popular "Frozen" movie later this year. An opening date for "Star Wars" land hasn't been announced.
"Soaring Over California," a simulator attraction at Disney California Adventure Park, is being overhauled with a new film that features giant-screen images from around the world. The revamped version is opening this year.
To read more about travel, tourism and the airline industry, follow Hugo Martin on Twitter at @hugomartin.
ALSO
He's the creative force bringing 'Star Wars' to Disney's theme parks
Hong Kong Disneyland reports loss for 2015 as number of visitors drops
Disneyland offers Southern Californians discounts on multi-day passes starting at $149