Disneyland adds another crowd-management fix at Star Wars land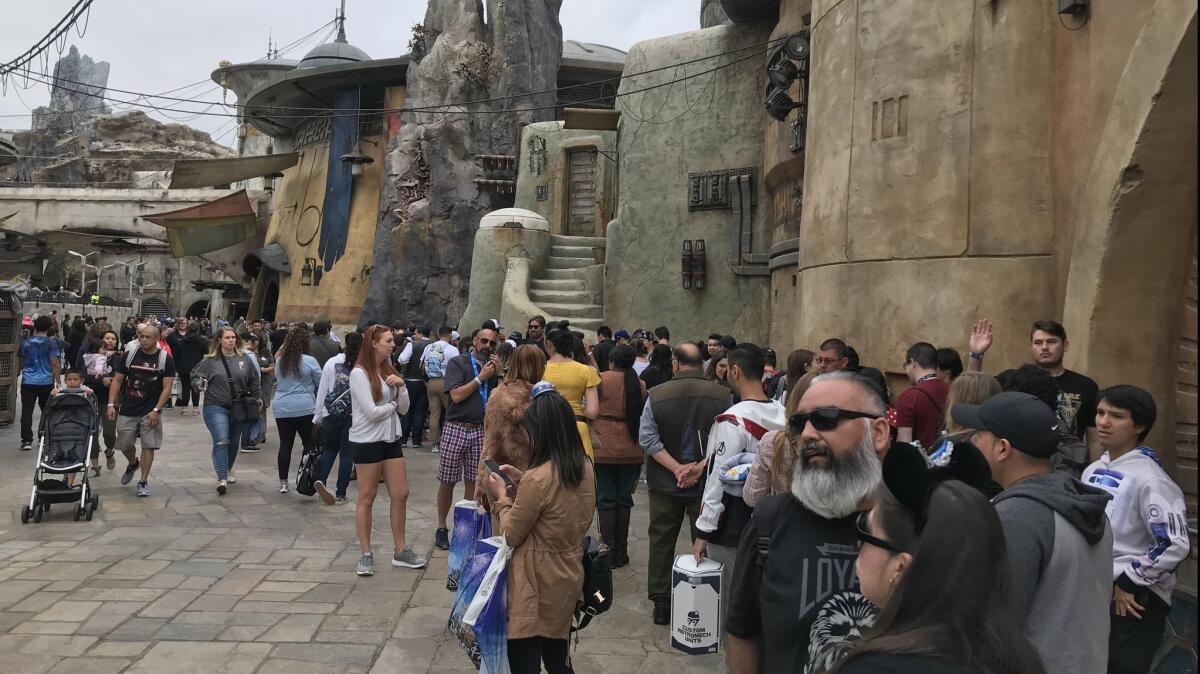 Anticipating huge crowds for the opening of its newest expansion, Disneyland allowed only park visitors with reservations to enter Star Wars: Galaxy's Edge during the first three weeks after opening.
But the crowds were so overwhelming over the weekend that even with the reservations system, the theme park was forced to add another crowd-management policy at the $1-billion fantasy land.
At Oga's Cantina, a space-themed bar, the queues were so long that Disneyland employees started to take the cellphone numbers of people waiting at the bar's entrance and offered to notify them by text when the cantina crowds had thinned. The parkgoers who were sent a text returned to a "buffer queue" to wait about 15 minutes before entering.
Disneyland executives said they tested the texting system last week in anticipation that it might be needed to manage crowds.
"We are continually exploring ways to enhance and provide a great guest experience and have heard good feedback to date on how we're managing the experience for our guests," Disneyland spokeswoman Liz Jaeger said.
Oga's Cantina is a cozy, dimly lit bar, where guests can order premixed alcoholic and non-alcoholic drinks. An automated droid plays music while human bartenders serve libations.
The cantina wasn't the only attraction that experienced crowding problems during the first weekend of the land's opening.
Savi's Workshop, a store where visitors can build and buy a custom lightsaber, was so overwhelmed with customers that the shop was regularly closed to new parkgoers until the crowds thinned inside the shop.
The opening of Star Wars land has tested Disneyland's years of crowd management expertise. The theme park has removed sidewalks, reduced landscaping, widened walkways and banned extra-wide strollers to ease gridlock at the park.
Meanwhile, the Star Wars land drew so many visitors that queues in other parts of the park were dramatically reduced, according to social media reports.
To read more about the travel and tourism industries, follow @hugomartin on Twitter.