How airlines decide when to kick a passenger off a plane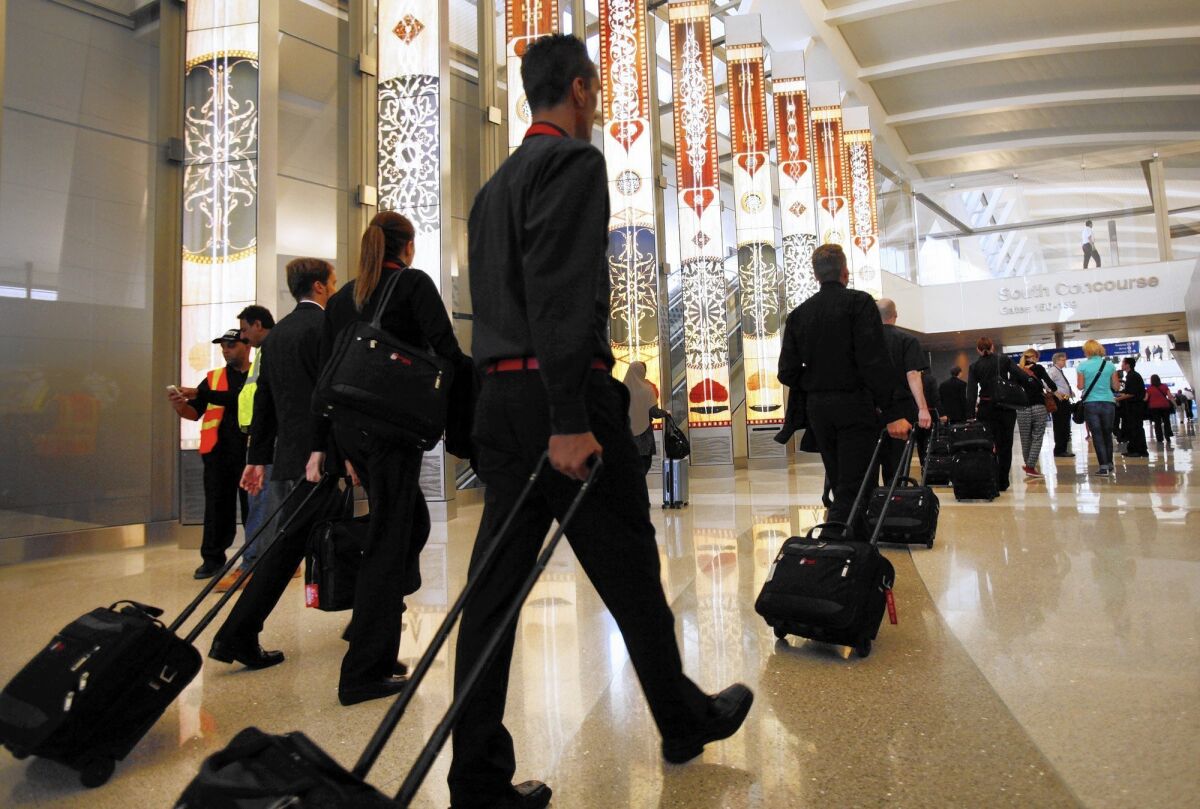 Two women were removed from a JetBlue Airways plane for reportedly staring at a flight attendant.
The leader of a popular rock band was kicked off a Southwest Airlines flight for refusing to pull up his baggy pants.
A UC Berkeley student said he was booted from a Southwest flight for speaking Arabic.
Examples of passengers being removed from flights have gained increased attention since the Sept. 11, 2001, terrorist attacks, which began with the hijacking of four commercial planes. After the attacks, flight personnel suddenly found themselves focusing more attention on identifying potentially dangerous passengers than serving drinks and snacks.
"Nobody enjoys kicking passengers off planes," said Heather Poole, a longtime flight attendant and author of a book about her job, titled "Cruising Attitude." "Nobody wants to be the reason a flight is delayed."
See more of our top stories on Facebook >>
Airlines have the authority to boot passengers from planes under the contract of carriage, a lengthy agreement between passengers and airlines that includes a section about banned behavior.
Southwest Airlines' contract of carriage, for instance, is 41 pages and has been revised multiple times, most recently in February. Such contracts usually are found online, and passengers consent when they buy an airline ticket.
Airline contracts usually describe prohibited passenger behavior in vague terms such as "disorderly," "offensive," "abusive" and "intimidating," giving flight crew members the ultimate decision on what specific acts are out of bounds.
Flight attendants, who generally make the first assessment, said they worry that ignoring a potential problem passenger on the tarmac could lead to a bigger disturbance at 35,000 feet in the air that means diverting a flight.
Marian Bruns, a retired flight attendant from United Airlines and secretary-treasurer for the Retiree Assn. of Flight Attendants, said flight attendants take classes on the latest security measures and routinely undergo cultural sensitivity training.
Although flight attendants say they are placed in a difficult position determining which passengers could be a disturbance — or worse, a threat — they say a passenger's attitude often is what determines who gets kicked off a plane. Such a decision frequently is made after conferring with other crew members, including the pilot.
"If a passenger is not cooperating verbally or being rude to a crew members, we take all of that into consideration," said James Allen, a spokesman for the Assn. of Flight Attendants, an organization that represents nearly 60,000 flight attendants.
Bruns agreed that "attitude is one thing we look for."
Strange or aggressive behavior could be more than just bad manners, Allen said. It could be a sign of drug use, mental illness or a stroke.
"We don't know why they are acting the way they are acting," he said.
But a passenger who displays a bad attitude toward the flight crew usually ends up being escorted off the plan, airline insiders said.
In 2011, Billie Joe Armstrong, the frontman for the band Green Day, said he was approached by a flight attendant just before takeoff on a Southwest flight from Oakland to Burbank who told him to pull up his baggy pants. Witnesses said Armstrong responded: "Don't you have better things to worry about?"
He reportedly refused to pull up his pants and cursed before he was escorted off the plane.
In March, news reports said that two Muslim women were removed from a JetBlue flight when it landed in Los Angeles because they had been staring at a flight attendant. The airline later said the women were instead taken off the plane and questioned because they were caught filming in-flight safety procedures
"Our crew members' first priority is the safe and secure operation of our flights, and as a security precaution, are asked to be aware of anyone who may be filming or taking photographs of in-flight procedures or the flight deck area," JetBlue said in a statement.
In the recent case of Khairuldeen Makhzoomi, the UC Berkeley student said he was removed from a Southwest flight from Los Angeles to Oakland on April 6 because another passenger overheard him speaking Arabic in a cellphone conversation with his uncle.
Makhzoomi told The Times he was talking about a Los Angeles event he attended where United Nations Secretary-General Ban Ki-moon was a speaker. In other accounts, Makhzoomi said he told his uncle how he asked a question during the event about Islamic State.
Makhzoomi was escorted off the plane and interviewed by airport police and the FBI.
A spokesman for the Los Angeles World Airports Police said another Arabic speaker on the plane said Makhzoomi was overheard mentioning the name of a terrorist organization in the phone conversation.
"The individual found the comments alarming and disturbing," Officer Rob Pedregon said. But he added that the police did not have enough evidence to substantiate the claim.
In a statement, Southwest said the flight crew followed protocol to "investigate and report to law enforcement agencies any potential threat to civil aviation."
The airline added: "It was the content of the passenger's conversation, not the language used, that prompted the report leading to our investigation."
After Makhzoomi was interviewed by police and FBI agents, Southwest said, the airline refunded his unused ticket.
Although social media makes it seem as if passenger ejections happen all the time, Federal Aviation Administration data show that airlines reported unruly passengers on only 82 flights in 2015 out of about 9.6 million flights a year. That number peaked in 2004 at 310 reports.
Twitter: @hugomartin
MORE BUSINESS NEWS
China's LeEco unveils its first electric vehicle
Nation's largest health insurer to quit some Obamacare markets
German automakers who once laughed off Elon Musk are now starting to worry
---
Sign up for the California Politics newsletter to get exclusive analysis from our reporters.
You may occasionally receive promotional content from the Los Angeles Times.