Emirates airline buys 40 Boeing Dreamliners for $15 billion as Dubai Air Show opens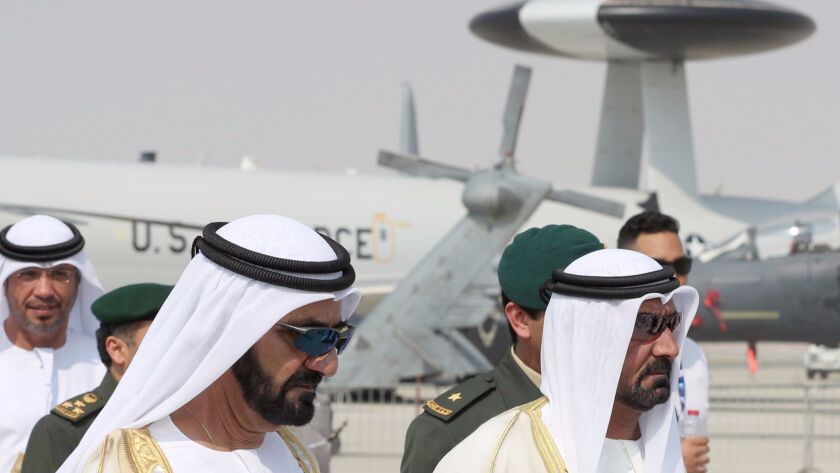 Reporting from DUBAI, United Arab Emirates —
The biennial Dubai Air Show opened Sunday with hometown long-haul carrier Emirates making a $15.1-billion buy of American-made Boeing 787-10 Dreamliners, as the world's biggest defense companies promoted their weapons amid heightened tensions between Saudi Arabia and Iran.
Other airlines also are taking part, but missing from the trade show this year is one of the region's largest long-haul carriers, Qatar Airways, amid diplomatic fallout between Qatar and four Arab nations.
The Boeing announcement came after over an hour and a half of delays by Emirates amid rumors of a possible Airbus sale involving its A380 aircraft, a major workhorse for the airline. Journalists asked Emirates CEO and Chairman Sheikh Ahmed bin Saeed Maktoum about Boeing's European competitor Airbus, specifically its A350.
"We were comparing the two apples," he said, but found that the Boeing 787 is "the best option" for Emirates "given its maintenance and so on."
The Boeing 787-10 typically lists for $312.8 million. Delivery will begin in 2022.
Chicago-based Boeing Co. already has 171 787-10s on order. Among those waiting for the aircraft are Abu Dhabi-based Etihad. Boeing builds the 787 at its plant in North Charleston, S.C., which President Trump visited in February.
Last week, the U.S. plane manufacturer secured an order valued at more than $37 billion at list price for 300 of its single-aisle and double-aisle planes during Trump's visit to China. Trump also was present for the signing ceremony last month between Boeing and Singapore Airlines for 39 new aircraft, including 19 of the 787 Dreamliners, in a deal worth up to $14 billion.
Sheikh Ahmed made a point to say the deal will help create more jobs, long a mantra of Trump. The deal was signed in the presence of Dubai's ruler, Sheikh Mohammed bin Rashid Maktoum, who also serves as the United Arab Emirates' prime minister and vice president.
"The order will take Emirates' total [number of] wide-body aircraft of the Boeing to 204 ... units worth over $90 billion," Sheikh Ahmed said. "This is a long-term commitment that supports hundreds of thousands of jobs, not only at Boeing but also throughout the aviation supply chain."
The airline's business has suffered under Trump's travel bans affecting predominantly Muslim nations, as well as the recent ban on laptops in airplane cabins. Emirates said it slashed 20% of its flights to the U.S. in the wake of the restrictions. That in turn hurt Dubai International Airport, the home of Emirates and the world's busiest international travel hub.
Emirates is the world's largest Boeing 777 operator, with 165 in service today.
The air show comes as the Qatar dispute is now in its fifth month with no resolution in sight. Saudi Arabia, the United Arab Emirates, Egypt and Bahrain cut ties with Qatar in June over its ties with Iran and its support of Islamist groups, accusing the small Gulf state of supporting extremists, charges it denies. The Arab quartet cut direct flights with Qatar and closed their airspace to Qatari aircraft.
Qatar Airways previously had played a big role in the Dubai Air Show, reserving a large pavilion and displaying its latest aircraft to visitors.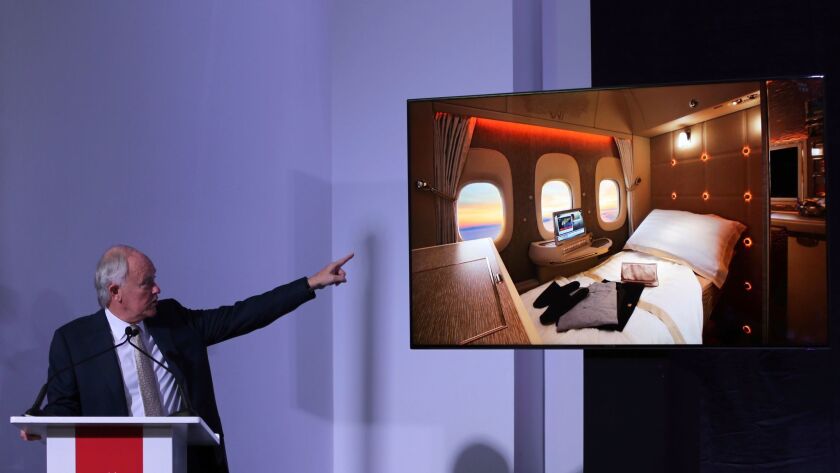 At the start of the air show, Dubai-based Emirates, the Middle East's largest carrier, unveiled new, state-of-the-art, first-class private suites.
In an industry first, passenger suites in the middle aisle without windows will be fitted with "virtual windows" relaying the sky outside via fiber optic cameras on the plane. There's also a video call feature in the suites that connects passengers to the cabin crew, as well as temperature control and various mood lighting settings.
Emirates President Tim Clark declined to say how much a ticket in the 40-square-foot private suite will cost. The private suites will be available on the airline's Boeing 777.
In previous years, major Mideast carriers have flexed their spending power at the Dubai Air Show, including $140 billion in new orders announced in 2013 before the collapse of oil prices. Prices have rebounded recently to around $60 a barrel.
Regional tensions have spiked further since Lebanon's Prime Minister Saad Hariri announced his resignation last week in a pre-recorded video on a Saudi television station from Saudi Arabia. His surprise resignation has raised questions about whether the kingdom forced Hariri to resign in order to wreck the government and pressure the Iranian-backed Hezbollah group.
Saudi Arabia also has tightened its blockade on Yemen after Iranian-allied rebels there launched a missile at the Saudi capital, Riyadh, last week. The Saudi-led war in Yemen, which began in March 2015, has killed at least 10,000 civilians and pushed millions to the brink of famine. The United Nations and aid groups warn that the blockade could bring millions of people closer to "starvation and death."
---
UPDATES:
2:50 a.m.: Updated with quotes and background.
This article was first published at 1:50 a.m.
---
Your guide to our clean energy future
Get our Boiling Point newsletter for the latest on the power sector, water wars and more — and what they mean for California.
You may occasionally receive promotional content from the Los Angeles Times.