PACE lender approved 'potentially fraudulent loans,' ex-employee alleges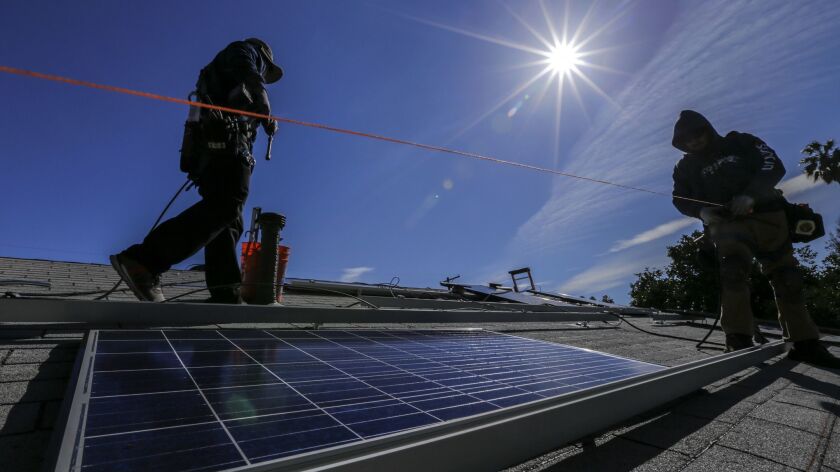 A former employee of lender Energy Efficient Equity alleges in a lawsuit that the company fired him after he raised concerns it was approving "potentially fraudulent loans."
Energy Efficient Equity, which was included in a recent Los Angeles Times article that examined the misuse of Property Assessed Clean Energy home improvement loans, was sued last year in San Diego County Superior Court by former employee Peter Stone.
In his lawsuit, Stone said he expressed concerns to supervisors several times "regarding other salespersons selling projects that were not eligible" under PACE programs, which are intended to fund environmentally friendly projects such as solar panels, low-water-use toilets and efficient lighting.
Consumer attorneys allege home improvement contractors too often try to use funds for ineligible work, or mislead consumers over how they will pay back the loans.
In addition to wrongful termination, Stone alleged Energy Efficient Equity, or E3, failed to pay him overtime and committed other wage violations.
E3, in a court filing, said Stone was exempt from overtime laws and was paid all required wages. The Los Angeles company did not directly respond to Stone's allegations over questionable projects or retaliation in the form of a November 2017 firing but said that Stone failed to comply with "employee obligations and pertinent duties."
The case is now on hold pending arbitration. An attorney representing E3 did not respond to requests for comment. The company's chief operating officer declined to comment other than to confirm Stone was at one time an employee. Stone declined to comment, and his attorney did not return multiple requests for comment.
In the lawsuit, the former employee stated that although he "fulfilled all requirements of his position" he also "refused to process projects that could not qualify." The complaint says E3 approved loans for projects Stone believed overcharged for "energy efficient items and then were under-charging homeowners for non-PACE-eligible items like kitchen remodels."
Among the examples the lawsuit says Stone brought to his superiors: roofing for $40,000, an HVAC system for more than $24,000 and lighting for $1,000 per bulb.
"Anything that says $1,000 per bulb should raise a red flag with anybody," said Stephanie Carroll, an attorney with consumer law firm Public Counsel, which is not involved in the case. "At the very least, they should be picking up the phone and getting an explanation ... from the contractor why this is appropriate."
PACE programs launched last decade with the lofty goal of combating climate change by allowing more people to fund energy efficiency improvements. The programs are established by government bodies, most of which contract with private lenders to run and fund them.
Lenders, in turn, rely on home improvement contractors to market loans and sign up consumers, who borrow against their home's equity and pay it back through their property taxes.
Under California law, PACE loans can be used only for items that generate renewable energy, save energy or water, charge an electric car, or protect against earthquakes or wildfires, according to the state Department of Business Oversight.
San Bernardino County slams the brakes on big solar projects »
But five homeowners previously told The Times that home improvement contractor Green Nation Direct signed them up for PACE loans through E3 and other companies to fund questionable projects that included ineligible work to convert garages into "granny flats," otherwise known as accessory dwelling units.
According to multiple government bodies with PACE programs, it's possible to use the loans for some items homeowners might want or need in a garage conversion — say, a low-water-use toilet or energy efficient windows. But PACE can't fund the entire conversion, except in a rare case in which the only work needed would be eligible improvements.
Four homeowners told The Times that Green Nation Direct said Pace would cover all of their garage conversion, while another said he was promised PACE would cover nearly all his garage conversion and primary home remodel.
To make the financing go through, homeowners said, the contractor coaxed or pressured them into providing false information to lenders, including E3.
One homeowner, Jorge Hernandez, had told The Times that Camilo Uribe, listed as Green Nation Direct's chief executive in state filings, assured him that lenders know contractors put in for energy efficient items but use money for other work.
Uribe had declined to comment by email after The Times sent him a detailed list of questions. He did not respond to emails this week seeking further comment.
E3 previously told The Times it had recently mandated a third-party inspection before funding is released to ensure its financing is used only for eligible items. It also said it's willing to cancel loans for people who hired Green Nation Direct, but it had declined to say whether it knew Green Nation Direct was using PACE loans for ineligible items.
Green Nation Direct declared bankruptcy in November, and homeowners with PACE loans say construction workers have abandoned garage conversions midway or never even started. Some — who counted on rental income to help pay back the loans — fear foreclosure over financing they never should have obtained in the first place.
Stone's lawsuit does not mention Green Nation Direct or any other home improvement contractor by name.
E3 is the private lender for the California Municipal Finance Authority's PACE program, which the city of Los Angeles opted into several years ago.
Lee McCormick, a finance advisor for the agency, which needs to sign off on each PACE assessment, declined to comment on Stone's lawsuit.
Casey Dailey of the Western Riverside Council of Governments, which oversees the state's largest PACE program and does not work with E3, said he couldn't say for certain whether his agency would have approved the items listed in Stone's complaint, including the charges of more than $24,000 for the HVAC system and $1,000 per lightbulb.
But he added that "the pricing of the individual items do appear high across the board."
Times researcher Scott Wilson contributed to this report.
Follow me @khouriandrew on Twitter
---
Be your money's boss! Learn how to make a budget and take control of your finances with this eight-week newsletter course.
You may occasionally receive promotional content from the Los Angeles Times.