Arizona farm accused of abusing Mexican migrant workers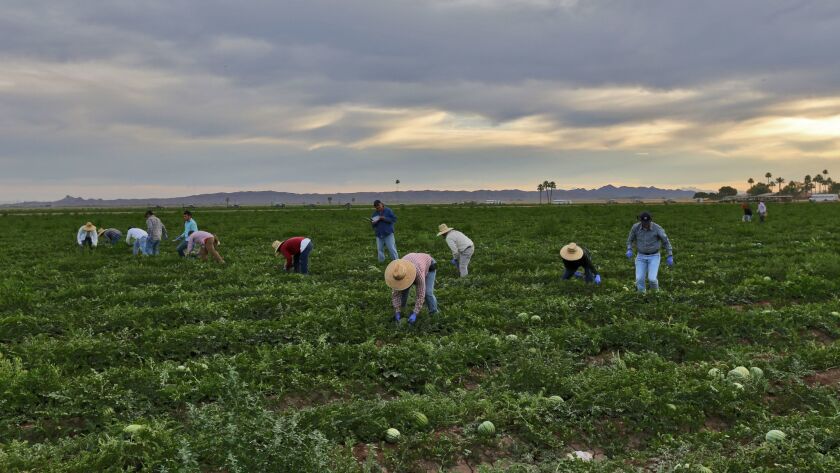 The U.S. Department of Labor is accusing an Arizona farm of housing about 70 Mexican farmworkers in dangerous and unsanitary conditions and paying them illegally low wages, according to a lawsuit filed in federal court last week.
Santiago Gonzalez, the owner of G Farms in El Mirage, Ariz., housed workers in school buses and trailers without any windows, in violation of federal safety regulations, officials said.
The workers were brought in under the federally supervised H-2A visa program, which allows U.S. growers to import seasonal laborers from abroad. Employers who use the program are required to pay a minimum wage set by the government and provide the guest workers free transportation and housing, which must include 50 square feet of sleeping space per person.
Regulators have ratcheted up scrutiny of the agricultural guest worker program in recent years, as employers increasingly rely on it to fill a labor shortage caused in part by a dramatic drop in immigration from Mexico. But federal investigators have uncovered cases of employers shorting wages, soliciting kickbacks, illegally deducting rent and holding workers hostage to their visas.
After investigators confronted Gonzalez, he moved the workers into two hotels. But one of his employees called the Labor Department last week and reported that Gonzalez was charging the workers to stay in the rooms, and for their food and transportation.
The department has asked for a temporary restraining order to force Gonzalez to pay workers what they are owed and "to ensure that these workers are kept safe from life threatening conditions."
Stephen Barr, a spokesman for the Labor Department, declined to comment. Gonzalez did not respond to requests for comment.
Kristina Espinoza, a labor department investigator who recently visited the farm, described a "makeshift labor camp" that was "dangerous" and "unsanitary," according to court documents.
When Gonzalez applied for H-2A workers this year, he pledged to house them in a nearby hotel. Instead, he had them living in four yellow school buses and two trailers, where they had less than a foot of space between each bed, Espinoza said. Federal standards require three to four feet.
The trailers didn't have windows, and workers in the buses had nowhere to put their belongings, so their items were strewn across the trash-filled sleeping quarters, Espinoza said.
Gonzalez had workers shower in nine stalls inside a cargo container; there was no functional sewage system, so wastewater accumulated underneath the container, Espinoza said. The electrical cord used to light the facility was exposed to standing water, posing a risk of electrocution, according to court documents.
The workers shared one toilet in the trailer and had access to port-a-potties.
Each of those conditions is an apparent violation Occupational Safety and Health Administration regulations for labor camps, which apply to H-2A workers.
Growers in Arizona last year recruited 6,205 guest workers, up from 2,091 in 2011. The vast majority of them were employed around Yuma, where many of California's produce companies operate during winter months. Arizona ranks eighth nationwide in recruitment of H-2A workers, according to the data; California ranks fifth.
G Farms was approved to hire 70 laborers to cultivate and harvest potatoes, watermelon and onions for standard 40-hour workweeks, from April 2 through July 31, according to federal records. Gonzalez's application, dated Jan. 31, was approved at a $10.95 minimum hourly rate.
Instead, Gonzalez paid $0.13 to $0.70 per bag, Espinoza said.
---
Must-read stories from the L.A. Times
Get the day's top news with our Today's Headlines newsletter, sent every weekday morning.
You may occasionally receive promotional content from the Los Angeles Times.