Federal Reserve officials hint at slowdown in future rate hikes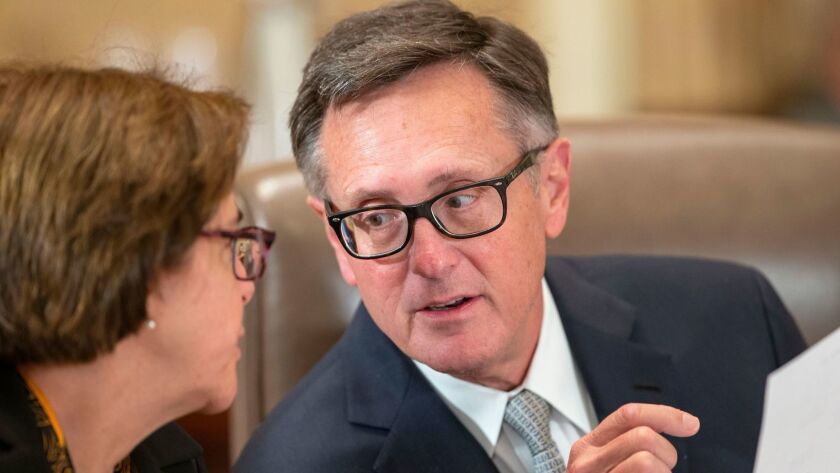 For the second time this week, a Federal Reserve official on Friday broached the central bank's key policy dilemma — when to end the current campaign to raise interest rates to more historically normal levels. And the answer seems to be that it could be sooner rather than later.
Vice Chairman Richard Clarida said the bank needs to continue raising its benchmark federal funds rate to a level that keeps supply and demand in balance in the economy, while keeping a close eye on slowing growth abroad.
"Certainly where the economy is today, and my projection for it and the Fed's projection of where it is going, I think being at neutral would make sense," Clarida said in an interview with CNBC. "The global economy is something" the Fed has to pay attention to, he added, as there "is some evidence that it's slowing."
The remarks by the former Columbia University economist and advisor to Pacific Investment Management Co. sent the dollar tumbling along with Treasury yields as investors interpreted his remarks as signaling he did not favor aggressive rate hikes.
Policymakers have raised the federal funds rate three times this year — most recently in September by a quarter percentage point to a target range of 2% to 2.25% — as they have tried to keep inflationary pressures in check. Banks use the rate to set their own rates for products such as credit cards, car loans, small-business loans and adjustable rate mortgages.
Fed officials have indicated they would enact one more small hike next month and three more next year to push the rate over 3%, which still would be low for a robust economic expansion.
However, Fed Chairman Jerome Powell on Wednesday laid out a scenario for a pause in the hikes sometime next year by highlighting potential headwinds to the U.S. economy.
While generally upbeat about the outlook, Powell listed three possible challenges to growth in 2019: fading fiscal stimulus at home, the lagged economic impact of the Fed's past rate increases and slowing demand abroad — a topic broached by Clarida on Friday
"These are things we are well aware of,'' Powell said in an appearance at the Dallas Fed.
The key issue the Fed is grappling with is at what point does it's federal funds rate function neutrally — that is to say, it neither promotes nor suppresses growth. In September, Fed officials estimated the neutral rate to lie in a range between 2.5% and 3.5%.
Michael Hanson, chief U.S. macro strategist for TD Securities in New York, said Clarida seems to be suggesting that point is on the horizon.
"He is saying we are still going to hike and we are getting toward an inflection point — and we can see it coming," he said.
Clarida stressed that the committee is data dependent and will be watching the labor market and inflation for how far and fast it should raise the benchmark lending rate, still a quarter point under the low end of neutral rate range established in September.
"Currently the policy rate is below that range but as you can tell, it is getting closer toward the vicinity of that range," Clarida said.
The Fed is facing crosswinds as it tries to decide when it has hit neutral.
The U.S. economy expanded at an annualized 3.5% pace in the third quarter on the back of strong consumer spending as unemployment dipped to the lowest level in 49 years. But U.S. fundamentals aside, forecasts for the euro zone are being notched down by private economists. Bloomberg's survey of private economists show estimates of 1.7% for 2019 and 1.5% for 2020.
Pausing the interest rate hikes in 2019 would not be without its risks, however. It would come with unemployment well below the level policy makers reckon is sustainable in the long run without spurring inflation — 4.5% in the September FOMC projections.
Joblessness stood at 3.7% in October and New York Fed President John Williams has said he expects it to fall below 3.5% next year. Accordingly, Goldman Sachs Group Inc. economists still predict four rate hikes in 2019.
Indeed, Powell aligned himself with those economists who think this current cycle of growth is not over.
"I do believe our economy can grow and grow faster,'' the Fed chairman said Wednesday.
Some Fed officials, including Powell's board colleagues Clarida and Randal Quarles, have voiced hopes that productivity growth will strengthen. That would allow the economy to expand more rapidly than otherwise on a sustained basis without generating inflationary pressure.
"I believe that we have seen the bottom in productivity growth rates," Clarida said. "Put me in the camp of being an optimist on this."
Los Angeles Times staff writer Laurence Darmiento contributed to this article.
---
Be your money's boss! Learn how to make a budget and take control of your finances with this eight-week newsletter course.
You may occasionally receive promotional content from the Los Angeles Times.