FedEx agrees to buy 3 million gallons of biofuel a year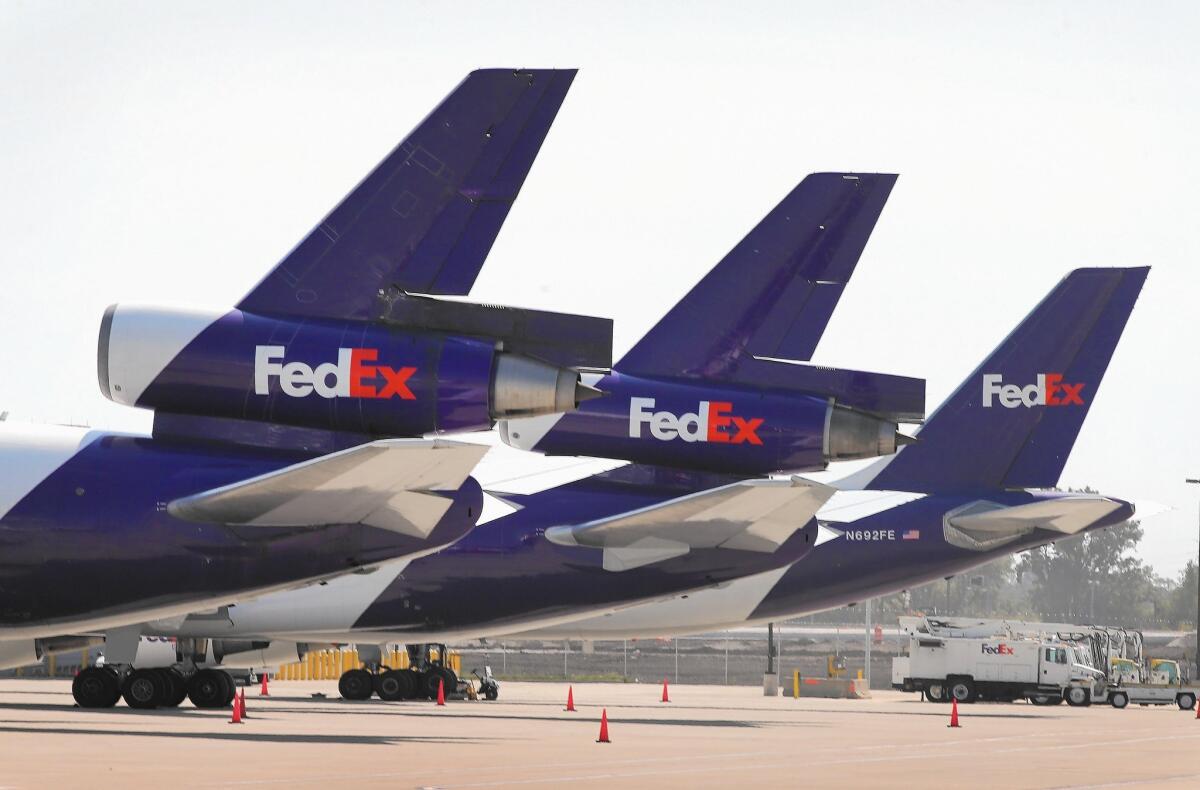 The world's largest air cargo company and the nation's largest domestic carrier may soon fly on biofuel made from dead trees, bark, branches and leaves.
The announcement Tuesday by FedEx to buy 3 million gallons of biofuel a year for eight years puts it in the same rarefied air as Southwest Airlines, which last year signed an agreement to buy that amount from Colorado-based Red Rocks Biofuel, starting next year.
Both companies are moving in advance of the United Nations' plans next year to begin regulating emissions from commercial aircraft.
FedEx plans to buy the biofuel, starting in 2017, from the same company that will supply Southwest. None of the parties involved in the agreements would discuss the cost of the biofuel, except to say that the price would be competitive with traditional fuel.
The biofuel supplied under the agreements would represent only a fraction of the 90 million gallons of jet fuel burned each month by FedEx and 150 million gallons a month by Southwest Airlines, according to federal data.
Still, FedEx executives say the deal represents a first step toward increasing the use of renewable fuels. FedEx, with a fleet of 647 planes, has set a goal of using alternative sources for 30% of its jet fuel by 2030.
The fuel for FedEx and Southwest will be produced at a proposed refinery in Oregon that is expected to convert about 140,000 tons of forest waste, such as trees, branches, bark and leaves, into 15 million gallons a year of renewable jet, diesel and naphtha fuel.
Groundbreaking for the Red Rocks Biofuel refinery, partly funded by a $70-million federal grant, is set for this fall. Red Rocks Biofuel President Terry Kulesa acknowledged that the refinery would produce only a fraction of the fuel used by the airlines. But he said plans were in the works to build more refineries.
"They spill more fuel than what we are selling them," he said.
Kulesa suggested that the airlines are pushing to rely more heavily on biofuels partly because the UN's International Civil Aviation Organization is expected to announce new aviation emission standards next year.
"They are trying to be proactive on climate change and carbon emissions," he said.
United Airlines last month announced a $30-million investment in Pleasanton-based Fulcrum BioEnergy Inc., a private company that plans to build a refinery near Reno that can convert household trash into jet fuel. United also has agreed to buy from Fulcrum at least 90 million gallons of aviation fuel a year for a minimum of 10 years.