Crowdfunded financing for marijuana software business goes up in smoke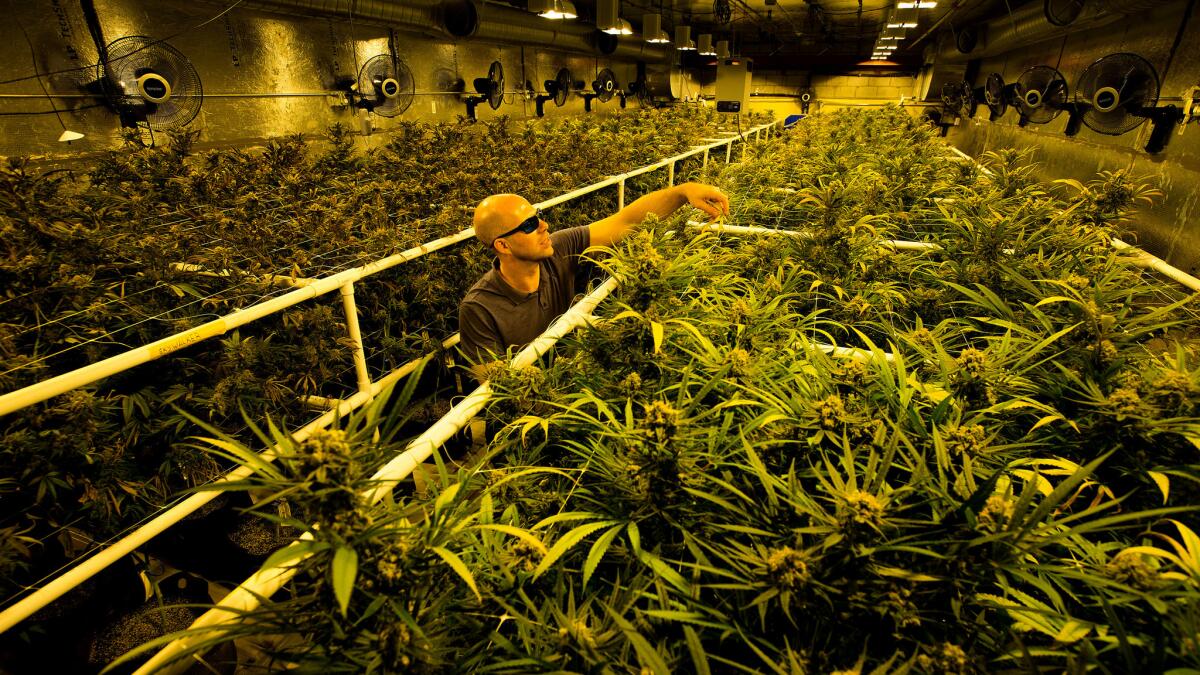 For Ralf-Rainer von Albedyhll and his start-up, new rules that allow small companies to sell stock through Kickstarter-like online offerings might have been the answer to a question that has dogged him for years: How do you find investors willing to back a company in the medical marijuana business?
He'd tried to convince professional investors, including members of an Oakland marijuana investor network group Arcview Group, but to no avail. So he turned to equity crowdfunding, a newly legal practice that allows start-ups to raise up to $1 million from the general public.
He spent weeks on paperwork. He had his firm's books reviewed by an accountant. He thought he'd jumped through every hoop. And on May 16, his firm, NextRX, started raising money through Santa Monica's StartEngine Crowdfunding.
Two days later, the campaign was suspended. Not because NextRX had run afoul of the new crowdfunding rules, but because another institution – an Arizona bank – was concerned about federal drug laws.
When investors back a company's crowdfunding campaign, their pledged cash goes into an escrow account at a bank. If the company reaches its funding goal, it gets the money in the account. If the company falls short of its goal, the cash goes back to investors.
But it turns out that Western Alliance Bank, the bank that holds escrow accounts for companies raising money through StartEngine, wasn't comfortable holding an account on behalf of NextRX because it's in the marijuana business, according to NextRX's StartEngine campaign page.
StartEngine and Western Alliance declined to comment.
Banks are famously skittish about the marijuana business. Though pot is legal for medicinal use in California, and for recreational use in a handful of states, it's still illegal at the federal level – and banks don't want to risk the wrath of federal bank regulators.
Still, the decision to suspend NextRX's campaign surprised von Albedyhll, who noted that his firm is a software developer, not a drug peddler. The company, which had been based in Santa Monica before moving to Las Vegas, is developing an online system that allows medical marijuana dispensaries to electronically store patient records.
"We're ancillary. We don't even touch the plant," he said. "Because we're just dealing with patient management, this shouldn't really be an issue. I thought it wasn't an issue. I guess I was wrong."
He said he's reached out to other crowdfunding sites to see if the banks they work with might be willing to work with NextRX, but so far he hasn't found one.
No deal
An investment group's plan to build a Los Angeles bank catering to wealthy Chinese immigrants is on hold after the group's attempt to buy a Fresno bank fell through.
Nearly a year and a half ago, an L.A. firm calling itself SunPac Financial said it planned to acquire Security First Bank, a one-branch lender in Fresno, with plans to move its headquarters to Los Angeles.
One of SunPac's investors, Wei Chen, founder of a manufacturing and equipment distribution firm in Tennessee, told CNBC last year that the bank, which would be renamed Sun Pacific, planned to cater to wealthy immigrants from mainland China.
When it announced the deal, SunPac said it expected to close the acquisition of Security First by the middle of last year, pending approval by Security First investors and state and federal bank regulators.
The bank's investors signed off more than a year ago, but regulatory approval never came. Last week, Security First's chief executive, Steve Jones, said the deal had been canceled.
It's not clear if regulators were concerned about the deal or whether SunPac, which would have had to pay Security First an additional $150,000 to cover the costs of the unexpectedly long approval process, didn't have the money to keep it alive.
Chen, who is on the board of Memphis lender Metropolitan Bank, declined to comment. SunPac officials did not return requests for comment.
The firm was led by veteran Southern California banker V. Charles Jackson, who had previously served as chief executive of of Pasadena's Community Bank and now-defunct Wedbush Bank.
Shopping spree
West L.A. private equity firm Leonard Green & Partners has raised a new fund from investors – and it's a big one. The firm collected $9.6 billion, one of the largest private equity funds raised over the past 18 months.
Since the beginning of last year, only five firms, including private equity giants Blackstone Group and TPG Capital, have raised more, according to investment industry data provider Preqin.
Though not as big as those firms, Leonard Green has been a top performer, ranking in the top 20 global firms in each of the past two years, according to the HEC-Dow Jones Private Equity Performance Ranking, prepared by French business school HEC. Its 2007 fund has so far had an 18.1% return for investors.
The majority of the new fund came from previous Leonard Green investors.
The new fund will give Leonard Green – which has previously invested in companies including Shake Shack, high-end gym chain Equinox and L.A. apparel firm Lucky Brand – ammunition to pursue a new round of investments and acquisitions.
The firm invests in a broad range of industries, but often invests in retail and consumer companies and prefers firms that are market leaders.
ALSO
Trump moves to block the release of his video testimony in university suit
Stanford swimmer convicted of sex assault lied about never partying, documents show
Ex-'Voice' contestant Christina Grimmie, 22, dies after being shot at Orlando concert
james.koren@latimes.com
Twitter: @jrkoren