Pop star Ana Bárbara the latest to sue Wells Fargo over fake accounts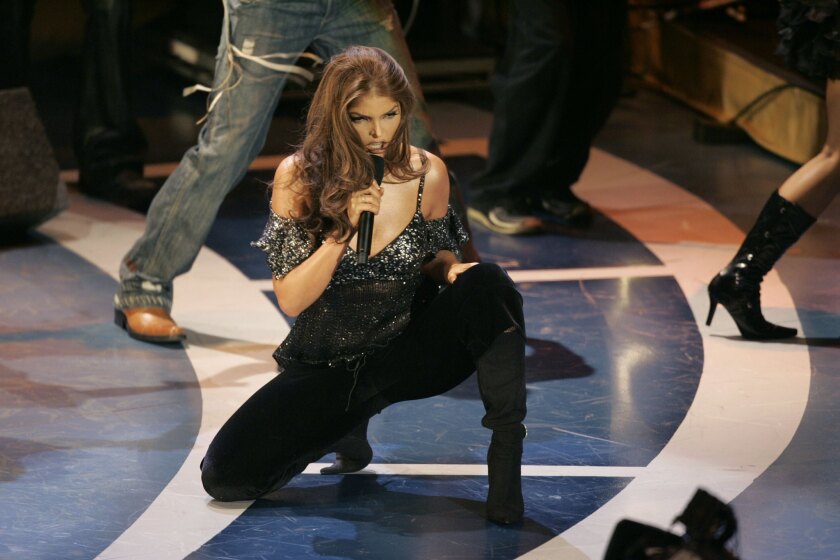 Wells Fargo employees and customers have complained for years that high-pressure sales tactics push bank workers to open fake accounts, which help employees meet sales quotas while costing customers extra fees.
Now a Mexican pop star has sued the San Francisco banking giant, alleging the same kind of problems — employees opening accounts she never authorized — but with much costlier consequences totaling more than $1 million.
In a suit filed June 30 in Los Angeles Superior Court, singer Altagracia Ugalde Motta, better known by stage name Ana Bárbara, accuses Wells Fargo of negligence and deceit and seeks damages of more than $1.5 million.
The suit makes several references to a lawsuit filed last year by Los Angeles City Atty. Mike Feuer, which alleges widespread fraudulent conduct by Wells Fargo employees driven by sales quotas.
Wells Fargo declined to comment on the specifics of Motta's suit, but spokeswoman Bidget Braxton, repeating what has become a common refrain from the bank in similar cases, said the Wells Fargo doesn't "tolerate behavior that fails to meet our ethical standards."
Motta's story begins in 2013 when, according to the suit, a friend who worked at a Wells Fargo branch in Huntington Beach persuaded her to open personal and business checking accounts at the bank. Motta lives in Los Angeles.
The following year, using the singer's personal information, the employee opened a line of credit and other accounts and ultimately spent $416,000 in her name, according to the suit.
When Motta found out about the theft last year, she canceled appearances in Mexico and Bolivia, costing her more than $880,000 in lost income, according to the suit.
An initial hearing is scheduled for Nov. 3, but it's likely that the case will not be allowed to proceed.
Wells Fargo, like most banks, requires customers to go through private arbitration — not the court system — to settle disputes.
Customers agree to those terms, known as arbitration clauses, when they sign up for accounts, which has stymied other attempts to sue Wells Fargo.
Chat to trim financial fat
While working for Hollywood venture capital firm Core Innovation Capital, which invests in financial technology firms, Thomas Smyth downloaded lots of personal finance apps.
Dozens of them. And he wasn't impressed.
"I was like, 'This is terrible,'" Smyth said. "None of these do anything for me. I wanted to create a service that actually does something for you — that doesn't just show you a pie chart of how much you spent on coffee last month."
Last year, he left Core to create a personal finance tool of his own. Called Trim, that service last week announced that it had raised $2.2 million from investors, including Core.
Trim gives users a quick look at their bank account or credit card balance and spending activity. Mobile apps from your bank and a handful of other firms do basically the same thing, but Trim is different in a couple of ways.
First, it's not an app. It's a chat bot. Instead of pulling up the Trim website or a Trim app, users interact with Trim through text messages or Facebook messenger.
For instance, text "recent debit" and Trim will send you the last few debit transactions from your account.
Trim co-founder and Chief Executive Smyth believes — and he's not alone — that apps will sooner or later be replaced by tools like this. Instead of dealing with Uber, your bank and every other service through its own app, he thinks we'll be interacting with those services through messaging tools.
But Trim's bigger selling point, and the notion behind its name, is that it looks through your bank accounts for recurring subscription payments — Netflix, Pandora, that credit-monitoring service you signed up for six months ago — and offers to cancel them on your behalf.
Send Trim a message asking it to cancel a subscription, and it will send an email to the biller, asking the company to cancel your subscription — and refund your last payment. In most cases, Smyth said, billers play along.
SIGN UP for the free California Inc. business newsletter »
That's the first of a handful of services he hopes to offer through Trim. Up next, he hopes Trim will be able to send messages that help users avoid overdraft and late fees.
Coming up with more money-saving services will be key for the San Francisco company, which Smyth said he ultimately hopes to turn into — you guessed it — a subscription service of its own.
"We think people will pay for a premium service down the road," he said.
Koreatown bank combo?
With the merger of leading Koreatown banks BBCN and Wilshire set to close next week, investors in another local Korean American bank are pushing it to look for a buyer.
Two investment firms that own small stakes in Commonwealth Business Bank recently sent a letter to the bank's board, saying they should consider selling the institution, possibly to larger Korean American lender Hanmi Financial.
Hanmi has long been one of Koreatown's leading banks but will be dwarfed by the combination of its two main rivals, BBCN and Wilshire. BBCN is acquiring Wilshire for about $900 million in stock. The deal is set to close July 29.
Peter Bortel of investment fund Tiburon, one of the authors of the letter, said Hanmi could be looking to buy a bank in the wake of the BBCN-Wilshire merger. And if Hanmi buys a bank other than Commonwealth — there are two Korean American banks in L.A. that could be targets — it might leave Commonwealth without any suitors.
But Joanne Kim, Commonwealth's chief executive, said the BBCN-Wilshire deal is an opportunity for her bank to grow, not a sign that it should sell.
She believes that there are Wilshire customers who don't like BBCN, and vice versa, and that some of those customers will go to other banks once the two lenders combine. Indeed, she said it's already happening.
"Our board made a decision that, for now, we would remain independent and take advantage of this market opportunity," she said. "There are good opportunities for a smaller bank like us to grow and take some benefits from this mega-merger."
Follow me: @jrkoren
ALSO
Southern California's aerospace industry, long in decline, begins to stir
If California's a 'bad state for business,' why is it leading the nation in job and GDP growth?
Verizon reportedly close to acquiring Yahoo for around $5 billion
---
Your guide to our new economic reality.
Get our free business newsletter for insights and tips for getting by.
You may occasionally receive promotional content from the Los Angeles Times.