Stocks have a bumpy ride after Trump cancels meeting with Kim Jong Un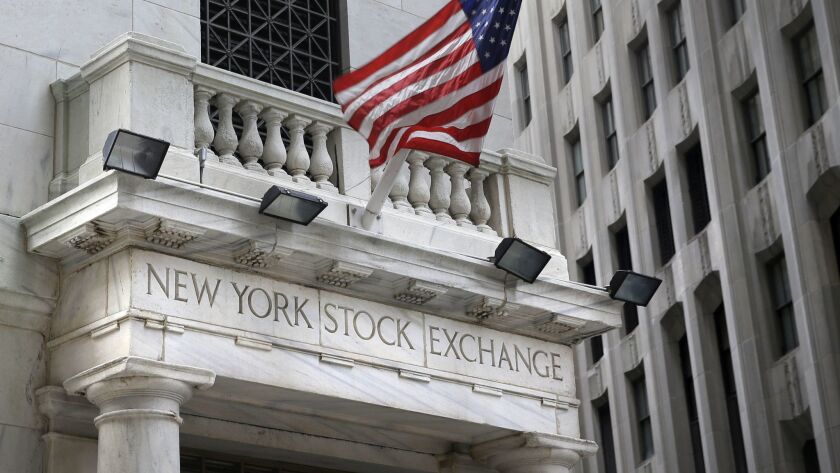 U.S. stock indexes finished mostly lower Thursday as energy companies skidded along with oil prices. The market dropped after President Trump said he canceled a meeting with North Korean leader Kim Jong Un, but recovered most of those losses.
Five takeaways from Trump's decision to cancel talks with North Korea's Kim Jong Un »
Crude oil futures and energy companies fell as investors reacted to reports that OPEC nations may start producing more oil. Banks fell as interest rates edged down, and car companies including Fiat Chrysler and Toyota dropped as the Trump administration considered tariffs on imported cars and car parts, a move that was criticized by the governments of China, Japan and the European Union.
The Dow Jones industrial average fell as much as 280 points in the morning, more than 1%, after Trump said the June meeting with Kim was off. In a letter, Trump said he was canceling the summit because of "tremendous anger and open hostility" in a recent statement by a North Korean official.
Trump's letter to Kim Jong Un leaves experts puzzled »
Technology companies, which have led the market in recent years, took some of the biggest losses, and defense contractors climbed.
The market gradually recovered much of those losses, and Trump later told reporters that the meeting could still happen in June or later. Stocks finished only slightly lower than where they were before Trump's initial announcement.
Chris Zaccarelli, chief investment officer for the Independent Advisor Alliance, said investors were troubled at first by Trump's and Kim's statements about a possible nuclear war, but they have gotten used to such statements, which means the market doesn't react as much.
"The first time the market hears these threats, there's a large reaction, and after that, there's less reaction," he said. "It's just rhetoric right now and there's no actual military conflict, [so] these moves are kind of short-lived."
The Standard & Poor's 500 index fell 5.53 points, or 0.2%, to 2,727.76. The Dow Jones industrial average fell 75.05 points, or 0.3%, to 24,811.76. The Nasdaq composite slipped 1.53 points, less than 0.1%, to 7,424.43. The Russell 2000 index of smaller-company stocks edged up 0.61 of a point to 1,628.22.
Benchmark U.S. crude lost 1.6% to $70.71 a barrel in New York. Brent crude, used to price international oils, fell 1.3% to $78.79 a barrel in London.
Various news outlets reported that the nations of the OPEC cartel might start producing more oil in response to reduced exports from Venezuela and Iran. Greater supplies would send prices down.
Energy companies' stocks have slipped in recent days as investors anticipated that possibility. On Thursday Exxon Mobil slid 2.3% to $80.27 and Chevron fell 1.6% to $126.61.
OPEC and a group of other major oil producers cut production last year in response to a steep drop in oil prices. U.S. crude had fallen from more than $100 a barrel in mid-2014 to as little as $26 a barrel in early 2016. On Monday, U.S. crude peaked at $72.24 a barrel, its highest price since late 2014.
Defense companies fared better than the rest of the market. Raytheon rose 1.3% to $213.94. Northrop Grumman advanced 1.4% to $332.81.
Bond prices rose. The yield on the 10-year Treasury note fell to 2.97% from 2.99%, and banks shares fell. Metals prices also increased as the dollar weakened. Gold rose 1.1% to $1,304.40 an ounce. Silver jumped 1.7% to $16.69 an ounce. Copper ticked up 0.8% to $3.10 a pound.
The Trump administration plans to conduct an investigation into imported vehicles and automotive parts on national security grounds. A European Union official said the proposal would violate World Trade Organization rules, and Japan and China also criticized the proposal. Those same grounds are the justification for proposed tariffs on imported aluminum and steel, and the U.S. will decide by June 1 whether to impose tariffs on steel and aluminum from Europe.
Fiat Chrysler fell 0.9% to $22.26, Tata Motors sank 5.8% to $21.09, and Toyota shares fell 1.8% to $132.44. U.S. rivals Ford rose 1.6% to $11.62 and General Motors rose 1.4% to $38.39.
"I'm hoping that what they're doing is trying to put a little pressure on the NAFTA negotiations and this will be a way to get Mexico and Canada to agree," said Zaccarelli, of the Independent Advisor Alliance.
Meanwhile, Netflix briefly surpassed Disney as the world's most valuable media company when the streaming powerhouse's shares rose more than 2% to give it a market cap of nearly $154 billion. But by day's end, Disney was on top again. Netflix shares closed up 1.3% at $349.29. Disney fell 0.8% to $102.11.
Best Buy slid 6.6% to $70.90 after the electronics retailer's profit forecast disappointed investors.
In after-hours trading, Gap dived more than 7% after the clothing retailer reported a first-quarter profit that fell short of forecasts.
Wholesale gasoline fell 1.2% to $2.23 a gallon. Heating oil fell 1% to $2.27 a gallon. Natural gas rose 0.9% to $2.94 per 1,000 cubic feet.
The dollar fell to 109.28 yen from 110.07 yen. The euro rose to $1.1727 from $1.1698.
Germany's DAX and the FTSE 100 in Britain both fell 0.9%. The CAC 40 in France shed 0.3%. Japan's Nikkei 225 index fell 1.1% and the Kospi in South Korea slipped 0.2%. In Hong Kong, the Hang Seng gained 0.3%.
---
UPDATES:
2:15 p.m.: This article was updated with closing prices, context and analyst comment.
1:20 p.m.: This article was updated with the close of markets.
12:05 p.m.: This article was updated with the latest market data.
This article was originally published at 8:15 a.m.
---
For reporting and exclusive analysis from bureau chief John Myers, get our California Politics newsletter.
You may occasionally receive promotional content from the Los Angeles Times.