Stocks drift higher as Yellen testifies before Congress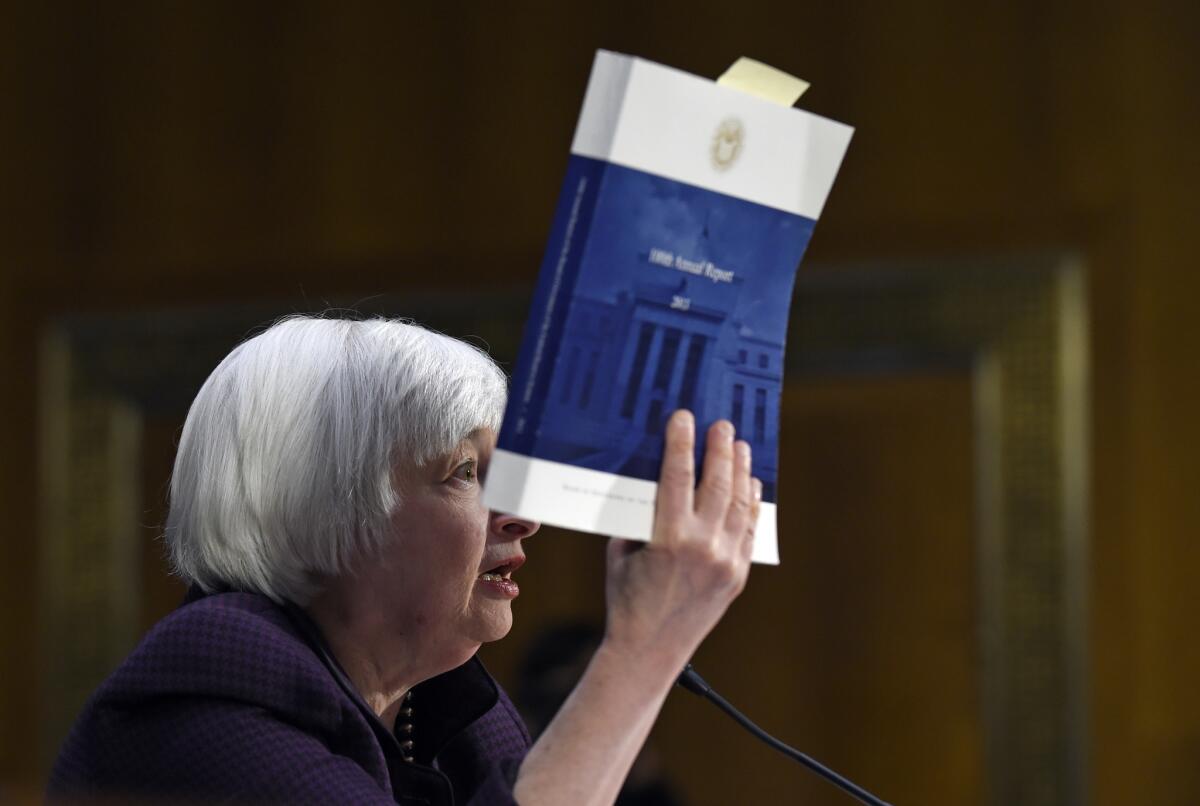 Major U.S. stock indexes edged higher in morning trading Tuesday as investors monitored Federal Reserve Chair Janet Yellen's remarks before Congress on interest rate policy and the economy.
Strong earnings from Home Depot and positive developments in Greece's efforts to secure an extension of its financial rescue program also helped lift the market.
KEEPING SCORE: The Dow Jones industrial average rose 86 points, or 0.5%, to 18,203 as of 11:25 a.m. Eastern. The Standard & Poor's 500 index added five points, or 0.3%, to 2,115. The Nasdaq composite gained five points, or 0.1%, at 4,966.
FED FOCUS: In remarks to Congress, Federal Reserve Chair Janet Yellen said the central bank remains "patient" in deciding when to start raising interest rates. She noted that many Americans remain unemployed, wage growth remains sluggish and inflation is running below the Fed's target. That means a rate increase is unlikely for at least the next two meetings, she said. Yellen's testimony supports the view that a rate increase is not likely before June or even later this year. The Fed has kept its benchmark rate near zero since 2008.
THE QUOTE: Yellen's remarks on the potential timing of an interest rate hike were in line with what Wall Street was expecting, noted Brad Sorensen, director of market and sector analysis at the Schwab Center for Financial Research.
Sorensen said Yellen's remarks confirmed what markets understood about the Fed's thinking, that policymakers "remain flexible and they can hike as conditions warrant. And the market seems comfortable with that at this point."
MUCH IMPROVED: Home Depot surged after the home-improvement retailer reported fourth-quarter financial results and a full-year outlook that exceeded Wall Street's expectations. The company also said it has authorized an $18 billion buyback of its shares and boosted its quarterly dividend by 26%. The stock added $3.44, or 3.1%, to $115.72.
GOOD AND NOT SO GOOD: Macy's reported better-than-expected earnings for the fourth quarter, but the retailer issued a forecast that fell short of Wall Street's expectations. The stock dipped $2.80, or 4.4%, to $61.29.
SECTOR MONITOR: The 10 sectors in the S&P 500 index rose, led by utilities. First Solar notched the biggest gain, rising $7.19, or 14.5%, to $56.81.
HOME PRICES: A key gauge of U.S. home prices showed that prices rose 4.5% in December versus a year earlier. The small gain comes after price increases slowed for 12 straight months. Americans are listing fewer homes for sale, pushing up prices and keeping many houses out of reach for would-be buyers.
EUROPEAN MARKETS: France's CAC-40 rose 0.7%, while Germany's DAX gained 0.8%. Britain's FTSE 100 edged up 0.2%. The Athens Stock Exchange General Index jumped 9.8% on news that the government submitted a list of reforms aimed at winning final approval for extended rescue loans from the country's creditors. European officials said the list could serve as a basis for discussion about more credit for the struggling country.
ASIA'S DAY: The Nikkei 225 index in Japan closed 0.7% higher, while South Korea's Kospi gained 0.4%. Hong Kong's Hang Seng slipped 0.4%. Australia's S&P/ASX 200 added 0.3%. Markets in mainland China remained closed for the Lunar New Year holiday.
ENERGY: Benchmark U.S. crude oil rose 51 cents to $49.96 a barrel on the New York Mercantile Exchange. It fell $1.36 on Monday to $49.45.
BONDS: U.S. government bond prices rose. The yield on the 10-year Treasury note held fell to 2.04% from 2.06% late Monday.