Investors ask court to put O.C. Register parent in receivership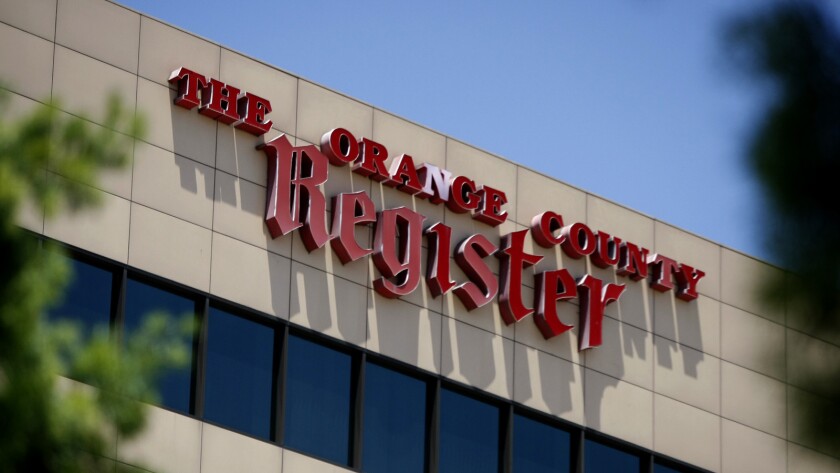 Two investors in Freedom Communications, the owner of the Orange County Register, are asking a Delaware court to put the Santa Ana newspaper company into receivership, saying the firm is "insolvent" and beset by "mismanagement."
Abbey Financial and Old Colony 2012 Investment Fund said in a complaint filed confidentially with the Delaware Chancery Court on Oct. 30 and disclosed this week that Freedom needs independent oversight as soon as possible.
The two investors said the operation faces an emergency "posed by an imminent sale of a significant real estate asset and the financial distress of the company due to mismanagement."
The complaint alleges that Freedom co-owners Aaron Kushner and Eric Spitz allowed lender Silver Point Finance to have outsized influence over the media company's other financial decisions, including a planned sale of a 14.3-acre plot near the Register's Santa Ana headquarters.
In alleging that Freedom is insolvent, the complaint said the company has spent at least the last nine months "placating" creditors that have been pressuring the firm "to the detriment of other creditors."
Silver Point holds the mortgage on all of Freedom's real property as well as a first priority lien on the company's other assets, according to the complaint.
Abbey and Old Colony, both based in Massachusetts, accused Kushner and Spitz of having "abdicated their independent decision-making responsibilities in favor of the company's lender."
Freedom spokesman Eric Morgan called the petition "meritless and unfounded" and said the two investors supported the sale of the Santa Ana land a year ago.
"There is no basis for the appointment of a receiver for the land sale, and the company is not considering filing for bankruptcy and will defend itself vigorously," Morgan said.
On Thursday, he said, the court rejected the investors' motion to expedite the appointment of a receiver.
Freedom sold the Register's 173,000-square-foot headquarters office for $27 million in September to developer Michael Harrah, who said last month that he was also negotiating to purchase the land nearby.
---
For reporting and exclusive analysis from bureau chief John Myers, get our California Politics newsletter.
You may occasionally receive promotional content from the Los Angeles Times.