Fresh & Easy begins closing down stores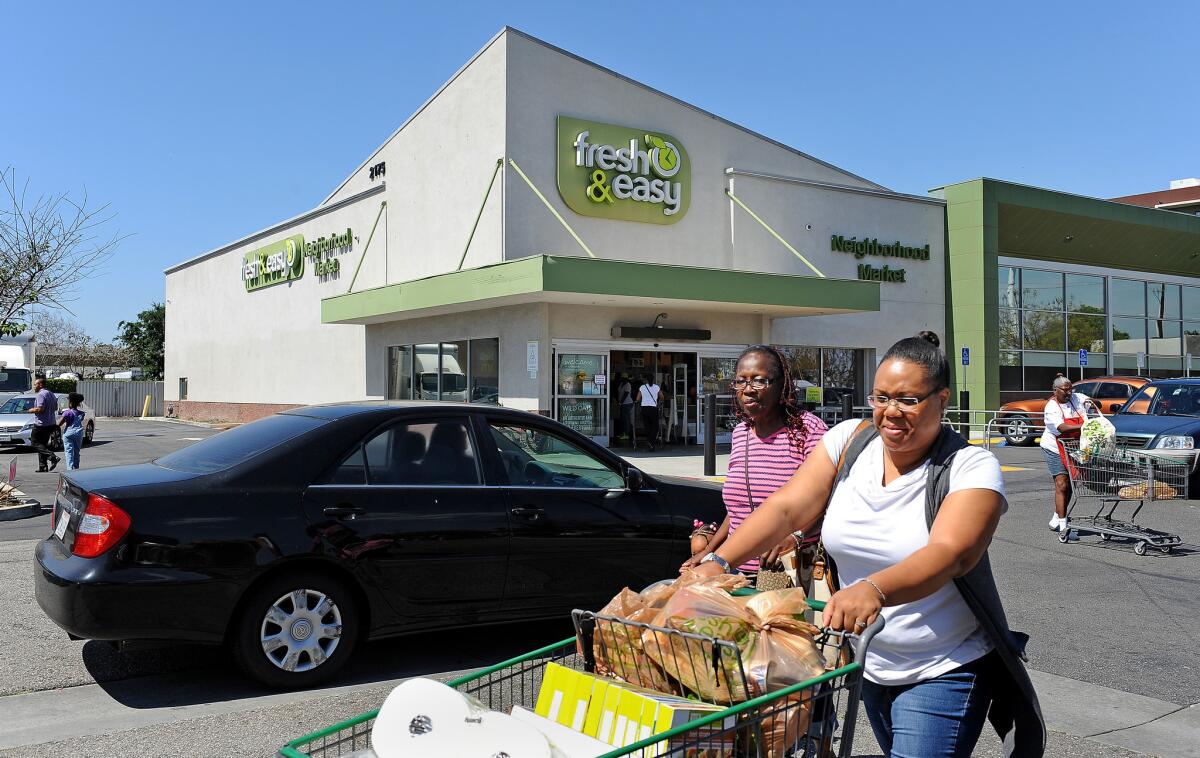 Fresh & Easy, the grocery chain that has struggled for years in Southern California, said Wednesday that it was closing its business — but holding out hope for a buyer.
Brendan Wonnacott, spokesman for the El Segundo chain, said Fresh & Easy was starting "the process for an organized wind-down."
Fresh & Easy doesn't have enough cash and couldn't obtain financing to continue operating the business, Wonnacott said. That's despite progress made over the last two years that has moved the company "closer to break even."
The company operates 97 stores in California, Nevada and Arizona. The Southland is home to 54 locations.
Stores are being liquidated and closed over the next few weeks, according to a person with knowledge of the situation who was not authorized to speak publicly. Layoffs are starting in the corporate office next week, the person said. State-mandated WARN Act layoff notices have gone out to about 3,000 employees.
Industry experts speculated that the chain could shortly file for bankruptcy protection.
This could be the death knell for Fresh & Easy, which opened its first stores in 2007. The chain was British supermarket giant Tesco's first venture in the U.S.
From its start, Tesco trumpeted Fresh & Easy as something of a European version of Trader Joe's, offering groceries with an emphasis on fresh products, including ready-to-eat meals. Stores were about 10,000 square feet in size.
But the chain began stumbling right away.
Fresh & Easy failed to personalize its merchandise selection by neighborhood, often ran out of popular items and charged as much as 20% more for its private-label products than its name-brand counterparts, analysts said. Tesco also sunk millions into an 850,000-square-foot distribution center in Riverside County, which put enormous pressure on the chain to swiftly expand.
Analysts point to the produce wrapped in cellophane, which prevented shoppers from inspecting vegetables or buying just a single bell pepper, as a prime example of why Fresh & Easy failed: The company expected customers to adapt to its way of doing business, instead of accommodating how locals like to buy food.
"They made a big deal out of the fact that they had done all this consumer research," said Jim Hertel, managing partner of food retail consulting firm Willard Bishop. "Yet at the end of it, what they delivered is what they wanted to deliver, and the consumer didn't play ball with them in terms of changing their behavior."
Fresh & Easy's struggles also coincided with a flood of new competition in the Southland. Big-box retailers such as Wal-Mart and Target were expanding their food offerings, while niche rivals like Trader Joe's were opening new locations. Shoppers were also increasingly turning to farmers markets to get their produce. Even online giants like Amazon.com and Google have been rolling out grocery delivery.
The stiff competition quickly overwhelmed Haggen, the Pacific Northwest chain that flopped after expanding to California and other states this year. The chain also failed to stand out from rivals and angered shoppers with higher prices and pricing snafus. Last month, Haggen filed for bankruptcy protection and announced it was leaving the Golden State.
"Almost everybody in California has access to local and fresh produce because it's grown 20 miles away," Hertel said.
At a Fresh & Easy store in Alhambra, shoppers were split in their reactions to the store's closing.
Monica Garcia, 39, said she was a little disappointed but had many other supermarkets close by, including a Food 4 Less in her Boyle Heights neighborhood. The stay-at-home mom said she's noticed that prices had gone up since she started shopping there in 2012.
"I think a lot of the selection, it's not as reasonably priced," Garcia said.
But Meghana Yanamandra, 22, said she always preferred Fresh & Easy's smaller footprint to that of the nearby Target or Costco.
"It's very convenient and well-priced," she said.
Fresh & Easy never quite figured out the winning formula to stand out from all the competition, analysts said. The chain ultimately grew to 200 locations, but was always unprofitable.
In 2013, Fresh & Easy filed for Chapter 11 bankruptcy protection. The chain was acquired by grocery billionaire Ron Burkle's Yucaipa Cos. with a $120-million loan from Tesco; Tesco still owns a hefty minority stake.
Under Burkle, the chain tried to find new ways to woo shoppers. In March, the chain said it was closing 50 stores and rolling out new store formats. Ideas included even smaller convenience stores and an e-commerce service that allows customers to buy groceries online and have food waiting curbside at the store.
Now, the company is hoping for a new owner willing to give it another go. But the Fresh & Easy brand is likely to die out, analysts said. Any potential buyers, such as German budget grocery chain Aldi or drugstore company CVS, will be going for the real estate.
"This is the second time somebody has essentially failed at doing this," Hertel said. "So I doubt there is very much equity left in the name itself."
shan.li@latimes.com
samantha.masunaga@latimes.com
ALSO
YouTube launches subscription service for $9.99 a month
Western Digital to buy SanDisk for $19 billion
Musk blames glitches on early Model S cars; one report says Tesla reliability improves