A four-cylinder solution to the mid-size crisis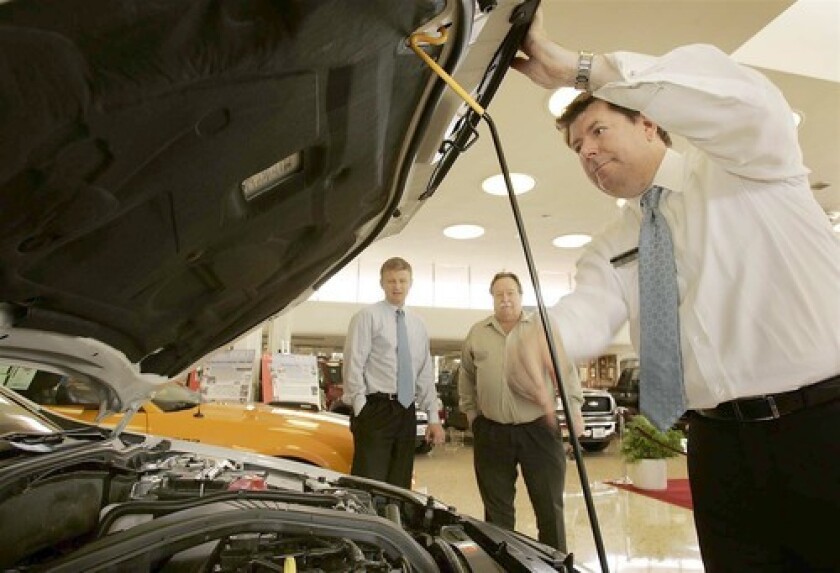 Los Angeles Times Staff Writer
As the cost of putting a tiger in the tank keeps going up, drivers are opting for a smaller cat under the hood.
Small-car sales have been a rare pocket of strength for the slumping auto industry in recent months as Americans sought relief from sky-high gasoline prices. But many buyers are sticking with mid-size or larger vehicles and choosing a smaller engine instead -- saving money on the sticker price and at the pump without downsizing their ride.
"Some consumers have been moving down to smaller vehicles, but many can't do that -- people with families, people who have to drive the soccer team to practice," noted Eric Noble, president of Car Lab, an automotive consulting firm in Orange. "So their preferred alternative is to get a vehicle with a smaller engine."
For much of May, as gas prices zoomed toward $4 a gallon, more than three-fourths of the mid-size cars sold in the U.S. were powered by four-cylinder rather than six-cylinder engines, according to J.D. Power & Associates.
That's the largest sector of the auto market and includes such popular models as the Toyota Camry, the Honda Accord, the Ford Fusion and the Chevy Malibu. Five years ago, barely half of mid-size cars were being sold with four-cylinder engines.
Across all types of passenger vehicles, four-cylinder engines accounted for more than 45% of sales during the same period. That's up from around 30% five years ago and signals a reversal -- at least for now -- of the traditional American fondness for ever-bigger engines.
"We've seen this movement for quite a while, but it appears to be accelerating," J.D. Power analyst Tom Libby said. "It's pretty amazing to think about it -- almost every other vehicle sold has a four-cylinder in it."
And it's not just cars. Ford Motor Co., for instance, is seeing a jump in the ratio of four-cylinder Ranger pickups it is selling versus six-cylinder versions, and the automaker is expecting increased demand for the four-cylinder version of the 2009 Escape sport utility vehicle when it goes into production next month.
Savings are a big reason for the shift. In the mid-size car category, for example, the four-cylinder Ford Fusion gets combined city-highway fuel economy of 23 miles per gallon, compared with 21 for the six-cylinder -- a 10% improvement. And the Fusion four-banger lists for about $1,500 less than a comparable V6, noted Brian Allan, general manager of Galpin Motors in Van Nuys, although some of the price difference has to do with option packages tied to engine size.
That traditional price break for a four-cylinder may shrink. General Motors Corp.'s marketing chief, Mark LaNeve, said this week that consumers' growing preference for four-cylinder engines raises the question of whether they should be priced more closely to six-cylinder versions.
Beyond the cost savings, a big factor in the rising popularity of four-cylinder engines is a simple matter of engineering. Automakers have improved smaller engines to the point that they've shed at least some of the "putt-putt" image that dogged them in the past.
Jim Porter of Ontario, who bought a four-cylinder Fusion in January, was surprised "at the amount of pep this engine has." Some cars with smaller engines can't "get out of their own shadow," he said, but that hasn't been the case with the Fusion.
Fuel economy that approaches 30 mpg on the freeway is a bonus, said Porter, who drove to Reno and back on a single tank of gas each way.
"There used to be more of a stigma attached to going with a four-cylinder because there truly was a big difference in performance," Allan said. "But the four-cylinder of today gives better performance than the six-cylinder of yesterday."
A 1997 six-cylinder Honda Accord, for instance, produced 170 horsepower and got EPA combined mileage of 19 mpg. A 2008 Accord with a four-cylinder engine produces 190 horsepower and gets 24 mpg.
One reason for the improved performance is automakers' increasing use of turbochargers, which can boost engine power while cutting fuel consumption. Research into how to improve small engines has been a preoccupation at car companies in recent years, said Noble of Car Lab.
The swerve by consumers toward smaller engines "is a big relief for auto manufacturers," he said. "They have their test labs full of four-cylinder engines that they plan to bring out in the next five to six years with the idea that they would be replacing six-cylinder engines."
If history is any guide, the popularity of those smaller, more fuel-efficient engines will greatly depend on the direction of oil prices. Crude oil has slipped in recent days, but as of Friday, regular gasoline was selling at record prices in California ($4.198 a gallon) and nationwide ($3.962), according to AAA.
During past price shocks, such as in the mid- and late 1970s, consumers switched to smaller cars and smaller engines, only to jump back into SUVs and pickups when pump prices retreated.
"Whether this is a permanent shift to four-cylinder engines and smaller vehicles, we're not able to say," Libby of J.D. Power said. "We'll have to wait and see."
martin.zimmerman
@latimes.com
---
Your guide to our clean energy future
Get our Boiling Point newsletter for the latest on the power sector, water wars and more — and what they mean for California.
You may occasionally receive promotional content from the Los Angeles Times.