Glyphosate cancer warning in California halted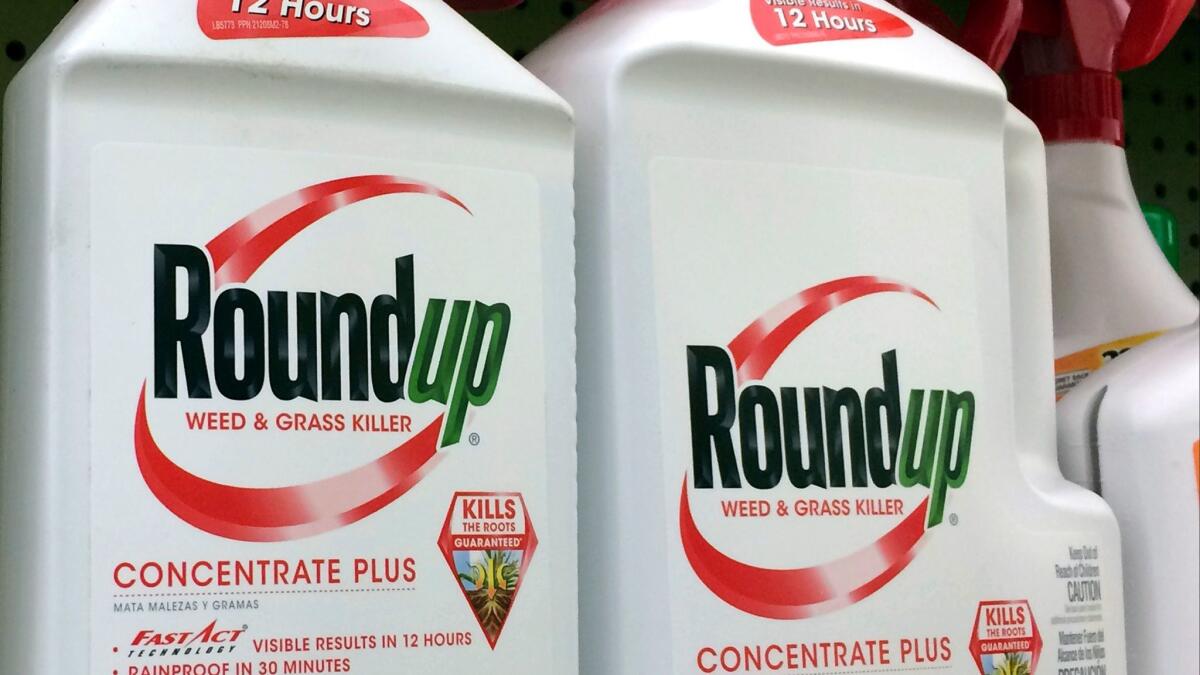 A federal judge on Monday temporarily barred California environmental officials from requiring cancer warnings on food products that contain traces of the herbicide glyphosate.
The injunction by U.S. District Judge William Shubb leaves glyphosate on the state's so-called Proposition 65 list as a "chemical known to the state of California to cause cancer," but bars anyone from enforcing a requirement to warn consumers about the presence of the herbicide.
Major agricultural industry groups sued the state, alleging that a warning label on food would violate 1st Amendment free speech protections by compelling retailers to post "false, misleading and highly controversial statements" on their products.
Chandler Goule, chief executive officer for the National Assn. of Wheat Growers, the lead plaintiff in the case, praised the decision and vowed to continue the fight to invalidate the listing of glyphosate under Proposition 65, the Safe Drinking Water and Toxic Enforcement Act, passed by voters in 1986.
"We are pleased Judge Shubb granted our request, which is the first step in our efforts to prevent California from forcing farmers, growers and manufacturers to place false and misleading labels on agricultural products," Goule said in a written statement.
The state of California argued that the warning issue would be largely resolved later this year, when regulators would set a minimum threshold for glyphosate traces in food and food products, below which the chemical would pose no significant risk to the public.
The state Office of Environmental Health Hazard Assessment, part of the California Environmental Protection Agency, said Tuesday that it expects to set that "no significant risk level" later this year.
"We are pleased that the listing of glyphosate remains in effect, and we believe our actions were lawful," the office said in a written statement.
In his ruling, Shubb said a cancer warning would be "misleading at best," given that "a reasonable consumer would not understand that a substance is 'known to cause cancer' where only one health organization had found that the substance in question causes cancer and virtually all other government agencies and health organizations that have reviewed studies on the chemical had found there was no evidence that it caused cancer."
An ingredient in Monsanto's trademarked pesticide Roundup, glyphosate is one of the most widely used herbicides in agriculture. Environmental activists have pushed to ban it, citing some evidence that it causes tumors in laboratory animals.
The International Agency for Research on Cancer, part of the World Health Organization, concluded in 2015 that glyphosate was a probable carcinogen in a ruling surrounded by controversy over whether contrary evidence was ignored or omitted.
European pesticide regulators and the U.S. Environmental Protection Agency, however, have disagreed with the cancer agency's conclusion, and have approved the use of glyphosate. In December, the U.S. EPA said there was no evidence that glyphosate was a human carcinogen, dealing a major blow to efforts to ban it in the U.S., where growers have used an estimated 1.8 million tons of the chemical since it was introduced in the mid-1970s.
The bulk of glyphosate was sprayed on tens of millions of acres of corn and soy in the Midwest. But California growers also applied it to more than 200 crops across 4 million acres, including 1.5 million acres of almonds, making it their most widely used herbicide, according to the state Department of Pesticide Regulation, a branch of the state EPA.
Monsanto has genetically engineered major commodity crops to withstand Roundup, placing the chemical at the center of a broader debate over genetically modified organisms, or GMOs.
Follow me: @LATgeoffmohan