Google promises $1 billion to help fix Bay Area housing crisis it helped create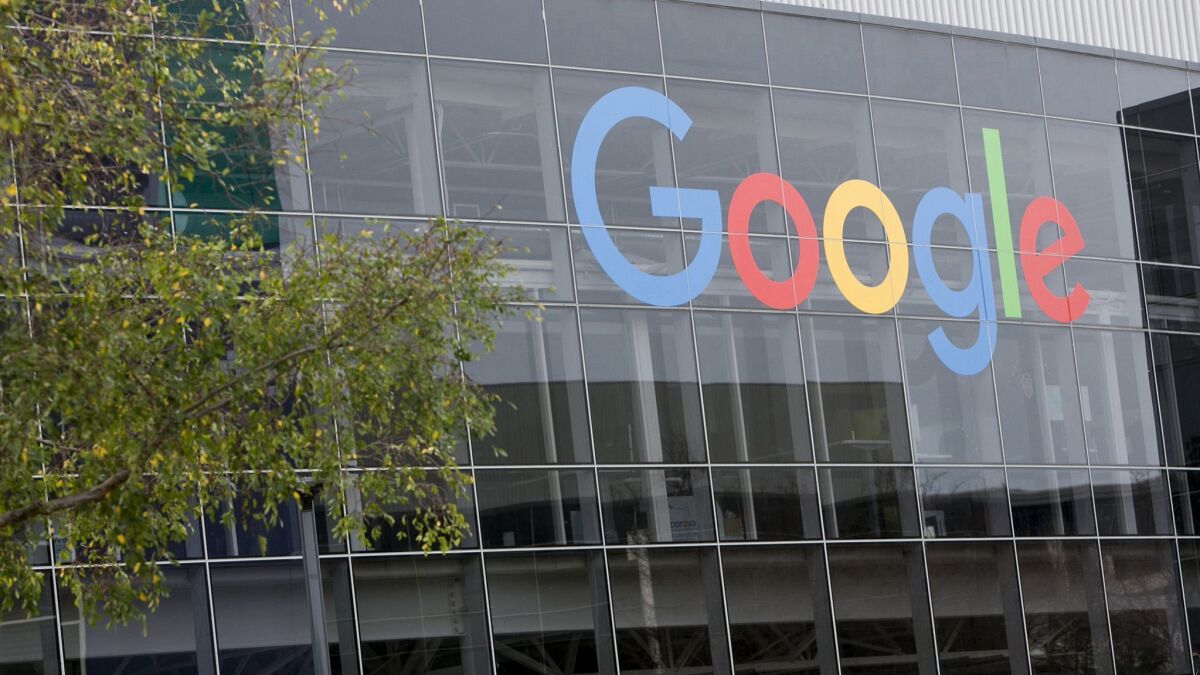 Reporting from San Francisco —
Google is pledging to invest $1 billion to develop housing in and around Silicon Valley, where the success of the search giant and its competitors has contributed to soaring home prices.
Over the next decade, the company plans to lease to developers $750 million worth of land it owns in the San Francisco Bay Area to be developed into at least 15,000 new homes.
"As we work to build a more helpful Google, we know our responsibility to help starts at home," Chief Executive Sundar Pichai said in a blog post Tuesday. "For us, that means being a good neighbor in the place where it all began over 20 years ago: the San Francisco Bay Area."
Adding homes will increase supply, but it won't fix the region's problem. Cities have long failed to allow enough housing to be built to meet the demand created by a rush of workers entering the area.
"If [Google] were to build five times that amount — 100,000 units over the next decade — it probably still wouldn't solve the housing crisis," said Jesse Gundersheim, CoStar Group's director of market analytics for the San Francisco Bay Area.
The Bay Area has changed rapidly since Google was a start-up, founded in 1998 — as the dot-com boom heated up — by two graduate students at Stanford University. The company has grown into a tech behemoth that employs 45,000 people in the Bay Area, with about half working at its headquarters and offices in Mountain View.
Average apartment rents in Mountain View have doubled since then, to $3,068 a month, according to CoStar Group. Home prices have jumped as well; since early 2015, the median sales price is up nearly 50% to $1.47 million, according to Zillow. The prices put homeownership out of reach even for some tech workers.
The amount of housing has also not grown sharply enough to meet demand as tech companies have hired rapidly, pushing some employees to live far from work, resulting in long commutes that cause heavy traffic congestion. Meanwhile, lower-income workers or retirees are priced out of their longtime homes and have resorted to living in their cars or cramming their families into RVs parked on the street.
Alphabet Inc.-owned Google is "becoming a better neighbor by taking responsibility on building workforce housing on their own sites," said John McAlister, a Mountain View city councilman. "They need to be building the workforce housing because of all the unintended consequences of their growth in the area."
Bay Area cities that long welcomed tech titans — and tolerated the burdensome effects of their growth — have become increasingly concerned.
Mountain View recently pushed back: Last year, voters there decided to tax businesses based on their size and how many people the firms employ in the city. Google, as Mountain View's largest private employer, is hit hardest by the tax and is estimated to pay more than $3 million annually. Most of those funds are expected to go toward transportation-related efforts.
"It would be nice for them to think outside the Bay Area to expand to lessen the impact of their success," McAlister said. "I think they are starting to realize that there is a huge push-back on their growth."
Across the Bay Area, tech companies have become synonymous with unprecedented growth and gentrification. Shuttles that ferry tech commuters from San Francisco to Silicon Valley have been derided as "Google buses," and have been sporadically blockaded over the years.
Tech companies have tried to make nice with their critics.
When Apple Inc. built its fancy headquarters in the Silicon Valley city of Cupertino, capable of holding thousands of workers, it paid about $6 million into an affordable housing fund and invested $75 million to improve infrastructure and ease traffic in nearby cities. It still faced objections from housing advocates, who felt the company could do more. This year, Microsoft Corp. pledged $500 million to develop affordable housing in and around its hometown of Seattle, and a group including Menlo Park-based Facebook Inc. launched a similar project in the Bay Area.
In its housing pledge Tuesday, Google said it will lease some of its land to developers and take steps to rezone property from commercial or office use to residential. Pichai said in his blog post that the housing will be "at all income levels in the Bay Area, including housing options for middle and low-income families."
He did not specify where the land would be located or how many would be affordable housing units. Google told The Times that some of the overall housing units may come on land it owns in Mountain View that it already worked with the city to rezone to allow for residential development. Google has offices in several Bay Area cities including Mountain View, Sunnyvale and San Francisco, and it plans to open a campus in San Jose — all of which Google told The Times could be places for residential development.
In addition to its pledge to lease its land to build at least 15,000 homes, Google said it will launch a $250-million investment fund that will give incentives to developers to build at least 5,000 affordable housing units. Separately, through the company's philanthropic division, Google will provide $50 million in grants for nonprofits that deal with homelessness and displacement.
Google's commitment toward more housing is the largest one made by a San Francisco Bay Area company in recent years, according to the Bay Area Council, a business-sponsored public policy group.
"The scale is different," said Jim Wunderman, the council's president and CEO. "This is a material step to solving a huge issue."
Few tech companies have committed to building on their own properties, even as their employees represent a large portion of a city's workers. Facebook is building a new campus in Menlo Park and plans to grow its workforce in the city to 35,000 employees — roughly the same number of people as the city's own population. Facebook plans to build 1,500 rental housing units as part of its campus.
Tech companies have also recognized that the cost of living in the Bay Area is a liability for them: Prospective hires worry about the cost of living in the Bay Area and how far they'll travel to and from the office. Facebook has opened offices in other Bay Area cities, including Fremont and San Francisco, in an effort to be nearer to where its workers live. Last year, Facebook-owned Instagram — which is also based in Menlo Park — opened an office in San Francisco, in part because potential recruits were turned off by the hour-plus commute.
Lee reported from San Francisco and Cutchin from Los Angeles. Times staff writer Andrew Khouri contributed to this report.
---
Sign up for the California Politics newsletter to get exclusive analysis from our reporters.
You may occasionally receive promotional content from the Los Angeles Times.