How I Made It: Meet the guy who hands out Hollywood's Walk of Fame stars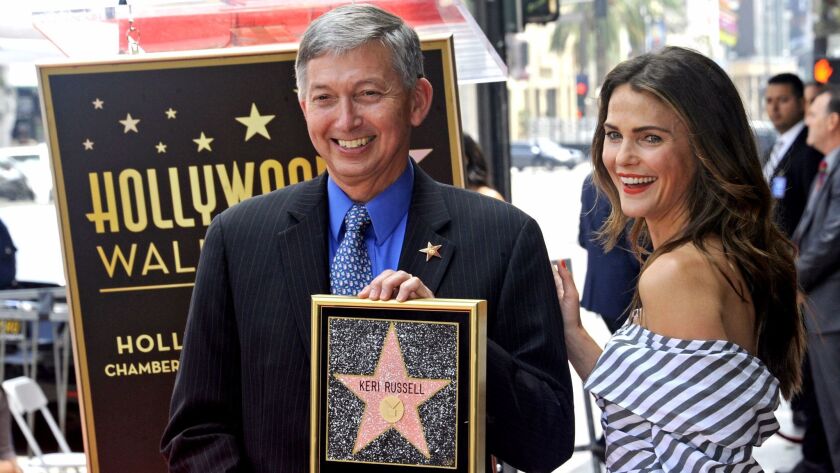 As president of the Hollywood Chamber of Commerce, Leron Gubler oversees efforts to promote business in one of the nation's most popular tourist destinations. TCL Chinese Theatre and the Hollywood Walk of Fame draw an estimated 10 million visitors annually. Gubler took the job in 1992 and became master of ceremonies for the Hollywood Walk of Fame induction ceremonies in 2008 after the death of Hollywood's honorary mayor, Johnny Grant.
From Porterville to Hollywood
The son of an agriculture teacher and a homemaker, Gubler grew up in the San Joaquin Valley town of Porterville, with five sisters and a brother. After earning a master's degree in public administration from Brigham Young University in Utah, he landed a job as an administrative assistant at the Santa Monica Chamber of Commerce. When a position opened for executive director at the San Pedro Chamber of Commerce, he was encouraged to apply. Gubler was 28 years old and not sure he was ready to take on the responsibility, but he was hired. "You need to seize opportunities when they come your way because they may not come your way again," he said.
Trouble in La La Land
After 12 years in San Pedro, Gubler was recruited in 1992 to lead the Hollywood Chamber of Commerce during turbulent times. The previous year, a state investigation had found that the chamber had commingled money from trusts used to maintain the Hollywood sign and the Walk of Fame. Chamber membership had dropped to about 700 from 900. "It was a tough situation initially because the chamber was virtually bankrupt," Gubler said. "I would visit businesses, and they would say, 'I wouldn't want to join a crooked organization like that.'"
Hollywood bounces back
Gubler marks the turnaround of Hollywood with the start of construction in 1998 of the shopping center and entertainment complex at Hollywood Boulevard and Highland Avenue. "I came here and I said, 'It's only a matter of time and at some point this has to turn around. When you've got an asset like this and the tourists, even in the worst time, were still coming here by the millions to see Hollywood, somebody has to see the opportunity here.'"
More success stories from How I Made It »
You need to seize opportunities when they come your way because they may not come your way again.

Leron Gubler, Hollywood Chamber of Commerce CEO
Mentor Johnny Grant
Radio personality and television producer Johnny Grant, who had been the official master of ceremonies for the Hollywood Walk of Fame induction ceremonies since the 1980s, was a mentor to Gubler. Before Grant was involved, the induction ceremonies were quick, boring events that many stars shunned. Grant turned the ceremonies into glitzy affairs, adding live bands, choirs, costumed characters and animals. He also began honoring international stars such as singer Vicente Fernandez. "It's in demand now," Gubler said. "People want stars. We usually get 300 applications a year, and they choose 25 to 30 honorees each year."
Gubler takes over
Gubler helmed his first induction ceremony in 2006, for Queen Latifah, when Grant was delayed getting back to Los Angeles after a trip to Cuba. "I was nervous because I hadn't any time to prepare for it," Gubler said. "I did public speaking in high school, so I have no trouble with public speaking.… If I look at the recording now, I'm sure I was a little tentative, and she was a fun star to do."
Star sightings
Years ago, Gubler met then Secretary of State Bill Jones, who lived in Fresno. Gubler mentioned that he had grown up about an hour south of Fresno. "He said, 'What is a kid from Porterville doing in Hollywood?'" Gubler said he tries not to be star-struck by the celebrities he meets. Among his favorite ceremonies was the celebration for actor Christopher Reeve in 1997. "His family was there," he said. "His little boy. It was a very touching ceremony." Another favorite event was for singer Andrea Bocelli in 2010. "We had a children's choir and he and they were singing back and forth some of his favorite songs," Gubler said.
Crime on the boulevard
The nonprofit chamber is now financially sound, with about 840 members and an annual budget of $2.5 million. Hollywood is booming too, with several huge developments slated for the area. Still, Gubler said, Hollywood is struggling with crime, homelessness and an anti-development sentiment among neighbors in the Hollywood Hills. "Not all homeless people cause problems, and we empathize with those who have problems," he said. "But there is a criminal element that has infiltrated the homeless. It's a serious problem. When you have companies investing billions in Hollywood, that is not what you want." Among the area nonprofits supported by the chamber's community foundation is Covenant House, a shelter for homeless young people.
A good gig
In his 25 years with the chamber, Gubler has taken part in about 600 Walk of Fame ceremonies. He said he can't envision a more exciting job. Gubler recalls presiding over a Walk of Fame ceremony attended by actor George Clooney. "He leaned over to me while one of the speakers was speaking and he said, 'This is a pretty good gig for you.' I said, 'Yes, it's a good gig.'"
Already a subscriber? Thank you for your support. If you are not, please consider subscribing today. Get full access to our signature journalism for just 99 cents for the first four weeks.
---
Your guide to our new economic reality.
Get our free business newsletter for insights and tips for getting by.
You may occasionally receive promotional content from the Los Angeles Times.